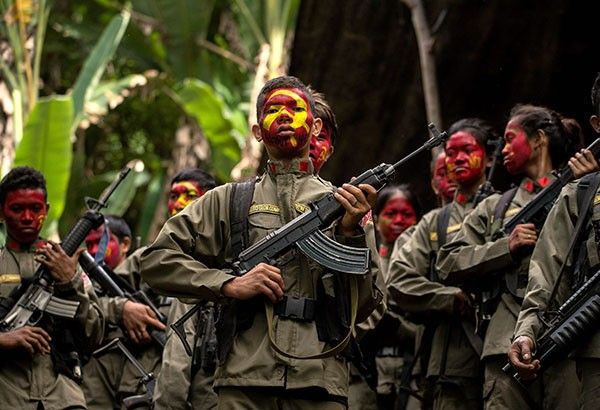 This photo taken on July 30, 2017 shows guerrillas of the New People's Army in formation in the Sierra Madre mountain range, located east of Manila.
AFP/Noel Celis
Reds: Holiday truce stands amid order to heighten tactical offensives
MANILA, Philippines — The Communist Party of the Philippines on Friday said its armed wing, the New People's Army, will comply with the party's declaration of unilateral temporary ceasefire during holidays.
The CPP made the commitment a few days after it ordered the NPA to intensify attacks in response to another extension of martial law in Mindanao until Dec. 31, 2019.
"The unilateral declaration of a temporary five-day ceasefire […] stands and will be strictly complied with even as the party calls for heightened armed resistance against the Duterte regime's extended martial law in Mindanao and de facto nationwide martial law," it said.
The temporary truce will take effect from 12:01 a.m. of December 24 to 11:59 p.m. of December 26. Another ceasefire is set from 12:01 a.m. of December 31 to 11:59 p.m. of Jan. 1, 2019.
The CPP on Wednesday threatened tactical offensives hours after Congress voted in favor of extending military rule and suspending the privilege of writ of habeas corpus in Mindanao. The move could be seen as proving the government right as insurgency is among the justifications cited by the president for the extension of martial law.
But the party stressed that it is NPA's "duty to the people to carry out extensive tactical offensives" amid "worsening abuses perpetrated by the Armed Forces of the Philippines and the Philippine National Police."
"A temporary halt will be observed on the specified days of the unilateral ceasefire," CPP said.
The Yuletide ceasefire has been a customary move by both sides since the launch of formal talks in the late 1980s.
Duterte has not yet issued an order to military to suspend military operations against NPA.
Security officials earlier said they are not inclined to recommend that the government declare the traditional truce with communist insurgents.
The CPP also claimed that the military "desperately" wants to stop the celebration of its 50th anniversary.
"In the past few days, field reports indicate that AFP camps and airbases especially in Northern and Eastern Mindanao are busy flying drones and helicopters everyday, scouring rural villages and mountains, dropping bombs and firing artillery causing widespread terror among the people," it alleged.
The Jose Maria Sison-led CPP will mark its 50th anniversary on December 26, while NPA will turn 50 in 2019.