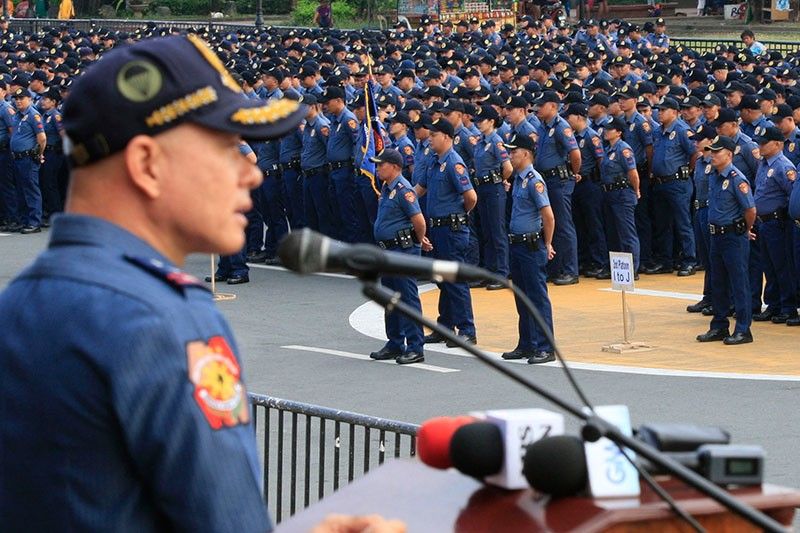 In this file photo, Philippine National Police chief Director General Oscar Albayalde speaks before cops during a flag raising ceremony.
The STAR/Edd Gumban, File
PNP on heightened alert as Reds threaten tactical offensives
MANILA, Philippines — The Philippine National declared a heightened alert status in response to an order by the Communist Party of the Philippines for the New People's Army to intensify attacks in response to another extension of martial law in Mindanao.
On Wednesday, Congress voted in favor of extending martial law in the southern Philippines until December 31, 2019.
"All NPA units must exert all possible effort to punish the worst fascist units and officers of the Armed Forces of the Philippines who have committed grave crimes against the people," CPP said Wednesday afternoon.
RELATED: CPP calls for 'tactical offensives' in response to martial law extension
Director General Oscar Albayalde, PNP chief, said the latest order of the CPP "exposed anew the culture of lies, deception and violence of the aging underground movement in its 50-year rebellion to wrest power from government."
"The CPP/NPA has found a convenient excuse in the congressional approval of the martial law extension in Mindanao as reason to stage further hostilities against government and civilian targets even as it earlier declared a farce five-day Yuletide ceasefire to trick government into reciprocating the CPP/NPA sham gesture of goodwill," Albayalde said.
Last week, the CPP Central Committee announced a temporary truce that will take effect 12:01 a.m. of December 24 to 11:59 p.m. of December 26 and 12:01 a.m. of December 31 to 11:59 of Jan. 1, 2019.
The police chief also said that police mobile strike forces deployed in Eastern Visayas, Negros island and the Bicol region have linked up with their military counterparts.
The CPP warned that the "extension of military rule will result in more killings, abductions, torture and worse abuses against the people."
The move could be seen as proving the government right as the insurgency is among the justifications cited by President Rodrigo Duterte for the extension of martial law.
The Communist Party of the Philippines will mark its 50th anniversary on December 26. Its armed wing, the New People's Army, turns 50 in 2019.