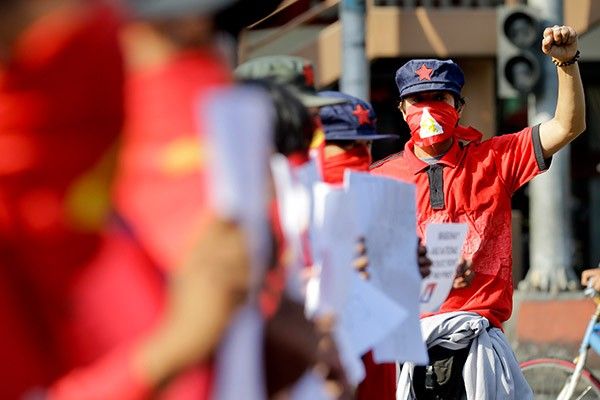 In this March 28, 2018 photo, masked protesters hold slogans and raise their clenched fists during a rally to commemorate the 49th anniversary of the New People's Army, the armed wing of the Communist Party of the Philippines, near the Malacanang presidential palace in Manila, Philippines.
AP/Aaron Favila, File
Reds declare unilateral holiday truce
MANILA, Philippines — Communist rebels will not attack government forces over the holidays, the Communist Party of the Philippines declared Friday.
The CPP central committee said the temporary ceasefire will take effect 12:01 a.m. of December 24 to 11:59 p.m. of December 26. Another truce is set at 12:01 a.m. of December 31 to 11:59 of Jan. 1, 2019.
"During the days covered by this temporary ceasefire declaration, all units of the New People's Army and people's militia shall cease and desist from carrying out offensive military campaigns and operations against uniformed armed personnel of the AFP and the Philippine National Police of the Government of the Republic of the Philippines," it said.
CPP made the announcement despite the position of the Department of National Defense and the Armed Forces of the Philippines that they are not inclined to recommend that the government declare the traditional Christmas truce with communist insurgents.
AFP spokesperson Brig. Gen. Edgard Arevalo on Wednesday claimed that suspensions of military operations—SOMOs—have not worked to the best interest of Filipinos as the rebels "continue with their terroristic."
"Experience showed us that it's not worth it," Arevalo said.
CPP's 50th anniversary
The Communist Party of the Philippines will mark its 50th anniversary on December 26. Its armed wing, the NPA, turns 50 in 2019.
For its 50th anniversary, the CPP urged "revolutionary forces" to "struggle arduously to frustrate" the Duterte administration.
The Christmas ceasefire has been a customary move by both sides since the launch of formal talks in the late 1980s.