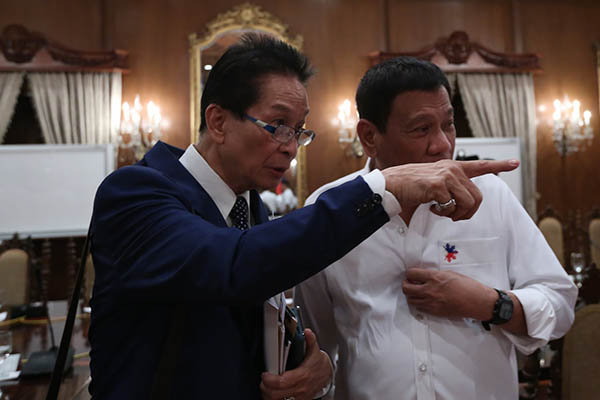 Salvador Panelo said former Davao City Vice Mayor Paolo Duterte's posting of an alleged 'oust Duterte' list is freedom of expression
King Rodriguez/PPD, File
Disputed 'Oust Duterte Movement' list is freedom of expression, Palace says
(Philstar.com) - December 10, 2018 - 3:15pm
MANILA, Philippines — People are free to accuse others of crimes, a Palace spokesman said Monday in reference to a supposed list of people allegedly planning to oust President Rodrigo Duterte that his son briefly posted online.
"[T]hat is freedom of expression," presidential spokesperson Salvador Panelo, who is also chief presidential legal counsel, told reporters at a Malacañang press conference when asked about screenshots of spreadsheets allegedly listing conspirators in a supposed "Oust Duterte Movement" that former Davao City Vice Mayor Paolo Duterte posted over the weekend.
Panelo qualified his statement: "Provided you do not violate the law, because if you do, then you are subject to libel laws."
Vice President Leni Robredo, whose name appeared on the spreadsheet, called the post "very irresponsible."
READ: Robredo: Release of 'Oust Duterte Movement' list irresponsible

"I do not know where they got that information because, obviously, the one who made that up, did not even bother to do research," she also said.
Among others included on the presidential son's list were journalists Maria Ressa, Ellen Tordesillas and Ed Lingao.
The National Union of Journalists of the Philippines on Sunday said former Vice Mayor Duterte "has put Maria, Ellen and Ed – all of whom have already been recipients of threats recently – in even more danger by sharing this fake document, given how his family continues to enjoy a level of popularity that, in some supporters, can be described as rabid."
NUJP said the former vice mayor may knowingly have shared unverified information.
"It is a sad testament to the times that someone who has been in public service and seeks a return to it can so cavalierly disregard the tenets of truth and decency, which are, or should be, indispensable to those who purport to serve and lead the people," it also said.
Also on the list are former Sen. Francisco "Kit" Tatad; deceased Bishop Julio Xavier Labayen; writer Carmen Pedrosa; and companies Jollibee Food Corp and PLDT.
READ: Palace: UN expert's call to drop charges vs Rappler assaults sovereignty
'A son's defense of his father'
Panelo reiterated several times during the press conference that Paolo's posting of the list is "freedom of expression" and a son's defense of his father.
"The vice mayor then may have some reasons for issuing such a list, we do not know," Panelo said. "Anyone who feels aggrieved, they can always refute the allegations contained in the list. That is the beauty of democracy, as the saying goes, that's the free market of ideas," he added.
The younger Duterte is one of the complainants in a libel case against Sen. Antonio Trillanes IV.
Trillanes posted bail of P96,000 on Monday morning on four counts of libel related to allegations he allegedly made linking Paolo and Manases Carpio, husband of Davao City Mayor Sara Duterte-Carpio, in shabu smuggling.
He also allegedly accused Paolo of engaging in extortion from ride-sharing app Uber.

This is not the first time the administration and its allies have spoken publicly about alleged plots to oust the president. In October, the Armed Forces of the Philippines described a communist-backed plot to allegedly overthrow the Duterte government called "Red October."
READ: Military bares details on 'Red October' attacks
De La Salle University, the University of Makati, Ateneo de Manila and other colleges and universities were tagged in the alleged ouster plot. The universities denied involvement in the plot and the military later said they eventually "neutralized" the Red October plot.