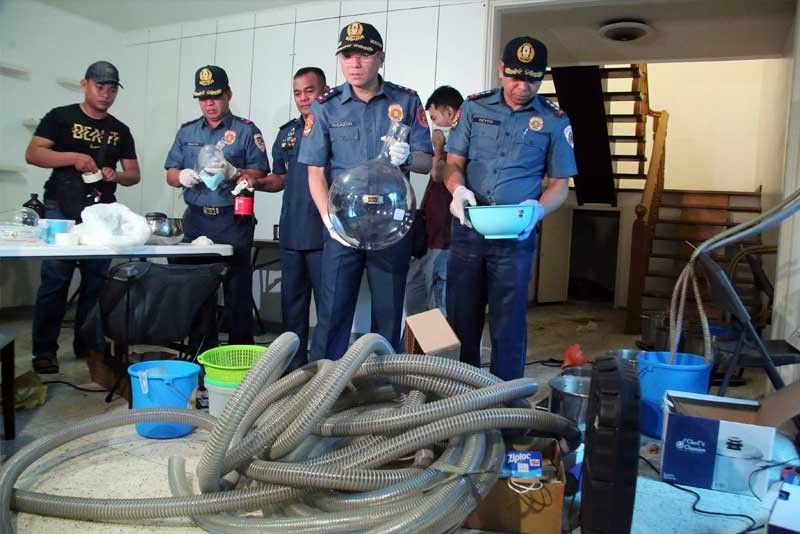 Metro police chief Director Guillermo Eleazar examines equipment seized at a house being used as a shabu laboratory in North Greenhills subdivision in San Juan yesterday.
Michael Varcas
PNP chief: 'Harsher drug war won't violate laws'
MANILA, Philippines — The Philippine National Police (PNP) will continue to operate within the bounds of the law in the face of President Duterte's warning of a "harsher" campaign against illegal drugs that could lead to violence.
PNP chief Director General Oscar Albayalde downplayed Duterte's latest statements on the war on drugs, saying the President simply stressed there would be widespread violence in the government's crackdown on illegal drugs.
"We perform our duties within the limits of the law. Probably it's just part of him or probably on how he says and emphasizes these things," Albayalde said in a television interview yesterday over ANC.
According to Albayalde, the President has repeatedly told PNP officials to follow rules and procedures in carrying out law enforcement functions.
He insisted that Duterte never gave instructions to go beyond what is allowed under the country's laws.
"When you talk to the President, he will always give his directive that you do your duties within the ambit of the law," he said.
Albayalde refused to comment on Duterte's tirades against the Catholic Church, where he supposedly ordered the killing of bishops.
"His (Duterte's) problem with the bishops is probably quite personal," Albayalde said.
At least 4,999 suspected drug pushers and users have been killed in alleged arm encounters with lawmen since Duterte took office in July 2016. Critics have accused the government of committing human rights abuses in the conduct of the war on narcotics.
Albayalde assured the public they have shown no mercy on police officers who have committed human rights abuses and other nefarious activities.
Since 2016, Albayalde said some 1,600 police officers were dismissed from the service for kidnapping, extortion and other irregularities, while another 674 were charged for violation of human rights.
"Nobody went scot-free from our ranks, even during the first few months of the Duterte administration," he said.