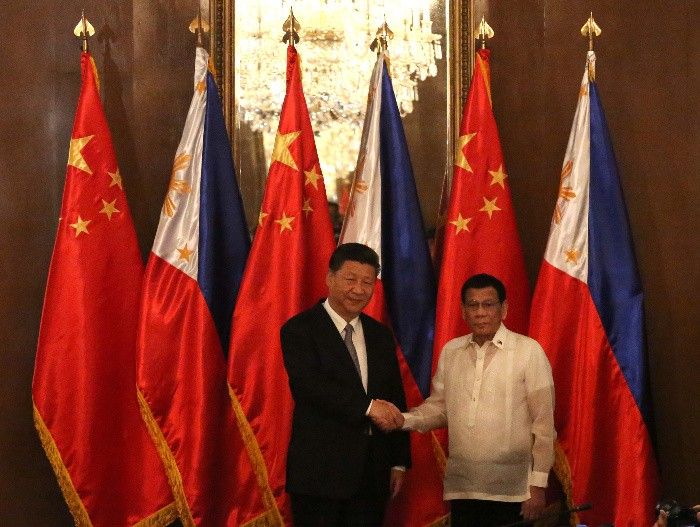 President Rodrigo Duterte and Chinese President Xi Jinping conduct an expanded bilateral meeting on Tuesday, Nov. 20, 2018 at the Aguinaldo State Dining Room inside the Malacañang Palace during the latter's two-day state visit to Manila.
Pool photo via Lyn Rillon
For South China Sea observers, 'useless' Hague ruling view is baseless
MANILA, Philippines — As Chinese President Xi Jinping was conducting his state visit to Manila, presidential spokesperson Salvador Panelo dismissed the Philippines' victory over China in a 2016 arbitral tribunal ruling as "useless," but experts disagree.
Panelo was reacting to a survey by the Social Weather Stations on perceived government inaction in the sea dispute. The survey, conducted in September, found that 84 percent of Filipinos said it was not right for the government to leave China alone with its infrastructure and military presence in the Philippine-claimed parts of the South China Sea.
"Our position is the arbitral ruling says it is ours but, meanwhile, cannot be enforced," Panelo argued.

READ: 84% of FIlipinos oppose Duterte admin's inaction on China 'intrusion'
There are other policy options, however, which Panelo and the Duterte government chose not to take. Security analyst Chester Cabalza said that the 2016 ruling recognzing Philippines' jurisdiction over disputed waters in the South China Sea, could be viewed as a bargaining chip in negotiations with China.
"The non-enforceability of the arbitration ruling at the moment may be true, but its chilling effect remains indefinite for deliberate considerations on the security architecture of the region," Cabalza told Philstar.com in an interview. Cabalza is the vice president of Center for Research and Strategic Studies at Development Academy of the Philippines and a senior lecturer at the University of the Philippines, specializing in regional security issues.
"This is a conscious effort on our part as Filipinos that we should instill in our memories that we won a legal battle in the international court in fighting for our sovereignty rights," Cabalza said.
At a press conference on Tuesday, Panelo said that while the ruling is useless "as of now," he added that they were not giving up the claim per se, and would "get what we are supposed to have by negotation."
As to what they were negotiating for and how they were negotating exactly in relation to the sea claim, Panelo did not elaborate.
"Our position is the arbitral ruling says it is ours but, meanwhile, cannot be enforced," he repeated during the press conference.
Appeasement versus enforcement
The government pursued an "appeasement policy" toward China, trying to woo its friendship in exchange for hoped-for investments and funding. Duterte himself has had a bleak outlook on the Philippines' chances in the maritime dispute, suggesting that his choices were limited to shelving the ruling indefinitely and to provoking war.
Greg Poling, director of the Asia Maritime Transparency Initiative, reacted in a tweet thread to Panelo's statement that "no power on earth" including the United States could enforce the Philippines' ruling over China.
""I said presently, perhaps if all the countries of the world will unite and pressure China, who knows?" Except most countries WERE ready to pressure China on the ruling until the Duterte govt basically told them not to worry about it. Here's the numbers: https://t.co/YVeZaNbAu2 https://t.co/444TsPeNsz

— Greg Poling (@GregPoling) November 20, 2018
"Most of the countries were ready to pressure China on the ruling until the Duterte government basically told them not to worry about it," Poling said.
Various sectors, international bodies and experts have been calling for Duterte to assert the ruling. Following the 2016 ruling issued as Duterte came to power, the Asia Maritime Transparency Initiative published a report that idenfied eight countries including the United States, Canada, Australia, Japan and New Zealand that called for the ruling to be respected.
Thirty-two other countries issued positive statements on the ruling without calling for China to comply to it, while nine other countries made vague or netural statements, and five countries rejecting it.
Poling pointed out, "only eight countries reiterated their support after the Duterte admin shelved the win. Forty said it would be legally beinding and called for China's compliance beforehand.
"It couldn't be done by the US, Japan and Australia alone," Poling said. "And the Europeans and fellow ASEAN states gladly fled back to fence sitting when Manila signaled it wouldn't be asking for their support anymore. How do you pressure China when the claimant that brought the case won't help?"
Writing for Philstar.com, Dindo Manhit, president of think tank Stratbase Albert del Rosario Institute, cited China's continuous military buildup in the disputed sea, destroying marine resources and dictating rules in the process.
Manhit also cited Ito Go, professor of international relations at Meiji University, who suggested that the Philippines can enforce the award by engaging like-minded partners like the United States and Japan.
RELATED: Philippines, China sign MOU on joint gas, oil developement
Chinese President Xi Jinping made his first official state visit to the Philippines on Tuesday and signed 29 key agreements with the Philippines, including an agreement on joint oil exploration, before he returned to Beijing on Wednesday afternoon. — with a report from Patricia Lourdes Viray