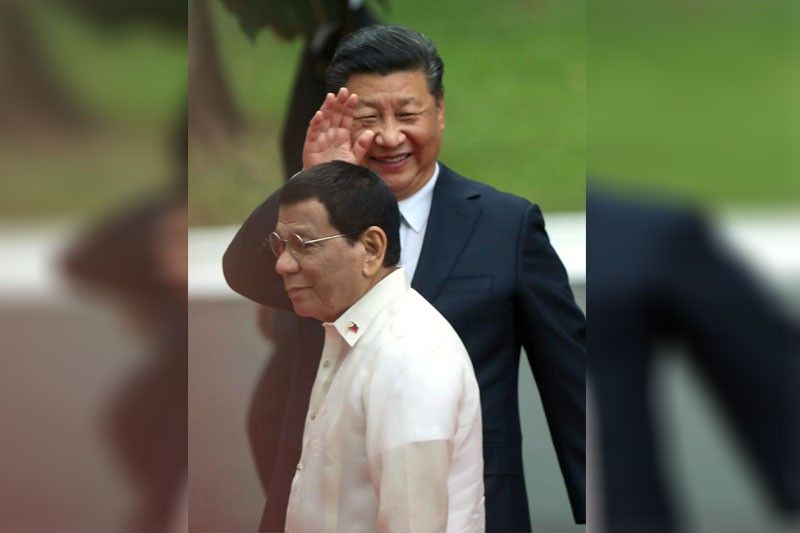 Chinese President Xi Jinping and President Duterte troop the line during the welcome ceremony at Malacañang yesterday.
KJ Rosales
NCRPO assures Xi Jinping of security during visit
Non Alquitran
(The Philippine Star) - November 21, 2018 - 12:00am
MANILA, Philippines — Chinese President Xi Jinping is safe and fully secured during his 24-hour visit to the country, a police official said yesterday.
National Capital Region Police Office (NCRPO) chief Director Guillermo Eleazar said Xi's engagement went smoothly and there was no report of any untoward incident in the routes taken by his convoy.
"So far, the route the Chinese president had taken was generally peaceful and… no protest rallies monitored," Eleazar said in an interview.
However, the 27,000 NCRPO rank and file remain on full alert until Xi leaves the country today. At least 5,500 policemen were deployed to secure Xi during his visit.
The Chinese president arrived in the country at about 11:40 a.m. yesterday and was immediately whisked to Shangri-La hotel at Bonifacio Global City for several hours of rest.
He arrived in Rizal Park at 4:27 p.m. for a 15-minute wreath-laying ceremony at the monument of Philippine national hero Jose Rizal before proceeding to Malacañang Palace where he and President Duterte were expected to sign several agreements.
"I'm worried of his stay at Luneta because he's vulnerable. So, security is extra tight. Thanks God it's over," said Eleazar who was interviewed while Xi's convoy was on its way to the Palace.
The Presidential Security Group (PSG) and their Chinese counterparts served as Xi's close-in security.
According to Eleazar, they monitored a peaceful protest rally in front of the Chinese consulate in Makati City.
"We allowed them there because it is very far from the routes taken by Xi. It's better there than for them to take their protest actions along the route," he said.
Meanwhile, the Philippine Coast Guard (PCG) yesterday banned vessels in Manila Bay as part of security measures taken for Xi's two-day state visit.
PCG spokesman Commander Armand Balilo said a "no-sail zone" policy was implemented within 3,000 yards from the shoreline of Pier 15 to the breakwater at the Cultural Center of the Philippines complex.
The areas beyond this perimeter were declared as "controlled zones" and placed under strict monitoring, he added.
Balilo said the PCG also deployed multi-role response vessels BRP Suluan and BRP Malabrigo as well as eight fast boats and two aluminum boats to secure the coastline.
No untoward maritime incident was reported in Manila Bay by the PCG as of yesterday afternoon. – With Edu Punay