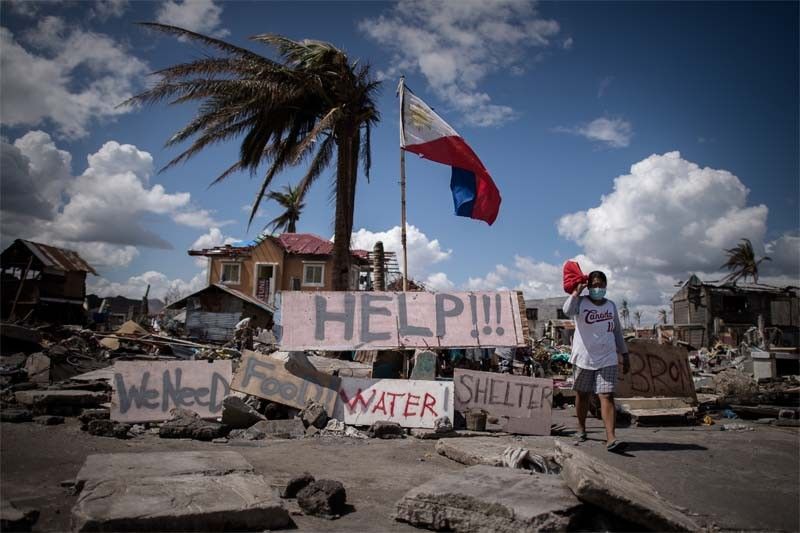 This file photo taken on November 18, 2013 shows a super typhoon Haiyan survivor walking past signs pleading for help in the San Jose fishing village on the outskirts of Tacloban on the eastern Philippine island of Leyte. Super typhoon Haiyan struck in the predawn darkness of November 8, 2013 as the then strongest typhoon to ever hit land, leaving more than 7,360 people dead or missing across the central Philippines.
AFP/Philippe Lopez
Five years later: How 'Yolanda'-hit areas look now
(Philstar.com) - November 8, 2018 - 6:18pm
MANILA, Philippines— The country commemorates the fifth anniversary of the onslaught of super typhoon "Yolanda" (International name: Haiyan) on Thursday.
The super typhoon which hit the Visayan region on Nov. 8, 2013, was then dubbed as the "strongest typhoon" to hit the land. It sustained winds exceeding 300 kilometer per hour.
One of the most affected areas is the island of Leyte.
Yolanda affected 14.1 million individuals, left more than 7,360 people dead and missing. It also displaced around 4.1 million individuals.
Agence France-Presse reported that within the first 100 days after Yolanda slashed and devastated some islands in the Philippines, the country received food assistance for 4 million people; basic emergency shelter materials for 500,000 households; and 420,000 educational materials for children.
The country also received aid in kind in tools and materials to rebuild homes or 55,000 people.
Here are photos of before and after Yolanda struck the country, five years later:
—Text by Rosette Adel, Photos and captions from AFP