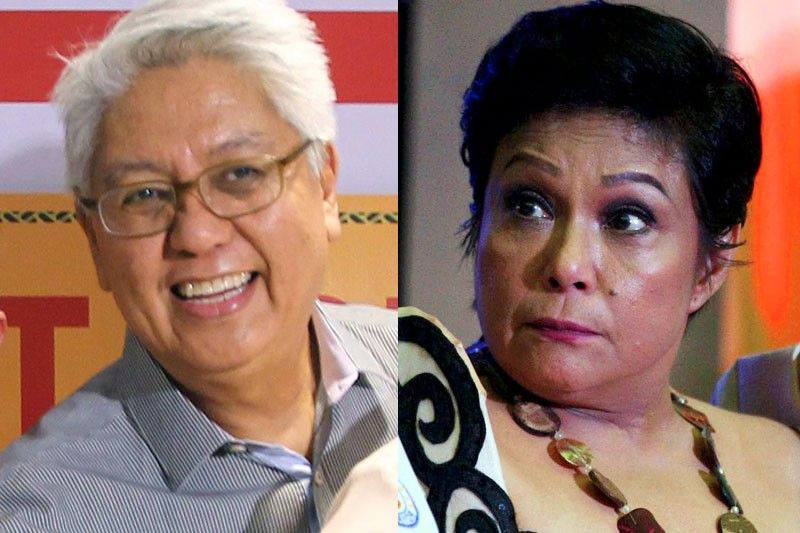 National Artists: Nora Aunor excluded anew
MANILA, Philippines — Malacañang released yesterday the list of seven new National Artists, but actress Nora Aunor was not among them.
The artists will be feted today during the conferment ceremony of this year's National Artist Awards to be led by President Duterte, a media advisory sent by Malacañang yesterday said.
The new batch of National Artists is composed of Francisco Mañosa (architecture), Eric de Guia also known as "Kidlat Tahimik" (film), Ramon Muzones and Resil Mojares (literature), Ryan Cayabyab (music), Amelia Lapeña Bonifacio (theater) and Lauro "Larry" Alcala (visual arts).
Duterte will also confer the Gawad sa Manlilikha ng Bayan or National Living Treasure Award to Ambalang Ausalin, Estelita Bantilan and Yabing Masalon-Dulo.
Also to be feted are Rizal Park Hotel (Adaptive Reuse Awardee), local government of San Nicolas, Ilocos Norte (Heritage Education and Interpretation Awardee), local government of Angeles City (Heritage Program Support Awardee) and local government of Magalang, Pampanga (Safeguarding Intangible Cultural Heritage Awardee).
National Commission for Culture and the Arts (NCCA) project coordinator Sabrina Tan said Aunor was automatically nominated to become National Artist because she was included in the previous shortlist of nominees.
In 2014, former president Benigno Aquino III said he removed Aunor from the list of awardees because of issues linking her to illegal drug use.
"Sa aking pananaw yung national artist binibigyan natin ng honor na ito, puri na ito ay malaki ang ambag sa lahing Pilipino at dapat tularan (In my opinion, the national artist is an honor given to Filipinos who can become role models)," Aquino said at a press conference in Pampanga on July 1, 2014.
"Ang naging problema ko lang dun ay alam naman natin lahat…na-convict po sya sa drugs (My only problem is we all know she was convicted for drugs)," he added.
Claire Espina, the lawyer who handled Aunor's case in California, had denied that the actress was convicted.
Malacañang has not issued a statement on why Duterte, who is known for his tough stance on narcotics, excluded Aunor from the list of awardees.
Nevertheless, some quarters from the film industry are questioning Aunor's being left out again.
Aunor's name was submitted to Malacañang since she was already elected in the previous selection in 2014. "She should have been included but unluckily, was not included again," said Teddy Co, NCCA commissioner for the arts, who was privy to the selection process.
Director Brillante Mendoza, who has worked with Tahimik and Aunor, told The STAR, "She's an institution for what she has achieved. But I think it's a matter of timing, and I think a person shouldn't be judged for the life she lived because what we are recognizing is the craft and also her contribution to the industry. I don't know, maybe it's not the time yet but she deserved it as well. I even thought there were two awardees for film."
The arts community has been waiting with bated breath for the announcement of the 2018 National Artists since July.
But it seems worth the wait, as the "arts community is happy, no questionable names," said Co.
He said that the current administration has been hands off with the selection process.
"Wala naman. I think they understand what happened before, which created so much controversy, so hands-off sila dyan," he said, referring to the controversial proclamation as National Artists of four individuals via presidential prerogative of then president Gloria Macapagal-Arroyo, when the four had not been nominated by the selection committee.
That controversial proclamation was brought before the Supreme Court, which ruled that the President may remove names submitted by the NCCA and Cultural Center of the Philippines (CCP) but not add names that did not go through the selection process.
"I assure this batch went through the proceedings. It's a very impressive batch. Major achievers lahat. Lahat dumaan sa process, unlike in 2009. All of them are very deserving."
The selection goes through a tedious process of three rounds, which starts with a nomination, Co revealed. "It's a panel of experts in the first round, which is different from the panel of experts in the second round. First round, the peers from each discipline, for example for visual arts, the ones who are going to vote are experts in visual art. Those that make it to the second round, they will be voted on by another panel of experts, three per discipline but all of them will be voting across all the arts, so they don't need to vote only for film or music, they can vote for anybody in the arts. Pagdating sa third round, the voting panel consists of the joint boards of the CCP and the NCCA board, plus all the living National Artists."
According to the NCCA website, recipients are entitled to the following privileges: the rank and title of National Artist; gold-plated medallion minted by the Bangko Sentral ng Pilipinas (BSP) and citation; and a lifetime emolument and material and physical benefits comparable in value to those received by the highest officers of the land.
Living awardees get a minimum of P200,000 cash award, net of taxes; minimum lifetime personal monthly stipend of P50,000; and medical and hospitalization benefits not exceeding P750,000 per year; life insurance policy by the Government Service Insurance System (GSIS) and or/ private insurance companies from date of conferment of the award, in the event that the National Artist is insurable; a state funeral; a place of honor at state functions, national commemoration ceremonies and all other cultural presentations. Posthumous awardees get a one-time minimum cash award of P150,000. – With Alexis Romero