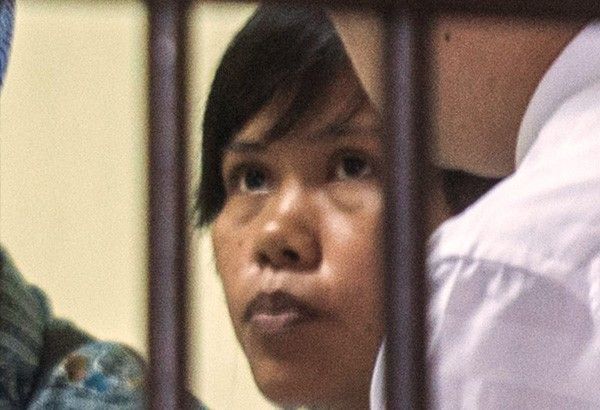 According to the Philippine embassy in Jakarta, Mary Jane Veloso is presently detained in Yogyakarta and not in Semarang.
File
DFA: Mary Jane Veloso lone Filipino in Indonesia death row
MANILA, Philippines — No Filipino is on death row in Semarang, Indonesia and Mary Jane Veloso is the only Filipina meted a death sentence, the Department of Foreign Affairs (DFA) clarified yesterday.
According to the Philippine embassy in Jakarta, Veloso is presently detained in Yogyakarta and not in Semarang.
Ambassador Leehiong Wee said there is a Filipino in prison in Semarang but she is serving a life sentence for illegal drugs-related crimes.
Last month, the embassy assisted Veloso's family to visit her in detention.
Wee said Veloso is healthy and in good spirits, and expressed her gratitude in seeing her family.
The DFA said the embassy and its legal counsel will continue to assist Veloso and her family in accordance with Philippine and Indonesian laws.
Veloso was sentenced to death for smuggling heroin into Indonesia. She was arrested in April 2010 for bringing in 2.6-kilograms of heroin in a suitcase.
She was sentenced to death in October 2010 but the execution did not push through due to the moratorium issued by former Indonesian President Yudhoyono.
She was set for execution anew in January 2015, and then on April 29, 2015 but she was granted a stay of execution in exchange for testifying against her alleged recruiter.
The Filipino migrants support group Migrante International yesterday urged President Duterte to raise the case of Veloso and other victims of trafficking during in his meeting with Indonesian President Joko Widodo at the ASEAN leaders meeting in Bali.
Migrante spokesman Arman Hernando said there is an urgent need to discuss the case of Veloso and two other Filipina drug trafficking victims imprisoned in Indonesia.
"On the back of having other Filipina victims of drug trafficking detained in Indonesia, it is all the more necessary for Duterte to explain to Jokowi the case of Mary Jane Veloso and finally allow her to testify against the international drug and human traffickers who victimized her," Hernando said.
Even if the sentence on the other Filipina victim in Semarang was only life imprisonment, Migrante said Veloso's testimony is crucial in setting the precedent to help all the victims of international drug syndicates. – With Mayen Jaymalin