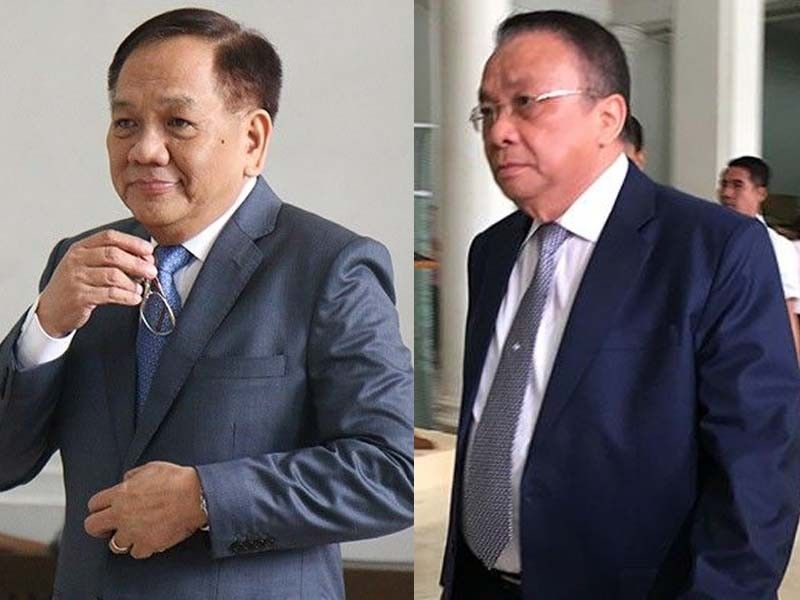 Associate Justice Diosado Peralta and Lucas Bersamin have accepted their automatic nomination for the post of chief justice.
Philstar.com/Erwin Cagadas and Kristine Joy Patag
Peralta, Bersamin accept nomination to chief justice post
MANILA, Philippines — Associate Justices Diosado Peralta and Lucas Bersamin accepted their respective nominations to the chief justice post.
The STAR reported that Bersamin accepted his automatic nomination to the top judge post on Wednesday.
Associate Justice Lucas Bersamin has formally accepted his automatic nomination for the chief justice post vacated by retirement of CJ Tess De Castro today. | @edupunay

— The Philippine Star (@PhilippineStar) October 10, 2018
Meanwhile, Justice Secretary Menardo Guevarra, a member of the Judicial and Bar Council by virtue of his position, confirmed that Peralta "submitted his papers" also on Wednesday.
Bersamin and Peralta are two of the justices who received automatic nomination to the top judge post vacated by former Chief Justice Teresita de Castro who retired on October 10.
The two justices faced the Judicial and Bar Council for a public interview on August 26, when they vied for the chief justice post, along with De Castro.
Their interviews are valid for a year, and they will not be facing the panel for their recent application.
Peralta's JBC interview: Marcos burial brought closure
Peralta penned the controversial ruling that allowed the burial of the late dictator at the Libingan ng mga Bayani—a development that sparked protests across the country.
Facing the panel in August, the justice stood by his decision and said: "If we do not bury that issue, then we cannot move on and I still believe that whatever is the past, we have to move on. We will not improve as a nation if we do that."
He stressed that in his ponencia—or ruling—he explicitly stated that "there is a need to move on."
"And I think we are moving on. The issues now are not about Marcos. There are so many issues other than the issue of burial of the late Marcos," he added.
"We do not anymore receive or hear complaints about the burial of the late President Marcos. We are now focused on issues confronting the nation. Unlike before the burial, I believe there were so many issues unresolved during those times," Peralta added.
The burial of Marcos is a campaign promise of President Rodrigo Duterte. Martial law victims sought the SC to stop Duterte's order to the members of the Armed Forces of the Philippines.
But the SC, through Peralta's decision, upheld the constitutionality of Duterte's order.
READ: Marcos burial brought closure and unity, Peralta claims
Bersamin defends 'jump' in SALN before JBC
The JBC asked Bersamin about the "jump"' in his assets, as reflected on his Statement on Assets, Liabilities and Net Worth.
JBC regular member Maria Milagros Fernan-Cayosa reviewed his SALN from 2013 to 2017 and said he had a remarkable jump in his SALN, noting that this went up by P5 million in 2013 to 2014, another P2 million from 2014 to 2015, P8 million from 2015 to 2016 and another P3 million from 2016 to 2017.
Bersamin said that he receives allowance from being a member of the Senate Electoral Tribunal.
He also said that his SALN covers that of his and his wife's, who is a businesswoman. The justice added that the increase in his assets is due to cash deposits and a purchase of a condominium unit.
READ: Associate Justice Lucas Bersamin defends P18-million wealth
Asked if his wife would allow an inquiry into their SALNs, he said: "I think so."
Two chief justices were removed from their posts due to their wealth declaration documents. The late Chief Justice Renato Corona was impeached due to misdeclaration of his wealth in his SALN, while Maria Lourdes Sereno's appointment as chief justice was nullified due to missing SALNs.
Carpio yet to accept nomination
Senior Associate Justice Antonio Carpio has yet to accept his automatic nomination to the chief justice post.
Carpio, on October 3, said that there is no reason to decline it.
Carpio earlier declined his nomination to the chief justice post, which was declared vacant following the ouster of former Chief Justice Maria Lourdes Sereno through a quo warranto petition.
He reasoned that he had to be consistent with his position on the government's quo warranto ruling.
"On a personal level, because I have voted against it, I don't want to benefit from it, so I will decline any nomination," Carpio added.
Others who received an automatic nomination for the chief justice post and have yet to accept it are Associate Justices Mariano Del Castillo and Estela Perlas-Bernabe.
READ: Carpio: No reason to decline nomination to chief justice post