Senators, DOE want fuel tax hike suspended
October 3, 2018 | 12:00am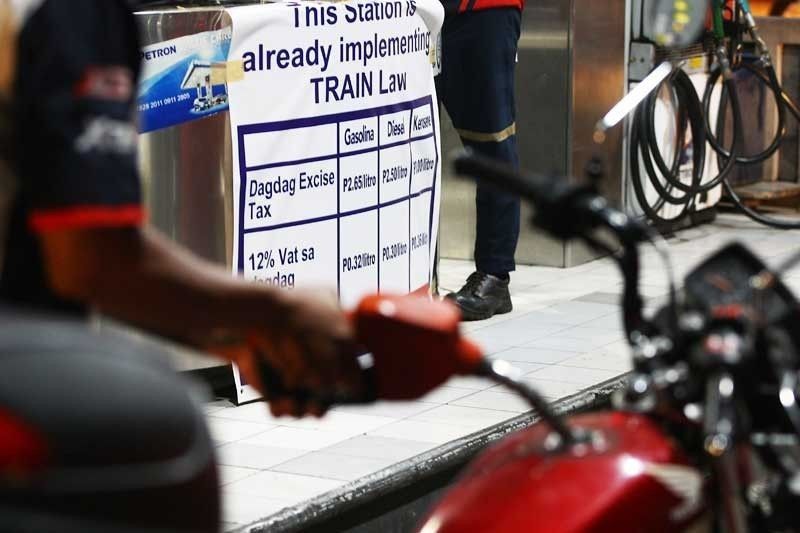 MANILA, Philippines — With global crude prices soaring to record levels, senators are pushing for immediate measures to cushion the impact on consumers, including suspending the second round of increases in excise taxes on petroleum set for next year.
Under Republic Act 10963 or the Tax Reform for Acceleration and Inclusion (TRAIN) law, a suspension is implemented if or when Dubai oil prices – based on the Mean of Platts Singapore (MOPS) – average $80 per barrel for three consecutive months before the next increase.
This means Filipinos would have to be burdened for three months or more before getting relief from a possible suspension, Sen. Joseph Victor Ejercito said yesterday as he urged the Department of Finance (DOF) to hold off imposing fuel excise tax.
"I strongly suggest the DOF to consider implementing the suspension of excise taxes of petroleum under the TRAIN law soon while hastening and expanding the roll-out of mitigating safety nets and anti-inflationary measures ASAP in close coordination and participation of concerned agencies. It can be done," he said.
Sen. Grace Poe urged the government to fully implement relief measures to protect consumers from possible abuses by petroleum companies.
"Hard-earned money by our drivers are being held hostage by oil prices instead of being spent for food, the prices of which, by the way, are likewise increasing," Poe said.
"That is the bigger picture of reality on the ground. The numbers are not just mere statistics for economic managers and policymakers, it means another skipped meal or foregone opportunity for most of our countrymen," she added.
She also called on the Department of Energy (DOE) to closely monitor pump prices at gasoline stations nationwide and ensure that oil firms are not engaged in profiteering and other abusive practices.
Sen. Sherwin Gatchalian said the government should be prepared for the possibility of Dubai crude hitting $80 a barrel.
"Government should also stay a step ahead so as not to be caught napping, like what happened when August inflation figures were higher than predicted. Our economic managers should simulate inflation scenarios should the Brent remain at $80," Gatchalian said.
"We should also be ready to suspend the second round of the TRAIN law in 2019 should the Brent price remain at $80," he said.
Sen. Paolo Benigno Aquino IV also called for close monitoring of the prices to allow the government to respond quickly.
But Filipinos may not find immediate relief from the trigger mechanism for the suspension of excise taxes on fuel, based on the TRAIN Law.
Based on Section 43 of the law, the DOF and the Development Budget Coordinating Committee would have to conduct a review first on the implementation of the excise taxes.
"Any suspension of the increase in excise tax shall not result in any reduction of the excise tax being imposed at the time of the suspension," a portion of the section read.
This means a suspension – if one is recommended – will cover the next scheduled tax hikes, which will take effect on Jan. 1, 2019.
TRAIN amendment pushed
The DOE also wants the TRAIN law amended to allow the suspension of the second round hike of excise tax on fuel scheduled for next year.
"We are currently studying going to JCPC, ask the JCPC to intervene and probably ask probably for an amendment of the TRAIN law," DOE Assistant Secretary Leonido Pulido said, referring to the Joint Congressional Power Commission (JCPC).
The TRAIN law raised excise tax on gasoline from P4.35 per liter to P7 per liter last January and set new tax rates of P2.50 per liter on diesel, P3 per liter on kerosene and P1 per kilogram on liquefied petroleum gas (LPG).
Next year, tax on gasoline will increase to P9 per liter, diesel to P4.50 per liter, kerosene to P4 per liter and LPG to P2 per kilogram.
A provision in the law allows an automatic suspension of taxes on fuel products when benchmark crude oil prices hit $80 per barrel for a period of three months.
"The law requires it has to be three consecutive months... That would require legislative action. Otherwise we would have to wait for three months at that rate before you can suspend the effectivity of the second round," Pulido said.
Current fuel prices have gone up beyond the agency's expectations, the DOE official said.
"We had projections based on the various indices… but the impact on the Philippines is higher than we expected," Pulido said.
On Monday, the benchmark Brent reached a high of $83.32, the highest level in almost four years amid supply concerns before US sanctions against Iran come into force next month.
Tracking movement in the world market, oil companies on Tuesday raised gasoline prices by P1 per liter, diesel by P1.35 per liter and kerosene by P1.10 per liter.
Oil companies raised gasoline prices for the eighth consecutive week and diesel and kerosene prices for the sixth successive week.
In light of the continued increase in fuel prices, the DOE conducted an emergency meeting with oil companies yesterday.
Leftist group Bayan Muna is pushing for three measures to bring down fuel prices, including a government takeover of oil procurement by Petron, Shell, Caltex and small distributors.
The group made the proposal yesterday or a day after world oil prices shot up beyond the $80-per-barrel mark and as local oil companies made another adjustment in retail prices.
Centralized oil purchase
Bayan Muna party-list Rep. Carlos Zarate said Congress should pass bills that would authorize centralized procurement of oil by the state, regulate the oil industry again and renationalize erstwhile government-owned Petron Corp., the country's biggest oil refiner.
"Up to 95 percent of the country's petroleum requirements are imported, rendering the country exceedingly vulnerable to the dictates of big transnational corporations," he said.
Citing studies by research group Ibon Foundation, Zarate said a big part of the retail prices of oil products sold in the country is in the form of profit that local distributors remit to their mother companies.
"As for the centralized procurement of oil, the Big Three, or the local subsidiaries of Shell, Caltex and Petron, claim that they do not overprice, that they set prices based on the price increases of Dubai oil exchanged over the spot market and on peso-dollar exchange rate fluctuations," he added.
He claimed that these companies "can fix and pad prices through hidden transfer pricing every step of the way, including the mere sale of petroleum and petroleum products from refiners to dealers."
"Estimates show that 67 percent of world trade in oil is done through term contracts, or transactions between subsidiaries of the same companies, bypassing exchanges over world markets," he added.
Zarate stressed that with centralized procurement by the government, these schemes that result in higher prices could be avoided and oil products could be sold at lower prices.
Bayan Muna has blamed unprecedented inflation on higher oil prices, which were in part caused by new and increased taxes imposed under the controversial TRAIN law.
Leftist and opposition lawmakers have called for the repeal of the law's provisions on these levies.
Under the law, the new round of tax increase for next year could be suspended if crude prices in the world market averaged $80 per barrel for three months.
Organized labor also pressed for the immediate suspension of any increase in excise tax on all petroleum products and demanded the adoption of national minimum wage.
The Kilusang Mayo Uno (KMU) said the Duterte administration must immediately revoke the TRAIN law and take measures to dismantle cartels.
"Price discounts of P1 to P3 given to public-utility vehicles (PUVs) are not enough. The government must control the prices. Continued deregulation of oil, rice and other basic commodities cause and aggravate the impact of inflation on the workers and people," KMU secretary-general Jerome Adonis said in a statement. – With Paolo Romero, Rhodina Villanueva, Mayen Jaymalin, Jess Diaz