Makati court sets hearing on Trillanes amnesty issues
September 28, 2018 | 4:00pm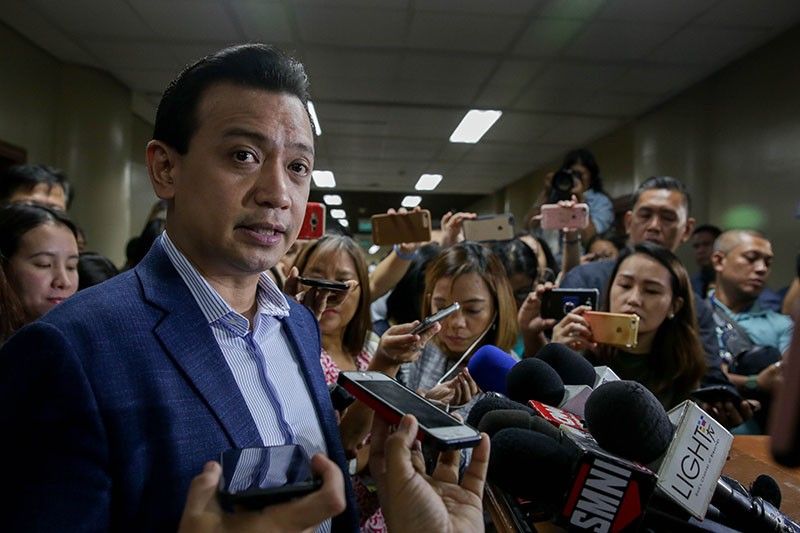 MANILA, Philippines (Updated 5:42 p.m.) — Makati Regional Trial Court Branch 148 has deferred ruling on the Department of Justice's plea for warrant against Sen. Antonio Trillanes IV so it can look further into issues surrounding the senator's amnesty.
The amnesty was granted in 2011 and then voided this month over a missing application form.
Judge Andres Soriano, instead, set a hearing on the presentation of evidence on October 5.
LOOK: Makati court defers ruling on DOJ's motion on arrest warrant, travel ban vs. Sen. Antonio Trillanes. The court sets hearing on reception of evidence on October 5. Copy of order from Trillanes camp. @PhilstarNews pic.twitter.com/dXxLz7mWfZ

— Kristine Patag (@kristinepatag) September 28, 2018
Soriano stressed that the the move is "without necessarily reopening the case and/or giving due course" to the DOJ's motion and is pursuant to the SC's order to tackle the factual matters on Proclamation 572, which voided the amnesty granted in Proclamation 75.
The judge said the parties can present evidence on whether Trillanes filed an application for amnesty or not and on whether he admitted guilt or not. Both are requirements for the grant of amnesty and that the government claims Trillanes failed to comply with.
Branch 150 ruling
Makati RTC Branch 150 earlier this week issued a warrant of arrest against Trillanes after the court said that Proclamation 572 has factual and legal basis.
Judge Elmo Alameda, in his order, said that Trillanes "failed to convince the Court that he indeed complied with the minimum requirement" in applying for amnesty.
"Evidently, he failed to present the original hard copy, duplicate copy, or even a photocopy showing that he personally accomplished and filed with the DND Amnesty Committee his Official Amnesty Application Form duly acknowledged and stamp marked received by said office," the court order read.
Evidence presented to Makati RTC 150
During the motion hearing on September 14 at Makati RTC Branch 150, state prosecutors and Reynaldo Robles, lawyer of Trillanes, presented before the court pieces of evidence to be marked.
Trillanes' camp failed to submit the filled-out application form—he and others who applied for amnesty have said that form was submitted to the Department of National Defense—presented secondary evidence to support their assertion that he did file it.
Later, they filed a Rejoinder, where they attached the affidavit of Col. Josefa Berbigal, who received the form from Trillanes and had him read the admission of guilt that was part of the form.
But Soriano said that the pieces of evidence Trillanes had presented must be "disregarded" as they "barren of probative weight to prove compliance by Senator Trillanes of the minimum requirements set forth in the rules and procedures in the processing of amnesty application."
Branch 148 hearing
Judge Soriano held a motion hearing on September 13, a day before Alameda did.

During the said hearing, Soriano gave both parties more time to file their respective pleadings.
Trillanes' camp filed their Supplemental Comment on Monday, September 24, where they also attached Berbigal's affidavit as an annex.
Trillanes, who has been staying at the Senate since the publication of Proclamation 572 last September 4, said in a press conference that he will head home on Saturday morning.
Judge Andres Soriano left his office. No word on whether the court will issue a resolution on DOJ's motion for warrant, HDO vs Sen. Trillanes. @PhilstarNews pic.twitter.com/exL8UfC0z1

— Kristine Patag (@kristinepatag) September 28, 2018