Another Makati court wraps up proceedings on plea for Trillanes arrest
September 26, 2018 | 4:08pm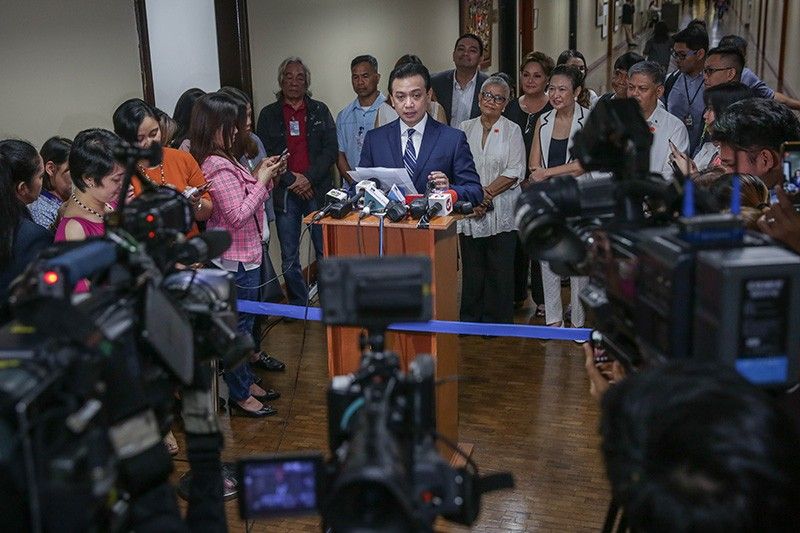 MANILA, Philippines — The Department of Justice is moving swiftly to resolve their other pending plea for issuance of warrant and travel ban against Sen. Antonio Trillanes IV.
Makati Regional Trial Court Branch 148 Judge Andres Soriano gave the DOJ five days from the receipt of Trillanes' Supplemental Comment to file their answer, but state prosecutors filed their pleading on Wednesday, days before their deadline, Justice Secretary Menardo Guevarra confirmed in a text message.
Trillanes, through counsel, filed the Comment only on Monday.
Soriano in his order dated September 13 said that once the state prosecutors file their Reply, the proceedings on their motion for warrant will be deemed submitted for resolution.
Trillanes arrested, but has posted bail
The DOJ has already secured a warrant and hold departure order against Trillanes from Makati RTC Branch 150 as the court said that Proclamation 572—declaring Trillanes' amnesty as void—has factual basis.
But the DOJ is also looking to secure a warrant from Makati RTC Branch 148, which handled the coup d'etat charge against Trillanes over the 2003 Oakwood Mutiny.
A coup d'etat charge is non-bailable.
Should Soriano grant the DOJ's motion, Trillanes would have to be detained by authorities.
It should also be noted that when the amnesty was granted to Trillanes, the Court was set to promulgate the decision in the coup d'etat case. Acting Presiding Judge Ma. Rita Bascos Sarabia, in September 2011, dismissed the coup d'etat case pursuant to the amnesty.
READ: A duel of documents: DOJ, Trillanes cite different rulings
Proclamation 572 has 'legal basis'
Trillanes has sought the Supreme Court for a relief from President Rodrigo Duterte's Proclamation 572, but the tribunal had tossed the determination of factual matters to the trial courts.
Makati RTC Branch 150 Judge Elmo Alameda, in his order, stressed that Trillanes failed to present the primary evidence in the case which is the amnesty application form bearing a receiving stamp.
He said that the pieces of evidence Trillanes had presented—such as video and photograph of him holding the application form, Col. Josefa Berbigal's affidavit saying that she received Trillanes' form and others—must be "disregarded" and are "barren of probative weight."
In the same order, Alameda gave weight to a news article where Trillanes was quoted saying that he "did not admit to the charge of coup d'etat" as evidence that the senator did not admit guilt.
Trillanes 'bracing for the worst'
Justice Secretary Menardo Guevarra said that Alameda's order just proves that the rebellion case against Trillanes is "alive."
After weeks of seeking refuge at the Senate, Trillanes was arrested and underwent booking procedures yesterday. He has also posted bail before the same court and has returned to the Senate.
Trillanes said on Tuesday that while he is hoping for a "miracle" from Branch 148, he is also bracing for the worst.