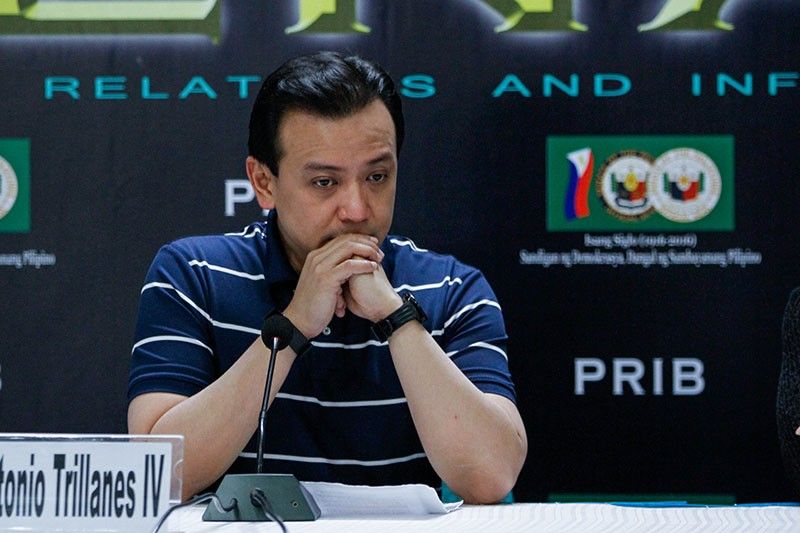 President Rodrigo Duterte, through Proclamation 572, said that the amnesty was "void from the beginning" since Trillanes failed to comply with the requirements. The order, published on September 4, also directed the Department of Justice and court martial of the Armed Forces of the Philippines to pursue all criminal and administrative cases filed against Trillanes in connection with the Oakwood Mutiny in 2003 and the Manila Peninsula siege in 2007.
Geremy Pintolo
Makati court orders Trillanes' arrest for rebellion case
MANILA, Philippines (Update 2, 3:55 p.m.) — A Makati court has issued a warrant against Sen. Antonio Trillanes IV—a fierce critic of President Rodrigo Duterte—over a rebellion case following the president's issuance of Proclamation 572 voiding his amnesty.
Makati Regional Trial Court Branch 150 Judge Elmo Alameda ordered Trillanes' arrest on Tuesday, granting the motion of the Department of Justice.
"Bail for temporary liberty of the accused is fixed at P200,000," the order from Judge Alameda read.
LOOK: Order of Makati RTC Branch 150 granting the Department of Justice's request for an arrest warrant and hold departure order against Sen. Trillanes. | via @kristinepatag pic.twitter.com/nfgaF7quqk

— Philstar.com (@PhilstarNews) September 25, 2018
Court: Proclamation 572 has legal basis
"The Court on the basis of the motion, pleadings and hearing conducted upon directive of the Supreme Court finds factual and legal basis for the issuance of Proclamation 572 on August 31, 2018 by President Rodrigo Duterte," the Court said.
Alameda noted that the Supreme Court ruled on September 11 that the issue on whether Trillanes filed for amnesty and whether he admitted guilt was for the local courts to determine.
Trillanes' petition before the SC, however, remains pending. It has yet to rule on the challenged constitutionality of Proclamation 572.
Solicitor General Jose Calida—who also initiated the review of Trillanes' amnesty records—filed on Monday the government's answer or Comment on the senator's petition for certiorari.
READ: Palace on Trillanes arrest order: No more drama by presscon
Affidavits, photos not enough to convince court
The judge also said that Trillanes "failed to convince the Court that he indeed complied with the minimum requirement" in applying for amnesty.
"Evidently, he failed to present the original hard copy, duplicate copy, or even a photocopy showing that he personally accomplished and filed with the DND Amnesty Committee his Official Amnesty Application Form duly acknowledged and stamp marked received by said office," the court order read.
It said that the pieces of evidence Trillanes had presented—such as a photograph of him holding the application form, Col. Josefa Berbigal's affidavit saying that she received Trillanes' form, and others—must be "disregarded."
READ: Trillanes camp: No indication senator did not apply for amnesty on AFP certificate
The Court said that the pieces of evidence are "barren of probative weight to prove compliance by Senator Trillanes of the minimum requirements set forth in the rules and procedures in the processing of amnesty application."
It also noted that Trillanes' statement, when he was interviewed by GMA News in 2011, "are in conflict and irreconcilable with his adamant position that he applied for amnesty and admitted his guilt."
Trillanes was quoted in the said article as saying: "I would like to qualify that we did not admit to the charge of 'coup d'etat' or anything na finile sa amin because we believe hindi iyon ang nararapat na charge sa ginawa sa amin."
"Trillanes also failed to comply with additional requirement under DND AC Circular No. 1 for him to recant all previous statements inconsistenyt with the requirement of admission of that guilt," the order read.
DOJ motion
Following the publication of Proclamation 572, the Department of Justice sought an alias warrant and travel ban against Trillanes from two Makati courts that handled cases involving Magdalo group mutinees in 2003 and 2007.
In their four-page "Very Urgent Ex-Parte Omnibus Motion for the Issuance of a Hold Departure Order and Warrant of Arrest" filed before Makati RTC Branch 150, the prosecutors pointed out that Trillanes posted bail on the rebellion case on July 15, 2010.
Four months later, President Benigno Aquino III granted amnesty to active and former personnel of the AFP, PNP and their supporters over the Oakwood mutiny, Marines standoff and the Manila Peninsula incident.
They noted that the court, on Sept. 7, 2011, granted Trillanes' "Motion to Dismiss" pursuant to the grant of amnesty. The government argues that the amnesty was declared void and that trial should continue.
"It is clear that this instant case is still pending with this Honorable Court, as the prosecution has yet to present its evidence in chief insofar as accused Trillanes is concerned," they said.
Trillanes to post bail
Trillanes has been staying at the Senate since the publication of Proclamation 572.
When news on the warrant broke, Trillanes was presiding over a hearing of the Senate committee on Social Justice, where he is vice chairman.
Trillanes later faced the press and said that he would go with the arresting officers and post bail.
The National Capital Region Police Office took custidy of him at the Senate and brought him to the Makati Police Station for booking.
LOOK: Sen. Trillanes voluntarily surrenders to NCRPO chief Guillermo Eleazar after a Makati court grants the DOJ's arrest warrant request against the senator. | ???? by Mong Pintolo

More here: https://t.co/JcnbeuOZt7 pic.twitter.com/HkieWRqtno

— Philstar.com (@PhilstarNews) September 25, 2018
As It Happens
LATEST UPDATE: March 20, 2019 - 8:12am
President Rodrigo Duterte has revoked amnesty granted to Sen. Antonio Trillanes IV in 2011 in relation to his involvement in mutinies against the administration of President Gloria Macapagal-Arroyo in 2003, 2006 and 2007.
Duterte claims in Proclamation 572 that Trillanes "did not comply with the minimum requirements to qualify under the Amnesty Proclamation."
President Benigno Aquino III granted the amnesty through a proclamation in 2010 that Congress concurred in.
The amnesty proclamation covered active and former police and military personnel and "[extinguished] any criminal liability for acts committed in connection, incident or related to the July 27, 2003 Oakwood Mutiny, the February 2006 Marines Stand-Off and the November 29, 2007 Peninsula Manila Hotel Incident without prejudice to the grantee's civil liability for injuries or damages caused to private persons."
Trillanes, a lieutenant, senior grade, at the time of the Oakwood Mutiny, applied for amnesty in 2011.
March 20, 2019 - 8:12am
The continuation of Sen. Antonio Trillanes IV's trial for a rebellion case has been moved to May as the Court of Appeals denies his petition for a TRO against it.
The CA denied the petition for TRO for the trial at Makati RTC Br. 150 saying doing so would mean granting the main prayer without trial.
Court of Appeals denies Sen. Trillanes' plea for TRO vs rebellion trial at Makati court. Court says issuing a halt order would mean granting prayer for main petition, without trial. The court ordered Makati Judge 150 Alameda, DOJ to comment on the senator's plea. | @kristinepatag pic.twitter.com/PNq6iS3lSi

— Philstar.com (@PhilstarNews) March 19, 2019
The court has also directed Makati RTC Br. 150 Judge Elmo Alameda to comment on Trillanes' petition.
The rebellion case is over Trillanes' participation in the 2007 Manila Peninsula siege, for which amnesty was granted in 2011. President Rodrigo Duterte has voided the amnesty.
November 26, 2018 - 4:13pm
The Department of Justice has transmitted to the Office of the Solicitor General the order by Makati Regional Trial Court Branch 148 denying its motion for reconsideration on an earlier decision not to issue an arrest warrant for Sen. Antonio Trillanes IV over a coup d'etat case it dismissed in 2011.
The court has stood firm on its decision that Trillanes applied for amnesty and acknowledged guilt in mutinies against the Arroyo administration.
It also stood by the same decision that found that Proclamation 75, which voided Trillanes' amnesty, is legal and is within the president's powers to issue.
"We are transmitting the Joint Order for your office to consider the filing a petition for certiorari with the higher courts witin the time allowed by the Rules of court, " Senior Deputy State Prosecutor Richard Fadullon, OIC prosecutor general, says in his letter.
Presidential spokesperson Salvador Panelo had initially said Solicitor General Jose Calida would go straight to the Court of Appeals and not wait for the Makati court to reconsider.
October 23, 2018 - 5:24pm
The Department of Justice will file a motion for partial consideration at Makati RTC Branch 148 by Friday, Justice Secretary Menardo Guevarra tells reporters.
The motion will only ask the court to reconsider "only insofar as it found that sen trillanes had sufficiently shown that he filed his certificate of amnesty, and that therefore it follows that he also admitted his guilt."
The Palace had earlier said Solicitor General Jose Calida was already preparing a petition questioning the Makati court's resolution before the Court of Appeals.
October 22, 2018 - 3:49pm
Lawyer Rhodora Peralta, Makati RTC Br148 clerk of court, confirms that Judge Andres Soriano has issued a resolution on a Department Justice plea to issue a warrant of arrest against Sen. Antonio Trillanes IV.
She says they will not give out copies until parties of the case receive the resolution first.
Makati RTC Br148 Clerk of Court lawyer Rhodora Peralta confirms that Judge Andres Soriano has issued resolution, but a copy has yet to be given to parties. She said they won't give out copies until parties of the case receive the resolution. | via @kristinepatag pic.twitter.com/Sh4NYmz0CO

— Philstar.com (@PhilstarNews) October 22, 2018
She refuses to give details on what the resolution says.
October 19, 2018 - 5:20pm
A week since proceedings have been wrapped up, Makati Regional Trial Court Branch 148 Clerk of Court Rhodora Peralta is quoted in a report by PTV4 as saying that the resolution may be released "most likely Monday" (October 22). Judge Andres Soriano is determining—pursuant to a ruling by the Supreme Court—the factual issues involved in President Rodrigo Duterte's Proclamation 572 that declared Trillanes' amnesty "void from the beginning" due to the senator's alleged non-compliance with requirements.