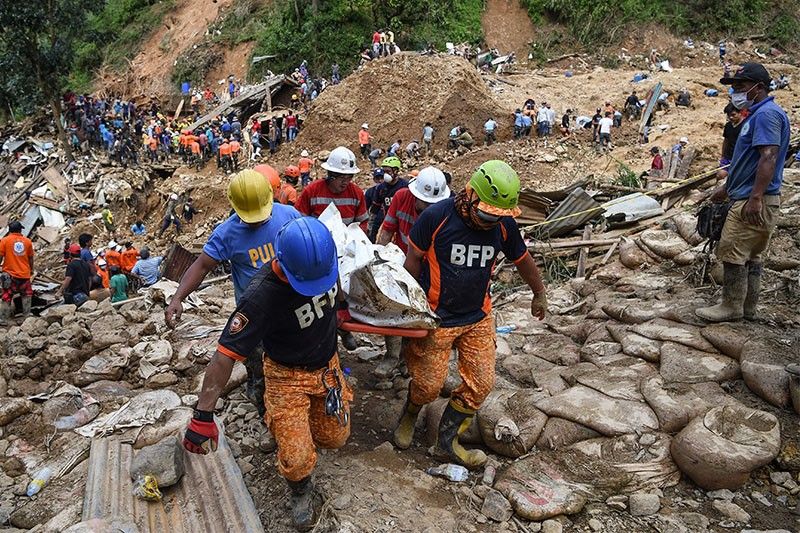 Rescuers carry a body bag containing a landslide victim, triggered by heavy rains during Typhoon Ompong, in Itogon, Benguet province on September 18, 2018. Hundreds of Philippine rescuers used shovels and their bare hands on September 18 to sift through a massive landslide, with dozens feared dead in the region worst-hit by Typhoon Mangkhut as the storm's toll climbed to 81.
AFP/Ted Aljibe
'Ompong' death toll hits 81, expected to rise
(Agence France-Presse) - September 19, 2018 - 12:09pm
MANILA, Philippines — The death toll in the Philippines from Typhoon "Ompong" (international name Mangkhut) has climbed to 81 and could hit triple digits as searchers dig through a landslide where dozens are presumed dead, authorities said Wednesday.
Ompong swamped farm fields in the nation's agricultural north and smashed houses when it tore through at the weekend with violent winds and heavy rains.
Since then the toll has climbed mostly due to the corpses recovered from the massive landslide in the mining town of Itogon where dozens are still believed buried under the mud.
"From the list I saw 59 people are still missing (at Itogon)," Ricardo Jalad, civil defence chief, told AFP. "If you add that to those already recovered it's possible the toll could top 100."
The typhoon, the most powerful to strike this year, also battered Hong Kong and killed four in China's southern province of Guangdong.
Searchers at Itogon continued their grim work on Wednesday, digging with shovels and their bare hands in the vast expanse of mud that crushed dwellings used by small-scale miners.
The area was primed for disaster before Mangkhut hit, as it came on the heels of nearly a month of continuous monsoon rains that saturated the soil of the already hazardous area.
Of the hundreds digging through the debris, many were miners themselves who were looking for friends and relatives, determined to make sure they received a proper burial.
The Philippines's deadliest storm on record is Super Typhoon "Yolanda" (international name Haiyan), which left more than 7,350 people dead or missing across the central Philippines in November 2013.
Related video:
As It Happens
LATEST UPDATE: September 18, 2018 - 11:36am
Typhoon Mangkhut is feared to gain strength as it approaches the Philippine area of responsibility. The tropical cyclone will be named "Ompong" once within the country's vicinity.
The United States Navy's Joint Typhoon Warning Center records that "Mangkhut" has maximum sustained winds of 80 knots or 148 kilometers per hour and gusts of up to 185 kilometers per hour as of Monday morning.
Forecast track of the cyclone shows that it is heading toward the northernmost tip of the country's water off northern Luzon by Friday.
September 18, 2018 - 11:36am
The Department of the Interior and Local Government tallies 66 dead, 62 missing in wake of Typhoon Ompong, ONE News reports.
DILG says 66 were already reported dead and 62 are missing due to the onslaught of Typhoon #OmpongPH. | via @News5AKSYON / @ryanangnews5 pic.twitter.com/AqHV4KfHCd

— ONE News PH (@onenewsph) September 18, 2018
The department says it will also look into potential lapses in local governments' disaster preparations.

September 18, 2018 - 10:02am
The United Church of Christ in the Philippines clarifies Tuesday that a church reported to have collapsed in a landslide in Itogon, Benguet was an old bunkhouse that was being used as a place of worship by United Church Fellowship (Pentecostal Group).
The casualty figure on Monday was at 56 dead but the figure is expected to rise, with around 40 to 50 people believed to still be buried in the mud as search and retrieval operations continue.
Presidential spokesman Harry Roque, who said he is a member of UCCP, on Monday played down President Rodrgo Duterte's remark over the weekend that the "church" would not have collapsed if people had replaced the priest there. He also said priests are stupid.
"Ang tingin ko naman po, hindi naman po seryoso ang presidente. Let's not take his words always literally," Roque said.
Benguet was one of the areas hardest hit by Typhoon Ompong (Mangkhut) over the weekend.
September 17, 2018 - 3:53pm
Philippine and Chinese authorities say the death toll from a typhoon has risen to at least 69 with dozens missing.
Mangkhut weakened to a tropical storm Monday morning as it moved deeper into southern China, where rain and strong winds were expected to continue through Tuesday.
A Philippine national police report said the death toll as of Monday midday was 65, with 43 people missing and 64 injured. Chinese authorities reported four deaths from falling trees and building materials in Guangdong, China's manufacturing hub.
Many of the missing in the Philippines are gold miners and their families feared buried in a landslide after seeking shelter in a bunkhouse-turned-chapel in a village in Benguet province.
Mangkhut battered the northern Philippines on Saturday before slamming into southern China on Sunday. It was the most powerful typhoon to hit Hong Kong since 1979, packing winds of 195 kilometers per hour (121 mph). — AP
September 17, 2018 - 3:53pm
Mangkhut has weakened from a typhoon to a tropical storm as it moves deeper into China.
The storm was still affecting southern China's coast and the provinces of Guangdong, Guangxi and Hainan on Monday morning and rain and strong winds were expected to continue through Tuesday.
Hong Kong residents were being told to stay away from the coastline and be on alert for occasional gales. Bus, ferry and rail services were suspended and almost 900 flights were canceled at the city's airport, one of the world's busiest. The South China Morning Post said Hong Kong's hospitals had to use backup power due to outages caused by the storm.
Mangkhut earlier lashed the Philippines, sparking landslides and building collapses that killed at least 64 people. At least two deaths have been reported in China. As of Monday morning Mangkhut was on track to pass over the Guangxi regional capital of Nanning.
The Hong Kong Observatory reported Mangkhut was the most powerful cyclone to hit the city since 1979, packing maximum sustained gusts of 195 kilometers per hour (121 mph). — AP
September 16, 2018 - 12:35pm
Australia is providing A$800,000 (P30.9 million) worth of humanitarian supplies to the Philippines in the aftermath of Typhoon Ompong. This includes sleeping mats, blankets and hygiene and shelter kits for up to 25,000 people in the most affected areas.
These supplies are being distributed by the Philippine Red Cross.
Australia also deployed humanitarian experts to the Philippines.
"Our Embassy is coordinating closely with Philippine authorities and our international partners... We stand ready to provide further assistance, if requested by the Philippine Government," the Australian government says.