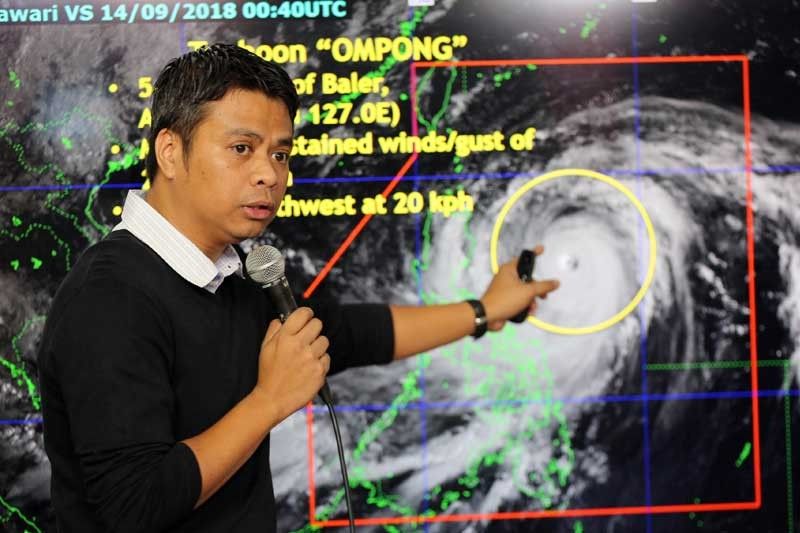 The Philippine Atmospheric, Geophysical and Astronomical Services Administration (PAGASA) said the eye of Ompong was expected to slam into Cagayan and Isabela between 1 a.m. and 3 a.m. today.
Boy Santos
Fierce winds, heavy rains batter Cagayan
Helen Flores
(The Philippine Star) - September 15, 2018 - 12:00am
Signal No. 4 over Cagayan, N. Isabela
MANILA, Philippines — Powerful Typhoon Ompong (Mangkhut) pounded eastern Luzon yesterday with strong winds and heavy rains hours before its forecast landfall over the Cagayan-Isabela area this morning.
The Philippine Atmospheric, Geophysical and Astronomical Services Administration (PAGASA) said the eye of Ompong was expected to slam into Cagayan and Isabela between 1 a.m. and 3 a.m. today.
Ompong was still categorized by the US Joint Typhoon Warning Center as a super typhoon as of last night. But PAGASA said Ompong was unlikely to develop into a super typhoon, saying it has already reached peak intensity.
Rene Paciente, assistant weather services chief of the PAGASA weather division, said Ompong's winds can uproot trees and destroy houses made of light materials.
"It can toss vehicles and pin people to the ground," Paciente said when asked to describe the strength of 205-kph winds.
The storm picked up speed slightly yesterday as it moved closer to Cagayan. Footage posted on social media by Cagayan residents showed trees being whipped by fierce winds under dark grey skies as rain lashed buildings.
Manila and more than three dozen northern and central provinces have been placed under storm warning signals. Classes have been suspended and government offices shut early in more than 600 areas, while military personnel, medical and emergency response teams were put on stand by.
PAGASA said Metro Manila was also expected to experience light to moderate to occasionally heavy rains with gusty winds as the typhoon's center crosses early today.
Ompong was spotted at 340 kilometers east northeast of Casiguran, Aurora as of 4 p.m. yesterday, packing winds of 205 kilometers per hour near the center and gustiness of up to 255 kph.
The typhoon was moving northwest at 30 kph.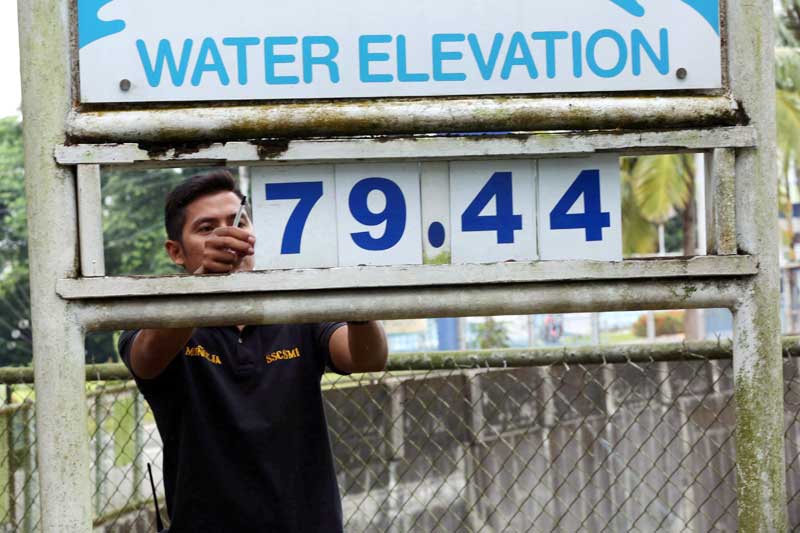 RA worker monitors water elevation at the La Mesa Dam in Quezon City yesterday. Boy Santos
As of 5 p.m. yesterday, tropical cyclone warning signal No. 4 was hoisted over Cagayan and northern Isabela.
These provinces can expect winds of 171 kph to 220 kph within the next 12 hours.
PAGASA also warned of life-threatening storm surges that could reach up to six meters in coastal villages in Cagayan, Isabela and Ilocos provinces.
"By now we expect the people who reside in coastal areas in these provinces have already evacuated," Science Undersecretary Renato Solidum Jr. said.
As of 5 p.m., signal No. 3 was also raised over Babuyan Group of Islands, southern Isabela, Ilocos Norte, Ilocos Sur, Apayao, Abra, Kalinga, Mountain Province, Benguet, Ifugao, Nueva Vizcaya, Quirino and Northern Aurora.
These areas may experience winds of 121 kph to 170 kph within 18 hours.
Signal No. 2, meanwhile, was up in Batanes, La Union, Pangasinan, Tarlac, Nueva Ecija, southern Aurora and northern Zambales.
Signal No. 1 was hoisted over Metro Manila, southern Zambales, Pampanga, Bulacan, Bataan, Rizal, Cavite, Batangas, Laguna, Quezon including Polillo Island; northern Occidental Mindoro including Lubang Island, northern Oriental Mindoro, Masbate, Marinduque, Camarines Norte, Camarines Sur, Catanduanes, Albay, Sorsogon, Burias and Ticao Islands.
Paciente maintained the chances of Ompong intensifying into a super typhoon have slimmed, although it is still a "very destructive" typhoon.
He said the typhoon has not intensified in the last two days.
"It has already reached its maximum strength," Paciente said.
The southwest monsoon, enhanced by Ompong, will also bring gusty winds with occasional moderate to heavy rains over the Visayas, as well as scattered light to moderate to at times heavy rains over Palawan, Zamboanga peninsula, Northern Mindanao and Caraga region.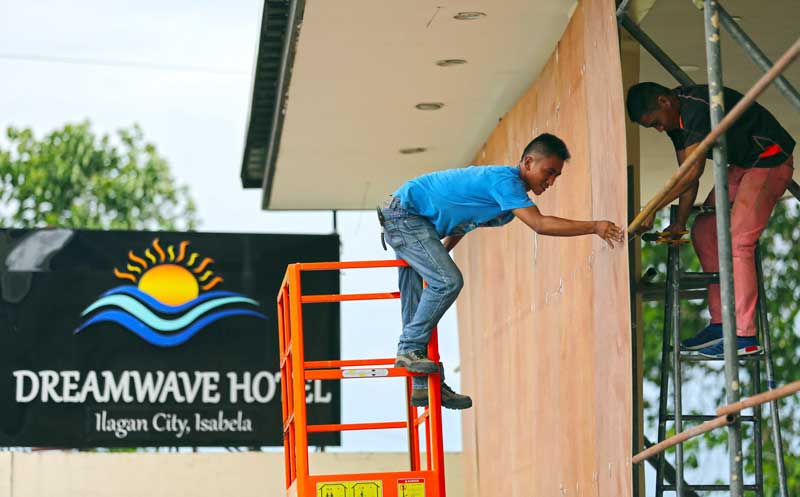 Maintenance personnel put flyboards to shield windows at a hotel in Isabela province. Walter Bollozos
Residents in these areas, especially those living near river channels, in low-lying areas and in mountainous areas were also advised to take appropriate actions against possible flooding and landslides.
Ompong is likely to weaken after it slams into the Sierra Madre and Cordillera mountains. It is expected to exit the Philippine area of responsibility tonight.
Direct path
As the country braced for heavy rain and damage to infrastructure and crops, authorities began evacuating more people yesterday, with an estimated 5.2 million people living in the direct path of Ompong.
The National Disaster Risk Reduction and Management Council (NDRRMC) said most of these people live along coastlines, mountain slopes or flood-prone areas.
As of yesterday, 2,296 families or a total of 9,107 persons from Cagayan province have evacuated to safer areas.
"There was a shift between the most affected province, yesterday it was Cagayan and next was Isabela, but today things have changed. Isabela now is the number one projected to be affected with 1.75 million (people) and then Cagayan with 1.2 million people," NDRRMC spokesman Edgar Posadas said.
Posadas pointed out the affected families are living within the 125-kilometer radius near the eye of the storm.
He said despite an altered path, Ompong's fury is still expected to be felt in 662 cities and municipalities in the Ilocos region, Cagayan Valley, Southern Tagalog, Bicol, Western and Eastern Visayas, with 447 cities suspending classes on all levels since yesterday.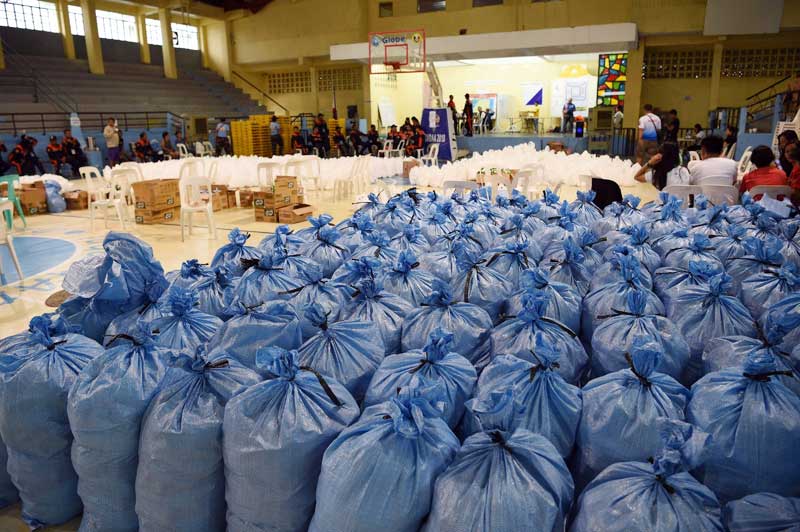 Food packs are prepared for distribution in Tuguegarao, Cagayan. AFP
Posadas said 22 domestic flights were cancelled yesterday while 46 vessels and 36 motor bancas were prevented from sailing in the ports of Manila, Subic, Bataan, Pasig, Cavite, Antique, Aklan, Camarines Norte, Camarines Sur, Albay, Sorsogon, Catanduanes, Southern Leyte, Northern Samar, Negros Oriental, Negros Occidental, Siquijor, Batangas, Oriental Mindoro, Occidental Mindoro, Romblon, southern and northern Quezon.
He said the cancellation of air and sea travel has resulted in the stranding of at least 4,000 passengers and 637 rolling cargos.
On top of the pre-positioned food and non-food items in areas projected to be hit hard by Ompong, Posadas said the NDRRMC has also released P20 million for the National Food Authority to buy additional sacks of rice once the need arises.
Authorities are taking extra precautions as they draw comparison with Super Typhoon Yolanda (Haiyan), which devastated areas of Central Visayas in 2013, killing 6,300 people, many in storm surges that reached as high as eight meters.
Damage to crops in a worst-case scenario could reach about 157,000 tons of paddy rice and about 257,000 tons of corn, worth P13.5 billion, the agriculture department said.
That could result in tightness in the domestic supply of rice, at a time when retail prices are already high, which would compound worries about inflation.
Meanwhile, the Magat Hydro-electric Power and Irrigation Project in Ramon, Isabela continued to release excess water ahead of Ompong's expected heavy rains.
Officials said two of the dam's spillway gates have been opened since Thursday to avoid reaching critical level as heavy rains continue to pour in some areas of the region.
The Agno River Basin flood forecasting in Pangasinan said the water level in the rivers of the province remains normal.
Despite the threat of heavy rains brought by Ompong, the floodgates of the San Roque Dam in the province are still closed, officials said. – Jaime Laude, Victor Martin, Raymund Catindig, Eva Visperas, AP, Reuters