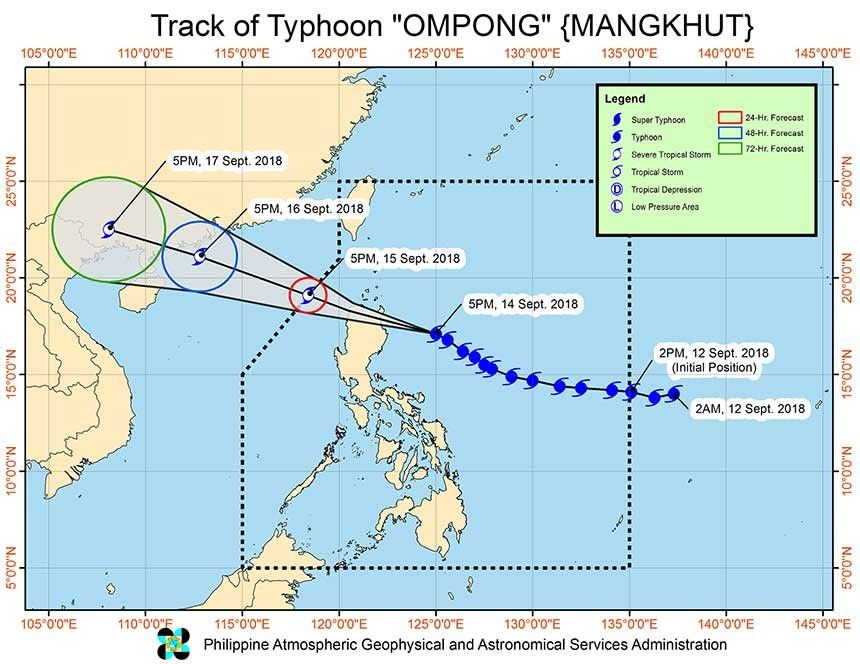 As of 8 p.m., "Ompong" was seen 260 km east northeast of Casiguran, Aurora with maximum winds of up to 205 kilometers per hour and gustiness of up to 255 kilometers per hour.
PAGASA
Signal No. 4 in four areas in northern Luzon as 'Ompong' closes in
MANILA, Philippines — Signal No. 4 has been raised in Apayao and Abra Friday evening as Typhoon "Ompong" (international name: Mangkhut) moves closer to Luzon.
Previously, state weather bureau PAGASA has placed Cagayan and northern Isabela under Signal No. 4 as these were the possible places where Ompong will make landfall.
As of 8 p.m., "Ompong" was seen 260 km east northeast of Casiguran, Aurora with maximum winds of up to 205 kilometers per hour and gustiness of up to 255 kilometers per hour.
The typhoon continues to move 30 kilometers per hour northwest.
Tropical cyclone warning signals have been also raised in the following areas:
Signal No. 4 (Winds of 171 to 220 kph within 12 hours)
Apayao
Abra
Cagayan
Northern Isabela
Signal No. 3 (Winds of 121 to 170 kph within 18 hours)
Batanes
Babuyan Group of Islands
Southern Isabela
Ilocos Norte
Ilocos Sur
La Union
Kalinga
Mt. Province
Benguet
Ifugao
Nueva Vizcaya
Quirino
Northern Aurora
Signal No. 2 (Winds of 61 to 120 kph within 24 hours)
Pangasinan
Tarlac
Nueva Ecija
Southern Aurora
Zambales
Pampanga
Bulacan
Northern Quezon including Polillo Island
Signal No. 1 (Winds of 30 to 60 kph within 36 hours)
Bataan
Rizal
Metro Manila
Cavite
Batangas
Laguna
Rest of Quezon
Northern Occidental Mindoro, including Lubang Island
Northern Oriental Mindoro
Masbate
Marinduque
Camarines Norte
Camarines Sur
Catanduanes
Albay
Sorsogon
Burias and Ticao Islands
Stormy weather is expected over areas under Signal Nos. 2 and 4. Those under Signal No. 1 will experience occasional rains and gusty winds.
"Ompong" is forecast to hit the Cagayan-Isabela landmass early Saturday morning.
Weather officials said that the typhoon—the strongest to hit the country this year—will bring intense winds, which will leave considerable damage to structure and will uproot trees and down electric posts.
PAGASA urged those living in the path of "Ompong," especially residents vulnerable to storm surge, should consider evacuating.
As It Happens
LATEST UPDATE: September 18, 2018 - 11:36am
Typhoon Mangkhut is feared to gain strength as it approaches the Philippine area of responsibility. The tropical cyclone will be named "Ompong" once within the country's vicinity.
The United States Navy's Joint Typhoon Warning Center records that "Mangkhut" has maximum sustained winds of 80 knots or 148 kilometers per hour and gusts of up to 185 kilometers per hour as of Monday morning.
Forecast track of the cyclone shows that it is heading toward the northernmost tip of the country's water off northern Luzon by Friday.
September 18, 2018 - 11:36am
The Department of the Interior and Local Government tallies 66 dead, 62 missing in wake of Typhoon Ompong, ONE News reports.
DILG says 66 were already reported dead and 62 are missing due to the onslaught of Typhoon #OmpongPH. | via @News5AKSYON / @ryanangnews5 pic.twitter.com/AqHV4KfHCd

— ONE News PH (@onenewsph) September 18, 2018
The department says it will also look into potential lapses in local governments' disaster preparations.

September 18, 2018 - 10:02am
The United Church of Christ in the Philippines clarifies Tuesday that a church reported to have collapsed in a landslide in Itogon, Benguet was an old bunkhouse that was being used as a place of worship by United Church Fellowship (Pentecostal Group).
The casualty figure on Monday was at 56 dead but the figure is expected to rise, with around 40 to 50 people believed to still be buried in the mud as search and retrieval operations continue.
Presidential spokesman Harry Roque, who said he is a member of UCCP, on Monday played down President Rodrgo Duterte's remark over the weekend that the "church" would not have collapsed if people had replaced the priest there. He also said priests are stupid.
"Ang tingin ko naman po, hindi naman po seryoso ang presidente. Let's not take his words always literally," Roque said.
Benguet was one of the areas hardest hit by Typhoon Ompong (Mangkhut) over the weekend.
September 17, 2018 - 3:53pm
Philippine and Chinese authorities say the death toll from a typhoon has risen to at least 69 with dozens missing.
Mangkhut weakened to a tropical storm Monday morning as it moved deeper into southern China, where rain and strong winds were expected to continue through Tuesday.
A Philippine national police report said the death toll as of Monday midday was 65, with 43 people missing and 64 injured. Chinese authorities reported four deaths from falling trees and building materials in Guangdong, China's manufacturing hub.
Many of the missing in the Philippines are gold miners and their families feared buried in a landslide after seeking shelter in a bunkhouse-turned-chapel in a village in Benguet province.
Mangkhut battered the northern Philippines on Saturday before slamming into southern China on Sunday. It was the most powerful typhoon to hit Hong Kong since 1979, packing winds of 195 kilometers per hour (121 mph). — AP
September 17, 2018 - 3:53pm
Mangkhut has weakened from a typhoon to a tropical storm as it moves deeper into China.
The storm was still affecting southern China's coast and the provinces of Guangdong, Guangxi and Hainan on Monday morning and rain and strong winds were expected to continue through Tuesday.
Hong Kong residents were being told to stay away from the coastline and be on alert for occasional gales. Bus, ferry and rail services were suspended and almost 900 flights were canceled at the city's airport, one of the world's busiest. The South China Morning Post said Hong Kong's hospitals had to use backup power due to outages caused by the storm.
Mangkhut earlier lashed the Philippines, sparking landslides and building collapses that killed at least 64 people. At least two deaths have been reported in China. As of Monday morning Mangkhut was on track to pass over the Guangxi regional capital of Nanning.
The Hong Kong Observatory reported Mangkhut was the most powerful cyclone to hit the city since 1979, packing maximum sustained gusts of 195 kilometers per hour (121 mph). — AP
September 16, 2018 - 12:35pm
Australia is providing A$800,000 (P30.9 million) worth of humanitarian supplies to the Philippines in the aftermath of Typhoon Ompong. This includes sleeping mats, blankets and hygiene and shelter kits for up to 25,000 people in the most affected areas.
These supplies are being distributed by the Philippine Red Cross.
Australia also deployed humanitarian experts to the Philippines.
"Our Embassy is coordinating closely with Philippine authorities and our international partners... We stand ready to provide further assistance, if requested by the Philippine Government," the Australian government says.