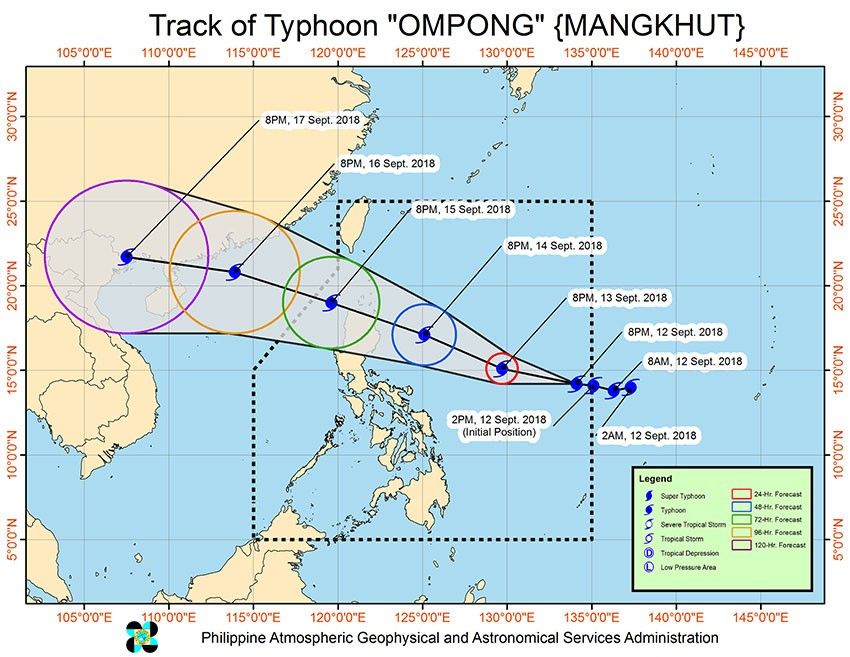 'Ompong' may bring worse rains than 'Ondoy' – PAGASA
Helen Flores
(The Philippine Star) - September 13, 2018 - 12:00am
Heavier rains, stronger storm surge expected
MANILA, Philippines — Super Typhoon Ompong barreled toward Eastern Luzon yesterday, with the state weather bureau warning residents to brace for possible devastating storm surges of up to six meters high or about 19.6 feet and rains heavier than that brought by Ondoy.
The predicted storm surge from Ompong (international name Mangkhut), described by meteorologists as the strongest cyclone to hit the country this year, is worse than that spawned by Super Typhoon Yolanda (Haiyan) in November 2013 that killed thousands in Eastern Visayas.
Vicente Malano, administrator of the Philippine Atmospheric, Geophysical and Astronomical Services Administration (PAGASA), said Ompong may generate storm surges of at least six meters high along Cagayan and the eastern and northern coastal areas, including Aparri.
In November 2013, Yolanda brought five-meter high storm surges in the eastern coastline of Leyte and Samar, such as Tacloban, leaving widespread destruction and loss of lives.
Malano said they would provide the public "more precise" storm surge advisory every six hours once the typhoon is already close to landmass.
Ompong, which has been categorized as a super typhoon by the US Joint Typhoon Warning Center as early as Tuesday, entered the Philippine area of responsibility at around 3 p.m. yesterday.
It is forecast to make landfall over the Cagayan-Batanes area on Saturday.
PAGASA advised residents in many parts of Luzon to seek safer grounds as Ompong is expected to lash the region with heavy rains and powerful winds beginning tomorrow.
PAGASA, however, maintained its typhoon category for Ompong, which packed maximum sustained winds of 205 kilometers per hour (kph) as of 5 p.m. yesterday.
PAGASA classifies a cyclone with 220 kph and above maximum sustained winds as a super typhoon.
Malano said there is still a possibility that Ompong will reach the super typhoon category.
Ompong was forecast to bring damaging winds and torrential rains in many areas in Northern and Central Luzon.
"Ompong's winds could uproot many trees and topple electric posts. We urge the public to evacuate to safer grounds and to coordinate with their local government officials," Rene Paciente, assistant weather services chief of the PAGASA's weather division, said.
As of 3 p.m. yesterday, the eye of Ompong was spotted at 1,165 kilometers east of Virac, Catanduanes.
Ompong packed maximum sustained winds of 205 kilometers near the center and gusts of up to 255 kph.
The typhoon slowed down from 30 kph on Tuesday to 20 kph yesterday.
Ompong was expected to slightly change its track from west to west northwest in the next hours as the high-pressure area north of it moves, according to PAGASA weather forecaster Gener Quitlong.
Lead time
The weather bureau was expected to raise tropical cyclone warning signal No. 1 over Eastern Luzon between last night and early today.
Areas under signal 1 can expect winds of up to 60 kph within 36 hours.
"When we raise signal number 1, it doesn't mean that they could already feel the effect of the typhoon. The warning gives (residents) a 36-hour lead time. They have to evacuate by (tomorrow)," Quitlong said.
The trough or extension of Ompong and the southwest monsoon was already dumping rains over Palawan, Bicol region, the Visayas and Mindanao yesterday.
Heavy rains and strong winds, however, are expected over Northern Luzon and parts of Central Luzon by tomorrow due to the cyclone's outer periphery.
The typhoon is also expected to enhance the southwest monsoon, which will bring rains over Palawan, Mindoro provinces and Western Visayas by tomorrow and Saturday.
Quitlong said moderate to heavy to at times torrential rains are expected over Southern Luzon, including Metro Manila, by tomorrow due to the combined effect of the southwest monsoon and the outer cloud band of Ompong.
Paciente said signal 1 may be raised over Metro Manila as it is also expected to experience gusty winds from Ompong.
Ondoy-like rains
Malano said the rains to be dumped by Ompong and the southwest monsoon could surpass the rains brought by Tropical Storm Ondoy in 2009.
"If there's southwest monsoon plus the rains from the typhoon, we could experience the volume of rain brought by Ondoy or even surpass it," Malano said.
Malano said Ompong is expected to weaken once it slams into the Sierra Madre, the longest mountain range in the country.
Palace monitoring
President Duterte will be monitoring the developments and the impact of Ompong.
As part of precautionary measures, Malacañang has postponed Duterte's trip for the test firing of Spoke Extended Range of BRP Davao del Sur (LD602) in Lamao Point in Limay, Bataan this afternoon.
"Due to (Ompong), we were advised that the Bataan event is cancelled," Malacañang said in its media advisory.
Special Assistant to the President Christopher Go said the President will be in Manila in the next days to monitor the impact of the weather disturbance.
"He might go to the National Disaster Risk Reduction and Management Council (NDRRMC)," Go said on the sidelines of the awarding of certificates and incentives to the medalists in the 18th Asian Games, presided over by Duterte at Malacañang yesterday.
Go said the President's schedule is "fluid" in the next few days, depending on the weather and the advice of his security team.
Earlier in the day, presidential spokesman Harry Roque Jr. advised the public to be updated on the weather and alert issuances of PAGASA and NDRRMC.
The NDRRMC is ready to release funds, food packs and relief assistance to affected families through the Department of Social Welfare and Development (DSWD).
"As I speak, there is an ongoing pre-disaster risk assessment meeting now to ensure the orchestrated response of the government to (Ompong)," Roque said.
Disaster risk reduction
NDRRMC executive director and Office of Civil Defense administrator Ricard Jalad said the Operations Center is currently on red alert and the Response Cluster has been activated.
The NDRRMC is closely monitoring Ompong with the regional councils to ensure orchestrated response by the government.
On the other hand, DSWD has ensured the prepositioning of food and non-food items on the ground and is preparing for possible augmentation of relief supplies for affected communities.
LGU response
As Ompong is barreling down on the north, the Department of the Interior and Local Government (DILG) ordered governors, mayors and other local executives to ensure immediate government response or face sanctions.
DILG officer-in-charge Eduardo Año said local chief executives should be physically present in their respective local government units (LGUs) during the onslaught of Ompong.
"Those who fail to show up and remain absent when Ompong rakes through the country will be sanctioned by the department," he warned.
As this developed, the Batanes Provincial Disaster Risk Reduction Management Council is in the thick of preparations to avert any disaster that the super typhoon may bring, while the National Food Authority has prepositioned emergency stocks in the island-municipalities of Sabtang and Itbayat.
Several LGUs have suspended work and classes this week in anticipation of the impact of Ompong, including the Ilocos region; Albay; Masantol, Pampanga; Dolores, Abra; Apayao; Apalit, Pampanga; Dagupan City and Isabela, Cagayan.
In Bulacan, at least 300 cubic meters per second of water was released at Bustos Dam yesterday afternoon.
Full alert
The PNP today placed all its forces in Luzon on full alert as part of its preparations for the effects of Ompong.
The highest alert status will take effect at 6 a.m., PNP chief Director General Oscar Albayalde said at a news briefing yesterday.
It means vacation leaves of police officers are cancelled to ensure the availability of all personnel and resources for disaster response operations.
"Resources and personnel from these operational support and maneuver units with disaster response capability are directed to preposition within closest and safest proximity to threatened and high-risk areas along coastlines, riverbanks and geo-hazard zones for rapid deployment in the event of contingency," he said.
The Ninoy Aquino International Airport terminals/aerodrome will be closed if Ompong packs 35 knot-crosswinds, Manila International Airport Authority (MIAA) general manager Ed Monreal said yesterday afternoon after meeting with the Airline Operators Council (AOC) at the MIAA board room. – With Christina Mendez, Jaime Laude, Cecille Suerte-Felipe, Janvic Mateo, Jack Castaño, Eva Visperas, Cesar Ramirez, Raymund Catindig, Emmanuel Tupas, Edu Punay, Rudy Santos, Ramon Efren Lazaro
Related video: