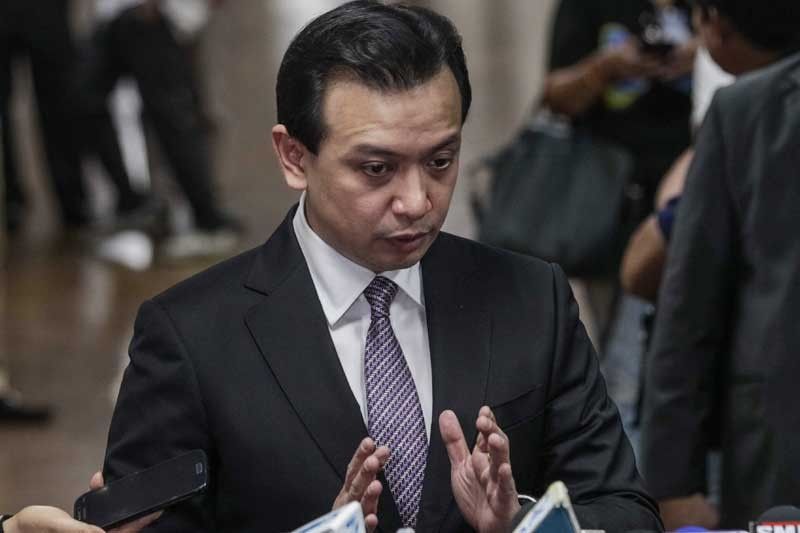 Trillanes also warned Duterte against dragging the senator's ailing mother into their fight.
Geremy Pintolo
Trillanes calls Duterte 'obsessed and insecure'
MANILA, Philippines — Sen. Antonio Trillanes IV described President Duterte yesterday as "obsessed" with him and "insecure" for devoting much of his time hitting him rather than focusing on problems of the country during a one-on-one with Chief Presidential Legal Counsel Salvador Panelo on Tuesday.
Trillanes also warned Duterte against dragging the senator's ailing mother into their fight.
Vice President Leni Robredo and some senators also said the televised interview was a "lost opportunity" for Duterte and that they were disappointed because it should have been used to address the urgent concerns of the people, including high prices.
Magdalo party-list Rep. Gary Alejano, who was also part of the group of soldiers who staged uprisings against the Arroyo government like Trillanes, urged Duterte to put his quarrel with the opposition senator behind him and attend to the nation's problems.
Trillanes called Duterte names after the President called him corrupt and that his mother was a supplier for the Navy, where he used to serve as lieutenant.
The senator noted that during the 90-minute-long interview, Duterte mentioned his name "more than a hundred times."
"Maybe he's obsessed with me. Maybe he has dreams of me when he sleeps – that's good, I hope you have nightmares because of me because I will not go away," Trillanes told reporters.
He said Duterte always talks like someone who just came from a drinking spree.
Trillanes also thinks Duterte was insecure with him as he appears to be "competing against me" for the loyalty of the Armed Forces (of the Phillipines or AFP) and the police when he keeps enumerating his initiatives to modernize the military and help soldiers.
"There should be no competition. He is the commander-in-chief of the AFP, I'm a senator. I help whenever I can – not only soldiers and the police – to everyone. He should be like that too," Trillanes said.
He said he believes members of the AFP and the police remain loyal to the chain of command and the Constitution "so I don't know where this insecurity is coming from."
The senator also denied Duterte's allegations that he and the Magdalo group were plotting with communist rebels to oust him.
He said he and members of the Magdalo became law abiding citizens and upheld the Constitution when he and some of his colleagues were elected to Congress.
Low blow
Trillanes warned Duterte not to drag again his 84-year-old mother, who he said is afflicted with advanced Parkinson's disease into their fight.
"I think everyone saw how low that blow was. If you have a problem with me, stick with me. I can face that. But dragging my mother, that's personal already. Don't go there. That's not the work of a real man," he said in mixed Filipino and English.
He did not deny that his mother was a private supplier to the Navy while his father and namesake – who retired in 1988 – was naval captain. He was in high school at the time.
"There was no case (against my mother) and there was no impropriety. That's what's important," the senator said.
Waste of time
For her part, Robredo said, "We expect (Duterte) would face the people to say that 'we really have a problem, and here are the solutions of the government.'"
"This is not the time to focus on politics. This is the time to fix the country's economic problem," Robredo said.
Some senators were also not impressed with the tete-a-tete.
Sen. Grace Poe said while it "is also important that we know his (Duterte's) sentiments… we also want to know more about his concrete plans for the problems we are facing – not just the abolition of the NFA (National Food Authority) Council or importing rice – but something more detailed."
"But maybe that will come in the future," Poe said.
Sen. Risa Hontiveros described the event as "a complete disappointment" and a "total waste of time and precious government resources."
She said the measures that Duterte offered to address the country's twin rice and inflation crises "were vague and lost in his stories of destabilization plots."
"President Duterte should snap out of his fantasy with destabilization plots, roll up his sleeves and start working. Strong economic policies, not wild conspiracy theories, will address the country's rice crisis and untamed inflation," she said.
Sereno visits Trillanes
Former chief justice Maria Lourdes Sereno warned that Duterte's move to revoke the amnesty granted to Trillanes without consulting the AFP was "divisive and dangerous."
She said Duterte's televised interview also did not at all help in reducing tensions nor in providing the AFP the opportunity to study the questioned Proclamation No. 572 first before being ordered to arrest Trillanes.
The proclamation revoked Trillanes' amnesty for allegedly being void. Trillanes denied this and went to the Supreme Court, which said the issue should be heard before the lower courts that tried the senator's cases.
"What the President did (issuing proclamation) by not consulting the military is very dangerous, in other words, he put the AFP in jeopardy," Sereno told reporters after visiting Trillanes in his office.
She said the proclamation raised the idea that all amnesties granted in the past to all soldiers can be revoked anytime.
She cited the case of Armed Forces chief Gen. Carlito Galvez, who was granted amnesty after taking part in the 1989 coup attempt against then president Corazon Aquino, and Sen. Gregorio Honasan. – With Jess Diaz