Duterte skipping World Economic Forum in Hanoi, Vietnam
September 11, 2018 | 12:00am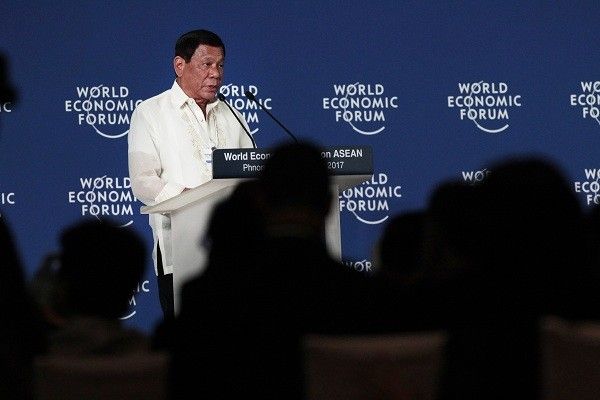 DAVAO CITY, Philippines — President Duterte is not attending the World Economic Forum (WEF) on ASEAN to be held in Hanoi, Vietnam starting today until this Thursday.
The President is instead sending Trade Secretary Ramon Lopez to the WEF, which is expected to draw the participation of leaders of ASEAN and regional nations.
Lopez is set to fly to Hanoi on Tuesday.
Last year, Duterte attended the WEF in Phnom Penh, Cambodia where he talked about the potential of the ASEAN youth and their vulnerability to illegal drugs.
This year's WEF theme deals with the common concerns of ASEAN member-states and other countries in the region and is closely connected to the ASEAN for 2018 "Resilient and Innovative."
Last month, organizers confirmed the President's participation at the WEF.
Malacañang did not say why Duterte is not joining the forum.
The President just came back from Israel and Jordan where he was able to get $143 million in investment pledges.
Earlier last month, it was announced that Duterte was among eight Southeast Asian heads of state expected to attend the WEF. The others include Malaysian Prime Minister Mahathir Mohamad, Singaporean Prime Minister Lee Hsien Loong, Indonesian President Joko Widodo and Myanmar's State Counsellor Aung San Suu Kyi.
WEF Asia Pacific head Justin Wood called the event a "record delegation" of regional government leaders.