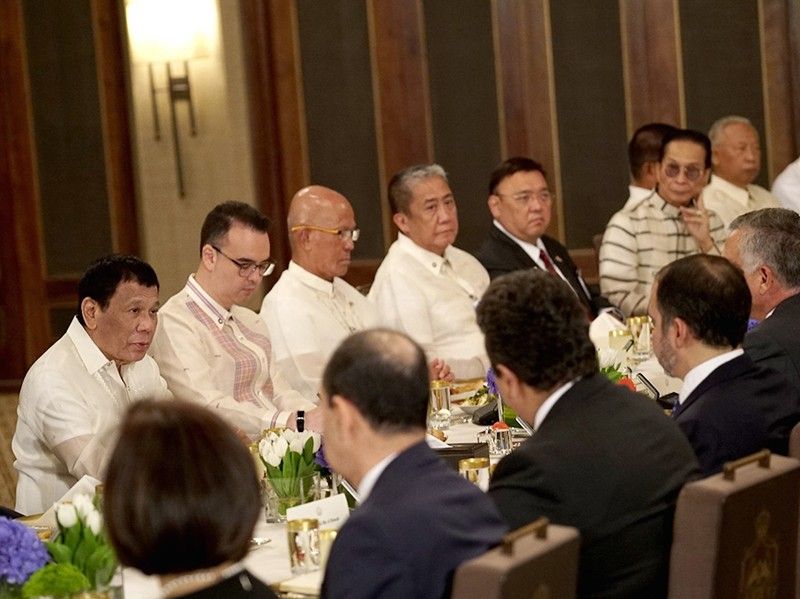 President Rodrigo Roa Duterte and the members of his delegation hold a working lunch meeting with Hashemite Kingdom of Jordan King Abdullah bin Al-Hussein and other Jordanian officials at the Al Husseinieh Palace in Amman on September 6, 2018.
Presidential photo/Toto Lozano
Humbled by SWS poll, Palace says Duterte will remain focused on job
AMMAN — Malacañang was unfazed by President Rodrigo Duterte's lower trust ratings in June and assured the public that the administration remains committed to its responsibilities.
Duterte's net trust rating fell to a "very good" +57 in June from +65 in March, according to a second quarter Social Weather Stations survey.
Seven out of ten or 70 percent of the respondents of the June poll had much trust on the president, 18 percent were undecided and 13 percent had little trust in him.
Presidential spokesman Harry Roque said Malacañang was humbled by the results of the poll.
"The Palace views the latest survey results with humility; however, we have to take note that regardless of ratings, the president remains focused on his job of governing the nation," Roque said in a statement released Saturday.
Roque admitted that much remains to be done, especially in assisting the poor, vulnerable and severely hungry families.
"We are now working double time to aid families affected by high prices while keeping the economy stable," the presidential spokesman said.
Despite Duterte's lower net trust rating, Roque thanked the Filipinos "for their continuing vote of confidence for President Rodrigo Roa Duterte during this challenging time."
The SWS survey was conducted from June 27-30, 2018 using face-to-face interviews of 1,200 adults nationwide.