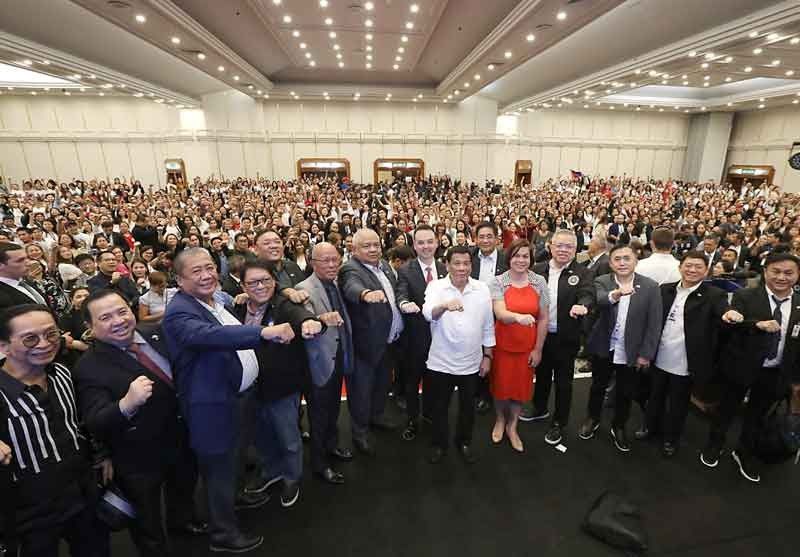 President Duterte and daughter Davao City Mayor Sara Duterte-Carpio pose with Cabinet members as they join the Filipino community in Israel on Sept. 2 at the Ramada Hotel in Jerusalem.
In Holy Land, Duterte affirms belief in his God
Alexis Romero
(The Philippine Star) - September 4, 2018 - 12:00am
JERUSALEM – President Duterte shed tears and professed his faith in God here in the Holy Land even as he stressed that he does not believe in the Supreme Being of his critics who, he said, are portraying him as the devil.
Speaking to the Filipino community yesterday, Duterte denied that he does not believe in God, a claim that he said is being peddled by people engaged in politicking.
"I did not say I do not believe in God. I just said 'I refuse to believe in your God,'" the President said.
"You know, when you attack me in public using God as a platform, picturing me or portraying me as a devil... you open the issue to debate. I believe in the supreme God that my father and mother passed on to me. So do not believe in that intrigue that I don't believe in God," he added.
Duterte, born Roman Catholic, sparked outrage last June by saying that God must have been "stupid" for letting temptation corrupt his work.
He described as "hypocritical" the Catholic Church, which has been critical of the hundreds of killings tied to his war on illegal drugs. He also claimed that unlike the God of his critics, his Supreme Being has lots of common sense and would not allow people to suffer in hell.
Duterte has apologized for his remarks but stressed that religious leaders should not use the pulpit to criticize him.
At the same event, Duterte said he shed tears seeing his fellow Filipinos but expressed belief he became emotional because he was in the Holy Land.
"I rarely cry... I could remember maybe the times that I cried, when my father and mother died. But rare, very rare," the President said.
"I only did during this visit and maybe I will do it again, I really do not know. But this is the first time I shed tears while with my fellow Filipinos. Maybe because I am here in Holy Land," he added.