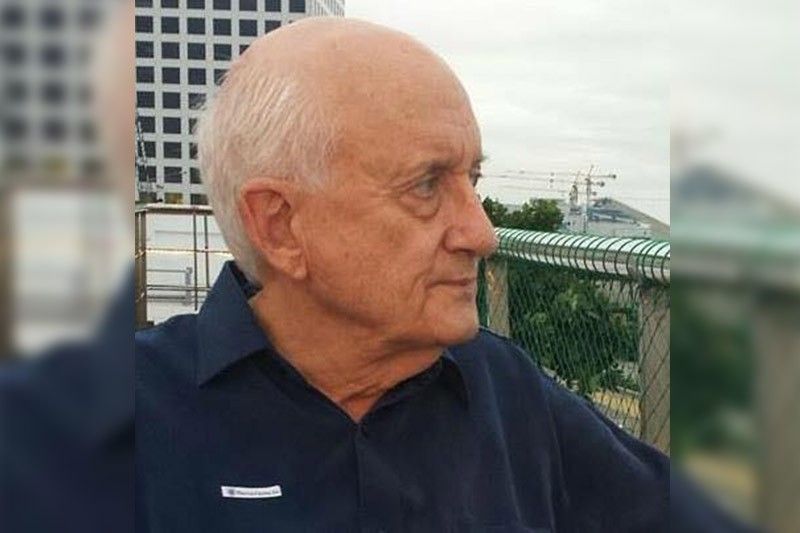 Rights group Karapatan said Australian law professor Gill Boehringer has long been active in campaigning for human rights in the Philippines.
Karapatan/released
Blacklisted Australian denies joining 2015 rally, communist ties
MANILA, Philippines — The elderly Australian professor facing expulsion from the country on Monday denied allegations that he has links with "communist terrorist groups" and attended a rally in 2015.
In a statement released through rights group Karapatan, Gill Boehringer said that while he has not been informed by the Bureau of Immigration of the basis of his exclusion — or being denied entry to the country, he denies the circulating allegation that he is "associated with 'communist terrorist groups.'"
He also denied that he attended a rally against the Asia-Pacific Economic Cooperation meeting in November 2015.
READ: BI: Australian prof blacklisted for 'joining rally' in 2015
"The legality, or not, of attending such a rally is a vexed question at the present time. I will not enter that debate at this point. What I will say is that I did not attend that rally. That charge is false," Boehringer said.
The Immigration bureau, in a statement last week, said that Boehringer was placed on the blacklist for reportedly participating in a rally in November 2015 which is "in clear violation of the BI Operations Order prohibiting foreigners in engaging in political activities."
Visit to Lumad school in February
The Australian professor also refuted allegations that he joined a rally in February 2018.
He clarified that he joined a "trip to the forested mountains of the CARAGA region, Mindanao to observe the educational activities at a primary school for indigenous (Lumad) children run by the Tribal Filipino Program of Surigao del Sur."
Government and military officials have been claiming that the Lumad schools, including those run by Tribal Filipino Program of Surigao del Sur, or TRIFPSS, are linked to communist rebels and teach children from indigenous peoples' communities in Mindanao to rebel against the government.
RELATED: For Lumad schools, even holding class is a struggle
Volunteers from the Lumad schools as well as IP community groups and rights advocates dispute the government's claim.
Boehringer stressed that he has been teaching and researching about "the process of educations...and the circumstances of indigenous people and their environmental custody of the land" in Australia, the Philippines and elsewhere.
"I believe there is no basis for my exclusion from the Philippines in what was an educational experience for myself, the others who travelled with me into the mountain district, and also, I like to think, for those we met there," he added.
'No subversive intent'
Boehringer also asked the Philippine government "to recognize me as a person who has visited the country over many years with no subversive intent."
He added that while he has been a "critic" of some government policies included the serving as an "International Election Observer in 2007 and 2010," Boehringer asserted that his participation should be considered as "an attempt to make a rational contribution within the vibrant national discourse about how democracy can be strengthened, the rule of law protected and social justice ensured."
Immigration has clarified that the Australian professor is staying at the exclusion room of the Ninoy Aquino International Airport, and his custody has been turned over to the airlines required to fly him back to his port of origin.
Boehringer has yet to board his flight due to health concerns.
Justice Secretary Menardo Guevarra said that Boehringer can appeal his case, but he stressed that the delisting "may not be compelled and is purely an act of grace on the part of the sovereign state."
Sandoval, for her part, said that if Boehringer will submit "sufficient proof to reverse the blacklist, it may be lifted accordingly."
The Australian was barred entry to the country on August 8. Guevarra said that he was allowed to rest and meet his family members before he was sent away due to "humanitarian request" of some individuals.