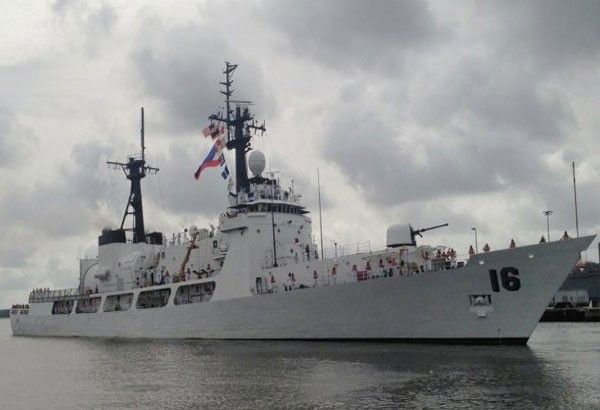 In this photo is the Philippine Navy's frigate BRP Ramon Alcaraz. China has suggested to hold joint maritime drills in the South China Sea with ASEAN member states.
File
Palace: US will be out of place in China, ASEAN maritime drills
MANILA, Philippines — Malacañang finds "nothing objectionable" over China's suggestion to exclude "outside countries" from the proposed joint military exercises and energy exploration with Southeast Asian nations in the South China Sea.
In a draft document, Beijing reportedly insisted on excluding non-regional countries in a bid to push back the United States, Agence France Presse reported.
Defending China's position, presidential spokesperon Harry Roque said that Chinese authorities want to have military cooperation among its neighbors.
"Of course, the United States is 10,000 miles away so if the intention is to build stronger relations between military forces who are neighbors then the United States will really be out of place," Roque said during a press briefing in Malaybalay City, Bukidnon.
In the draft text, Beijing suggested that the joint military exercises with the 10 ASEAN member states should not involve countries outside the region "unless the parties concerned are notified beforehand and express no objection."
Washington earlier disinvited Beijing from the 2018 Rim of the Pacific Exercise, the world's largest multinational maritime drills.
The US decision to withdraw China from the joint exercise was an initial reponse to its expanding militarization in the disputed South China Sea.
The US Department of State said that it has strong evidence that Beijing has deployed weapons and jammers on its military bases in the disputed waters.
"We have strong evidence that China has deployed anti-ship missiles, surface-to-air missile systems, and electronic jammers to contested features in the Spratly Islands region of the South China Sea," Pentagon spokesperson Lt. Col. Christopher Logan said in May.
Washington stressed that China's continued militarization of man-made islands in the South China Sea raises tensions and destabilizes the region.
"We believe these recent deployments and the continued militarization of these features is a violation of the promise that President Xi made to the United States and the World not to militarize the Spratly Islands," the Pentagon said.