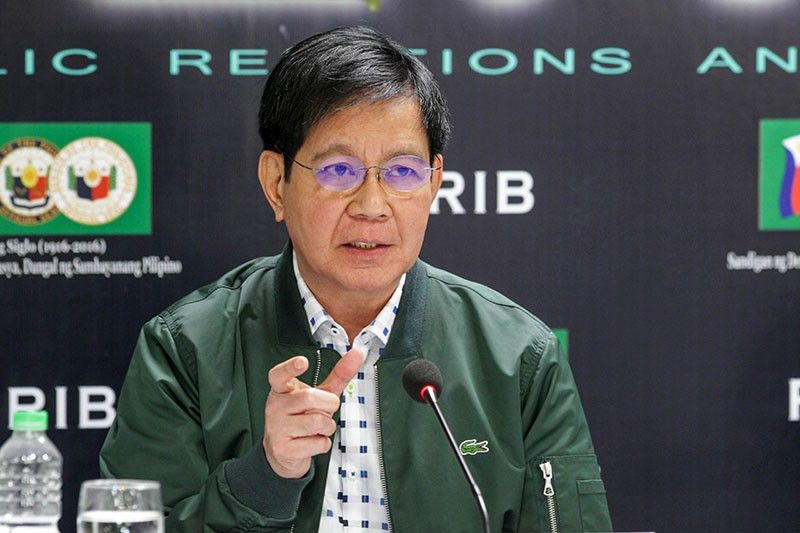 "Nothing escapes the Senate participation," Sen. Panfilo Lacson said in response of the proposal of House Speaker Pantaleon Alvarez to initiate a people's initiative to postpone the 2019 midterm elections.
The STAR/Geremy Pintolo, file
Senators will fight any 'no-elections' attempt — Lacson
(Philstar.com) - July 18, 2018 - 4:06pm
MANILA, Philippines — Any attempt to block the 2019 midterm elections is wrong and self-serving, Sen. Panfilo Lacson said in response to reported plans to postpone the polls through a people's initiative.
House Speaker Pantaleon Alvarez earlier said that he and his allies may initiate a people's initiative that would allow voters to directly propose a constitutional amendment that will stop the 2019 elections.
This would be the supposed scenario if the Senate will not agree to scrap the midterm elections next year.
Majority of the senators, however, appear to be more likely to oppose any proposal to cancel the 2019 polls.
"It goes without saying, majority of the senators, even those running for re-election, will fight tooth and nail any attempt to cancel the 2019 midterm elections simply because it is wrong and self-serving," Lacson said in a statement released Wednesday.
The senator stressed that nothing escapes the Senate's participation as provided by the 1987 Constitution.
Section 2, Article XVII of the 1987 Constitution states that, "Amendments to this Constitution may likewise be directly proposed by the people through initiative upon a petition of at least twelve per centum of the total number of registered voters, of which every legislative district must be represented by at least three per centum of the registered voters therein. No amendment under this section shall be authorized within five years following the ratification of this Constitution nor oftener than once very five years thereafter. The Congress shall provide for the implementation of the exercise of this right."
Alvarez suggested to scrap the upcoming midterm elections to give way for the Congress to focus on the proposed federal charter.
A people's initiative is the third mode of proposing Charter change under the current constitution.
Members of the consultative committee tasked to review the 1987 Constitution earlier asked lawmakers to stop discussing a no-election scenario in 2019 as it may have a negative impact on the proposed shift to federalism.
Allaying fears of term extension for Duterte's allies, former senator and Concom member Aquilino Pimentel Jr. said the 2019 polls should not be postponed.
"I suggest elections will continue (because people suspect that) we are proposing federalism so that the elections can be postponed. It is not true, not at all," Pimentel told The STAR. — Patricia Lourdes Viray