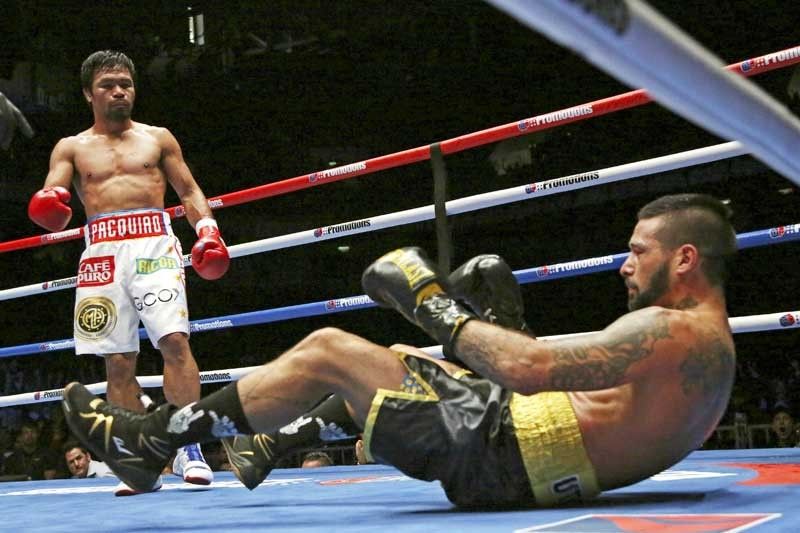 Lucas Matthysse of Argentina falls after receiving a punch from Manny Pacquiao during their world welterweight title bout in Kuala Lumpur, Malaysia yesterday.
AP
Abac Cordero
(The Philippine Star) - July 16, 2018 - 12:00am
Pacquiao stops Matthysse in 7th
KUALA LUMPUR – Manny Pacquiao looked like the young, dominant fighter he once was when he floored Argentina's Lucas Matthysse three times yesterday en route to a sensational seventh-round stoppage at the Axiata Arena here.
Pacquiao stepped into the ring five months shy of his 40th birthday, and proved that he still deserves a spot in boxing's elite circle.
Before a roaring crowd that included President Duterte and Malaysian Prime Minister Mahathir Mohamad, the fighting senator turned into a showman, and took the WBA welterweight title from the game Argentine.
Matthysse, who had vowed to send Pacquiao into retirement, went down for the first time in the third round, from a left uppercut to the face, and then again in the fifth, from a well-timed right cross to the temple.
From there, it was just a matter of time.
Pacquiao took a low blow in the sixth. But it failed to slow him down, and in the seventh, he pressed the attack, landing another left uppercut that sent the 35-year-old Matthysse down for the third and last time.
Referee Kenny Bayless began to count but realized there really was no need. He waved the fight off as Pacquiao walked to a neutral corner, signaling the return of the Filipino icon as the new WBA welterweight champion.
Matthysse was resting on his right knee when the American referee decided that he should no longer continue.
It was the first time since 2009 that Pacquiao had scored a stoppage, nearly nine years and 13 fights after he knocked out Puerto Rico's Miguel Cotto.
It also marked the first time in 17 years that Pacquiao fought without Freddie Roach in his corner. This time, his Filipino buddy, Buboy Fernandez, called the shots.
His critics insisted that Pacquiao is way past his prime, a step or two slower and unable to score knockouts against opponents he would have destroyed a decade ago.
It was the 60th win against seven defeats and two draws for Pacquiao, who also recorded his 39th knockout. Matthysse was knocked out for the second time in his career and dropped to 39-5 with 36 KOs under his name.
Pacquiao graced the post-fight press conference a very happy man.
Lucas Matthysse of Argentina (left) shields himself from Manny Pacquiao during their bout in Kuala Lumpur, Malaysia yesterday. AP
"I'm not gone. I'm still there. It's just a matter of time before I got back in the ring," said Pacquiao, who came off a very long layoff – one year and 13 days since he took a stunning defeat to Australian schoolteacher Jeff Horn.
Pacquiao said he feels younger than his age.
"At 39 but I'm still okay and I'm still fine. When you see me prepare for a fight, you will see that I'm like 27 years old," said Pacquiao, with some welts on his face.
"Do I look like I'm 39?" he asked, running his hand through his face.
To his detractors, Pacquiao is ripe for retirement. But the eight-division world champion showed that he remains a force and a great attraction.
There was jubilation inside the ring after the fight ended at the 2:43 mark of the seventh round. Pacquiao climbed the ring posts and raised his hands before his fans. The Philippine flag followed him inside the ring.
He faced the VIP box where President Duterte and the Malaysian Prime Minister sat, and sent hand signals that were reciprocated.
Duterte, the first sitting president to watch Pacquiao fight in person, rose from his seat and flashed the thumbs-up sign, with both hands.
Mahathir, the 93-year-old leader, arrived halfway through the contest, and joined Duterte. He must have enjoyed the first big boxing card in the country in 43 years.
"I told them that I was so inspired that's why I gave my best," said Pacquiao.
"The President (Duterte) told me, 'You made us proud,' and I said, 'It's an honor,'" added the new WBA welterweight champion.
Matthysse came to fight and tried hard against Pacquiao. He landed some good jabs that pushed Pacquiao's head back, and unleashed heavy rights that were often blocked by the Filipino's gloves.
Compubox.com said Pacquiao landed 95 of 344 punches thrown; Matthysse only 57 of 246.
"He's a great fighter. He's a great champion. You win some, and you lose some," said Matthysse before he got off the ring, without the shining belt that he had promised to bring back to Argentina.
"Today was my turn to lose, but I lost to a great fighter and a great legend in Manny Pacquiao," added Matthysse, who plans to take a long rest.
"First I would like to rest and go back home. The hard work has been done. The fight has taken place. I lost, but I walk away with my head raised. I'm sorry to Argentina, but I'm fine," said the Argentine, who reportedly was paid $2 million for the fight.
From the opening bell, Pacquiao heard the fans chant his name inside the 16,000-seat arena, mostly from Filipinos based in Malaysia, and those who hopped in from Singapore and the Philippines.
Pacquiao knew he had to entertain, and, given the chance, chased the elusive knockout.
"I was surprised because Matthysse is a very tough opponent and I knocked him down," said Pacquiao, who will celebrate his 40th birthday on Dec. 17.
"From the beginning the first round, I had in my mind that I can control the fight. But our strategy was to be patient, take time, don't rush and don't be careless, and just focus on throwing hard punches and counterpunches," said Pacquiao.
But even when he was in control, Pacquiao tried to hold back as each round came to an end.
"Matthysse has power also. He is an opponent that you cannot underestimate," said Pacquiao.
This time, he wasn't careless.