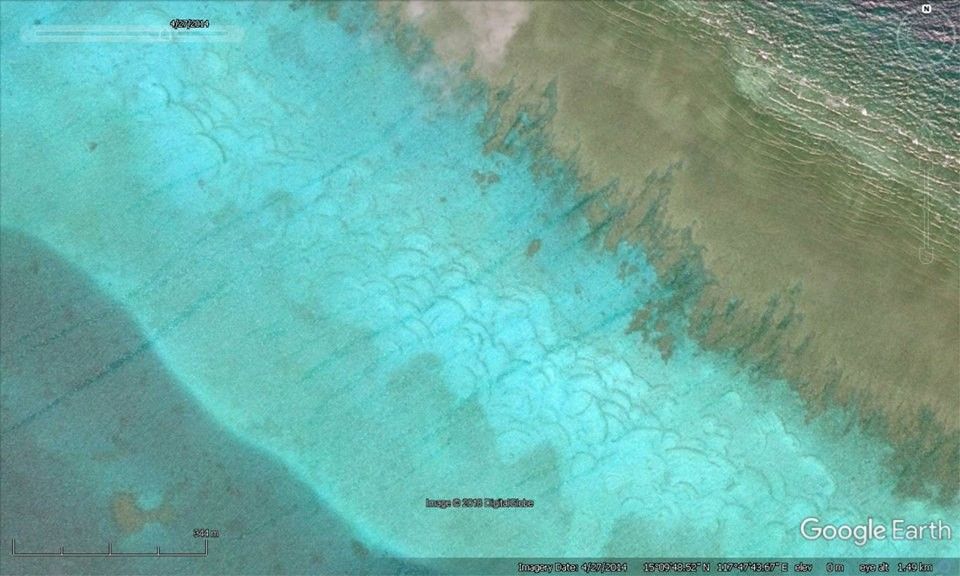 This Sept. 27, 2016 satellite image of the Scarborough Shoal shows the extent of the damage that Chinese fishermen had caused upon using propellers to dislodge giant clams.
Facebook/Jay Batongbacal via Google Earth
Philippines should urge Chinese cooperation in Scarborough rehab, says expert
MANILA, Philippines — The Philippine government should demand that China cooperate in restoring the damaged marine environment of Scarborough Shoal in the West Philippine Sea, a maritime law expert said.
Jay Batongbacal, director of the University of the Philippines Institute for Maritime Affairs and Law of the Sea, suggested that this should be one of the government's actions if it is serious in maintaining a rules-based order at sea.
China could do this by supporting a Philippine-led coral implanting and rehabilitation program to address the massive damage inflicted by Chinese fishermen who have cut up the reef while extracting giant clams in the area.
"Today, China has done nothing to make up for this massive damage even though it has recognized, a bit too late, the need to stop its fishermen from engaging in this destructive behavior," Batongbacal said in a forum organized by independent think tank Stratbase ADR Institute.
The maritime expert noted that more than 550 hectares of damage could be seen from satellite photos.
"Using the valuation of Tubbataha Reef damage in 2013 for example, which was as P24,000 per square kilometer, the damage is at least worth P132 billion," he said, referring to the grounding of USS Guardian, a US Navy minesweeper, in 2013. The US paid the Philippine government around P87 million in compensation for the damage in 2015.
Cooperation between the Philippines and China in rehabilitating Scarborough Shoal would be in line with both countries' commitment under the United Nations Convention on the Law of the Sea and international law.
This initiative, however, would not necessarily entail the direct implementation of the arbitral award issued two years ago.
Joint exploration in uncontested areas
Another action the Philippines could make in addressing the issues in the West Philippine Sea would be lifting the moratorium on petroleum service contracts in the region and proceed with joint exploration in uncontested areas.
"This will also demonstrate the country will not endanger its own economy and energy security," Batongbacal said.
Following Chinese President Xi Jinping's declaration that Beijing has no intention of militarizing the South China Sea, the Philippines should also demand an unequivocal commitment from China to remove weapons on its outposts in the South China Sea, particularly Mischief Reef.
Mischief Reef is within the Philippines' exclusive economic zone and close to the country's territory and airspace.
Two years after the arbitral ruling was released, both the Philippines and China are facing challenges on its positions on the sea dispute.
According to Batongbacal, it is a challenge for China to demonstrate sincerity and self-restraint to "prove that it is not on a path towards aggressive belligerent regional domination."
For the Philippines, it is a challenge for the Duterte administration to "show some spine" on its foreign policy to show that it is looking out for the interest of the Filipino people.
"It should begin with the change in soft and submissive policy and replacing it with a more active and protective one. It does not entail a shift to an aggressive or warmongering tone but merely a more dignified one based on self-respect, equal footing and watching out for our own national interest," Batongbacal said
READ: Philippines now 'willing victim' in South China Sea dispute, Del Rosario laments
Meanwhile, a significant majority of Filipinos share the opinion that the Duterte administration should assert the country's sovereignty in the West Philippine Sea as stipulated in the July 2016 arbitral decision. The latest Pulse Asia survey showed that 73 percent of Filipinos think that the government should assert the arbitral ruling on the contested waterway.
The survey also showed that 36 percent of Filipinos think that the government should file diplomatic protests before the Chinese Embassy to emphasize the landmark ruling that the islands in the West Philippine Sea are within the country's exclusive economic zone. Foreign Affairs Secretary Alan Peter Cayetano previously claimed the Philippines has filed "50-100" of those.
Related video:
As It Happens
LATEST UPDATE: July 12, 2018 - 3:25pm
Social media users, including former Solicitor General Florin Hilbay, are reporting seeing banners saying "Welcome to the Philippines, Province of China" hanging from overpasses in parts of Metro Manila.
The sightings coincide with the second anniversary of an arbitral tribunal ruling that China's sweeping nine-dash line claim over the South China Sea has no legal basis. The Philippines has opted to play down the ruling and focus on nurturing better political and economic relations with China.
NOT FUNNY.

On this day, July 12, we commemorate our victory in Philippines v. China.

On Metro Manila footbridges, these tarps suddenly appear.

MMDA, LGUs, and citizens should immediately take these down. pic.twitter.com/gDR6BMbojI

— florin hilbay (@fthilbay) July 11, 2018
It is unclear who put up the banners, which are a possible reference to a "joke" that President Rodrigo Duterte told Chinese-Filipino business leaders in February.
"He (Xi) is a man of honor. They can even make us 'Philippines, province of China," we will even avail of services for free," Duterte said in apparent jest. "If China were a woman, I'd woo her."
The Palace said the remark was meant to impress the audience, who were Filipino citizens of Chinese descent.
July 12, 2018 - 3:25pm
Presidential spokesperson Harry Roque, in response to criticism from former Foreign Affairs Secretary Albert Del Rosario of the Duterte administration's handling of issues in the West Philippine Sea, says: "We do not agree with those who lost control of territory by their confrontational hubris."
He says President Rodrigo Duterte has instead "forged friendship which has obtained benefits for our people, boosted investment and trade for our economy, reduced the threat of conflict, and opened the door to confidence-building talks between ASEAN and China."
He says issues with China are handled through a dialogue between friends and not as an argument between adevrsaries.
"All this time, we are building up our capabilities to eventually assert our sovereign rights and interests. That is the policy that works for our nation," he says.
July 12, 2018 - 12:18pm
The Quezon City government has ordered its Public Safety personnel to remove tarpaulins that refer to the Philippines as a province of China.
ADVISORY - The Quezon City government is directing its Department of Public Order and Safety and Parks Department as well as concerned barangays to take down all tarpaulin signs that say that the Philippines is a province of China.

— Quezon City PIO (@QCPublicAffairs) July 12, 2018
In a Palace briefing earlier Thursday, presidential spokesperson Harry Roque said "enemies of the government" are behind the banners.