Bicameral conference on Bangsamoro Basic Law starts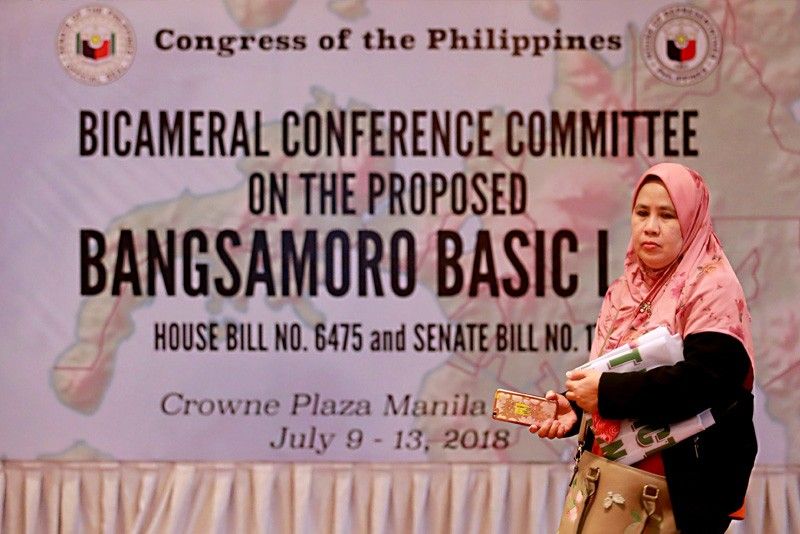 MANILA, Philippines — Leaders of the Senate and the House of Representatives vowed yesterday to come up with a constitutionally compliant Bangsamoro Basic Law (BBL), which they expect would be challenged before the Supreme Court once President Duterte signs it into law.
The bicameral conference committee on the BBL yesterday started reconciling the conflicting provisions in the two chambers' respective versions of the landmark measure, with the aim of ratifying it when the legislature opens for its third regular session on July 23.
Senate Majority Leader Juan Miguel Zubiri and House Majority Leader Rodolfo Fariñas, who head their respective contingents, reiterated that the committee wants to have the BBL signed into law before Duterte delivers his third State of the Nation Address at the opening of session.
"We have to ensure that anything and everything we do here will adhere to the Constitution. Surely this will be challenged before the Supreme Court so what we agree and come up with here should pass the test of constitutionality," Fariñas said at the start of the closed-door proceedings.
Zubiri said the Constitution, being the supreme law of the land, sets the limits of what the body can incorporate in the BBL.
He added that the bicameral conference committee would also be guided by issues on autonomy, acceptability, social justice and peace and development.
The BBL seeks to create a new autonomous region in Mindanao. It was drafted by the Bangsamoro Transition Commission, composed mainly of members of the Moro Islamic Liberation Front, Moro National Liberation Front and indigenous groups.
Both chambers of Congress rushed the approval of the bill last May 31 after Duterte certified it as urgent.
The Senate made at least 150 amendments while the House version hardly touched the BTC draft.
Senate President Vicente Sotto III suggested to the panel to tackle the easy provisions to resolve differences first before discussing the more difficult ones.
Among the contentious issues the bicameral panel will tackle are the delineation of powers between the national government and the proposed Bangsamoro government; taxation and sharing of resources; and territorial limits.
"Everyone is upbeat. I hope in the next few days we will be able to satisfy the sentiments of everyone," Sotto said.
Good start
During a break in the proceedings, Zubiri told reporters the panel made some progress on some provisions, including that on wealth sharing.
He said the Senate contingent has agreed to the House provision on the 75-25 wealth sharing in favor of the proposed Bangsamoro region. The Senate version of the BBL stipulated a 50-50 sharing. – With Edith Regalado, Roel Pareño, Jose Rodel Clapano