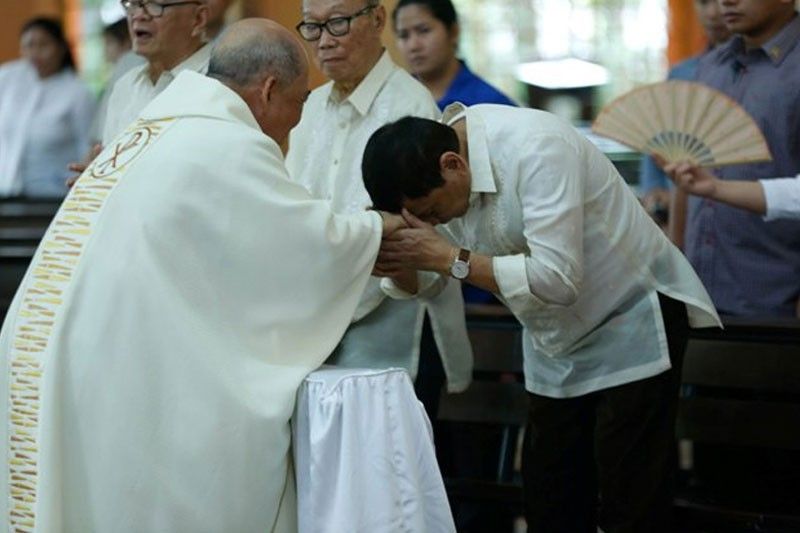 In this Aug. 27, 2016 file photo, President Rodrigo Duterte greets Davao Archbishop Romulo Valles while attending a 50th wedding anniversary rite at St. Francis of Assisi Parish in Davao City.
File
Duterte: Religious leaders should be neutral because of 'separation of church and state'
(Philstar.com) - July 8, 2018 - 2:35pm
MANILA, Philippines — President Rodrigo Duterte has cited the principle of separation of church and state to hit back at members of the clergy critical of his policies.
Duterte, who has drawn flak for his bloody war on illegal drugs and his provocative remarks on God, claimed the religious sector should be "neutral" when it comes to government because of the principle.
"When you criticize me, criticize me with all the heart's content. Do it. I'm even asking you to do it so I will know whether you are displeased or not with my performance. Do it," the president, who has consistently hit back at actual and perceived criticism, said during the inauguration of Malayan Colleges in Davao City last Saturday.
"But when you are a religious, you have to be something of a neutral when it comes to your faith and even when it comes to government because it is really the concept of a republican system that there is a separation of church and state," he added.
Separation of church and state
The separation of church and state, which is enshrined in the constitution, prohibits the establishment of a national religion and state interference in the free exercise of the religious beliefs of its citizens.
Some Catholic priests and lawyers have said the Church has the obligation to speak against social ills because governance has moral dimensions. The 1987 Constitution also recognized the spiritual dimension of citizens when it stated that educational institutions shall "teach the rights and duties of citizenship, strengthen ethical and spiritual values, develop moral character and personal discipline."
Duterte has been at odds with the Roman Catholic Church, the religious group of more than 80 percent of Filipinos, because of his crackdown on illegal drugs and his promotion of artificial birth control methods. Catholic bishops and human rights groups have been expressing concern over the anti-drug war, which has left more than 4,000 "drug personalities" dead in operations. The Church also teaches that the natural purpose of sex is procreation and contraceptives and other artificial birth control methods violate the natural law.
Duterte's rift with the Church widened last month when he called God "stupid" for allowing temptation to tarnish his creation. The president, nominally a Roman Catholic, claimed later on that he was reacting to Sister Patricia Fox, an Australian nun facing possible deportation for allegedly joining partisan activities. He did not mention Fox at all in his speech.
Officials have explained the president's angst by citing the sexual abuse he allegedly experienced at the hands of an American priest when he was in high school.
Duterte to Church: Why collect money from believers?
Duterte vowed to keep quiet on his tiff with the Church two weeks ago but continued, nevertheless, to question the practives of the religious group.
"If you pity the poor, if you really want to help, why do you keep on collecting money? It (collection basket) is passed around three times," the president said.
Contrary to Duterte's claim, the collection basket is passed around only two times during masses. Unlike other religious sects that require believers to donate a specific percentage of their earnings, no one is forced to donate money to the Catholic Church.
The president insisted that he has "deep and abiding faith in God" but maintained that his concept of Universal Being is based on his "values" and the "lessons" he learned in life. He also dared Catholics to prove that their God exists.
"But if there is somebody of the so many billions, maybe if he can go there in heaven, talk to God, and take a selfie with Him, come back here, the priest can tell 'There is God.'I will step down tomorrow. No question," Duterte said. — Alexis Romero