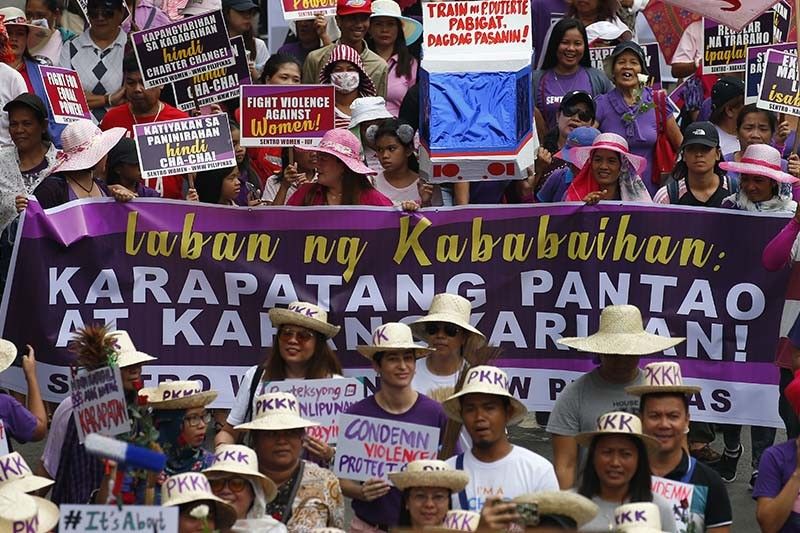 In this March 8, 2018 file photo, hundreds of women activists in pink and purple shirts protested against President Rodrigo Duterte in the Philippines on Thursday, as marches and demonstrations in Asia kicked off International Women's Day.
AP/Bullit Marquez
Filipinas behind #BabaeAko campaign make it to TIME's list of most influential people online
MANILA, Philippines — The Filipino women who launched the #BabaeAko movement landed in TIME magazine's roundup of most influential people on the internet.
TIME recognized the women for calling out President Rodrigo Duterte's sexist and misogynistic pronouncements and behavior.
"With every misogynistic statement, he is saying 'you can do the same because I get away with it,'" Inday Espina-Varona, a journalist and one of the co-founders of the movement, was quoted by TIME as saying.
The movement was launched last month following the controversial remark of Duterte that he does not want the next ombudsman to be a woman.
Filipinas, including former Social Welfare secretary Judy Taguiwalo and activist Mae Paner, took to social media their outrage against the president's pronouncement through videos and vowed to fight back against sexism.
Joining the Filipinas in the annual list were pop star Rihanna, United States President Donald Trump, rapper Kanye West, the students of Parkland, Florida, social media personality Kylie Jenner, K-pop group BTS, among others.
TIME said it "evaluated contenders by looking at their global impact on social media and their overall ability to drive news."
Last Wednesday, Davao City Mayor Sara Duterte-Carpio said that the #BabaeAko campaign is "doomed to fail" as her father has no respect for a person's weakness regardless of gender.
Duterte's past remarks about women
The acid tongue chief executive has been heavily criticized for his anti-women remarks, saying such comments encourage objectification and violence against women.
Duterte, when he was still campaigning for the presidency, talked about an Australian lay minister rape victim whom he described as beautiful. The then-mayor was denounced for saying that he should "have been first."
At the height of the fighting in Marawi City, the president told soldiers that he would answer for the consequences of military rule in Mindanao, including cases of rape by soldiers.
When he was in India last January, the chief executive joked of using virgins to lure tourists to the Philippines.
In February, he ordered soldiers to shoot female New People's Army rebels in the vagina.
Recently, Duterte kissed a married Filipina worker in South Korea. Women's groups and other individuals appalled by the president's action said the move manifested grave abuse of authority and was an awful display of sexism even if the act was consensual.
The president's men dismiss his remarks as mere wordplay or jokes and reflection of his frustration over relentless criticisms against his leadership.
READ: The uneven power relations behind Duterte kissing a married Filipina on stage