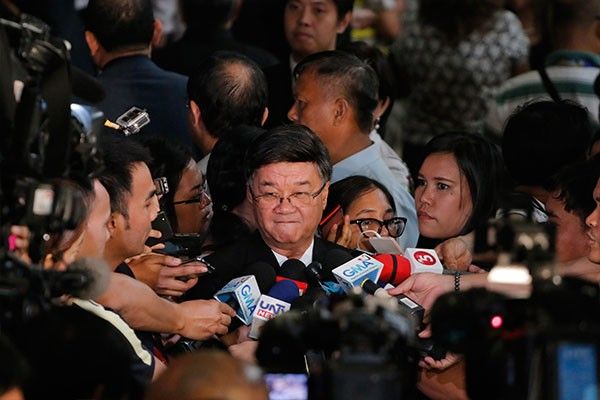 Former Justice Vitaliano Aguirre II cited in his complaint articles published August 26, 2017 to April 3, 2018, during which he served as justice secretary.
Philstar.com, File photo
Aguirre sues Tulfo for libel, wants P1 in damages
MANILA, Philippines — Look what you made me do: Former Justice Secretary Vitaliano Aguirre II on Thursday filed libel raps against broadcaster and columnist Ramon Tulfo at the Office of the Prosecutor of Manila.
Aguirre wants Tulfo and the editorial board of Philippine Daily Inquirer and its online arm, and editorial board of tabloid Bandera charged with violations of Republic Act No. 10175, or the Cybercrime Prevention Act of 2012, and Articles 353, 355 and 360 of the Revised Penal Code on libel.
The RPC defines libel as "public and malicious imputation of a crime, or of a vice or defect, imaginary or any act, omission, condition, status or circumstance tending to cause the dishonor, discredit or contempt of a natural or juridical person, or to blacken the memory of one who is dead."
The former Justice chief cited 12 articles published in PDI and on its website, and 10 articles published in Bandila that he said contain the elements of libel: defamatory, malicious, given publicity and victim is identifiable.
Aguirre wants to be paid P1 by the respondents.
"Considering my social stature, previous position in government, reputation and other considerations involving my personal life, profession, and public service, the damages I seek represent a symbolic amount in principle to end the proliferation of fake news and its appurtenant lies and calumny against anyone in this country."
He added: "The articles hereunder complained of are also utterly false and were written in reckless disregard of the truth despite an overwhelming evidence establishing facts which are contrary to the vile, malicious, defamatory and insidious accusations against me."
Aguirre cited in his complaint articles published August 26, 2017 to April 3, 2018, while he was Justice secretary.
'Pabigat' tag
He assailed Tulfo's article where the writer accused Aguirre of being "callous" for allegedly downplaying the death of Kian Delos Santos, who was said to be killed by cops in an anti-drug operation.
The former Justice chief also said that Tulfo maliciously imputed defects against him when the latter called him a "pabigat" or burden to the administration of President Rodrigo Duterte.
Aguirre also accused Tulfo of bearing "malicious motivation or ill will" due to his "false statements and reckless disregard of the truth."
Others named as respondents are:
Marixi Prieto, Inquirer Publications Inc. board chair
Alexandra Prieto-Romualdez, Inquirer Publications Inc. president and CEO
Renato Reinoso, Inquirer COO
Jose Ma. Nolasco, Inquirer executive editor
Rosario Garcellano, Inquirer Opinion page editor
Abelardo Ulanday, Associate editor, online of PDI
Eileen Mangubat, publisher of Bandera
Dona Policar, editor-in-chief, Bdandera
Jimmy Alcantara, deputy editor, Bandera
John Does
Aguirre stepped down from his post last April amid controversy on a DOJ-issued resolution clearing high-profile drug case against Kerwin Espinosa, Peter Co and Peter Lim. The resolution has since been reversed and the investigation reopened.