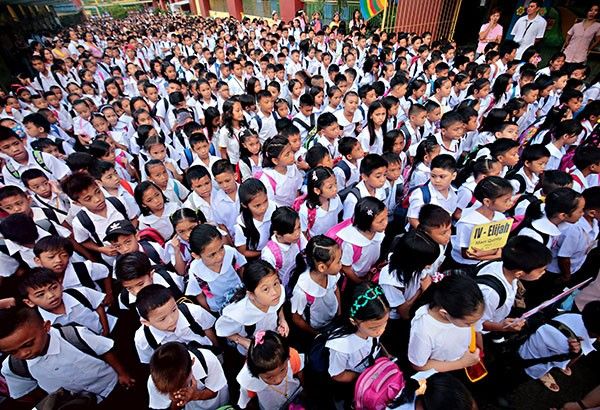 Students make their way to their classrooms during the start of the school year at the President Corazon C. Aquino Elementary School in Quezon City. Top inset shows a student being carried to class by a teacher while lower inset shows another student refusing to leave his mother's side.
The STAR/Michael Varcas
CBCP official gives nod to proposed school drug tests
MANILA, Philippines — An official of the Catholic Bishops' Conference of the Philippines on Saturday said he agrees with the proposed annual surprise drug screening tests on teachers and school children starting from the fourth grade.
However, the plan that did not sit well with human rights groups.
In an interview with church-run Radio Veritas, San Jose Nueva Ecija Bishop Roberto Mallari, chairman of the CBCP Episcopal Commission on Catechesis and Catholic Education, said he believes the mandatory drug testing of school children could deter the use of illegal drugs while they are still young.
"I don't see any problem with the plan because we can see how serious the country's drug menace is. Drug traffickers are really encouraging people to use narcotics and sometimes they give children candies laced with drugs," Mallari said in Filipino.
"I think this is important so we can prevent children from being affected by the country's drug problem," he also said, adding that parents and teachers should "try" to cooperate with the government.
President Rodrigo Duterte and the Church, which has a significant political and social clout in the predominantly Catholic Philippines, have repeatedly locked horns amid mounting death toll in the government's bloody war on drugs.
Philippine Drug Enforcement Agency Director General Aaron Aquino said their recommendation to conduct mandatory drug testing for students from Grade 4 and up was to "save the children."
Aquino though said they will heed whatever the Department of Education will say on the issue, as his proposal was met with opposition by some sectors.
In a statement, Human Rights Watch said PDEA's plan may place thousands of children in harm's way, and will effectively allow cops to extend the narcotics crackdown to classrooms.
HRW also expressed doubts over PDEA's assurance that rights of students are protected once the program is implemented, saying the government's repeated dismissal of the deaths of minors in the drug war as "collateral damage" suggests that children's safety won't be a top priority.
"Imposing mandatory drug testing on schoolchildren when Philippine police are committing rampant summary killings of alleged drug users puts countless children in danger for failing a drug test," the New York-based rights group said.
"The government should provide children with accurate information about the potential risks of drug use, not put them in the crosshairs of a summary killing campaign that has already claimed the lives of more than 12,000 Filipinos," they added.