Duterte wants China out of West Philippine Sea, but no war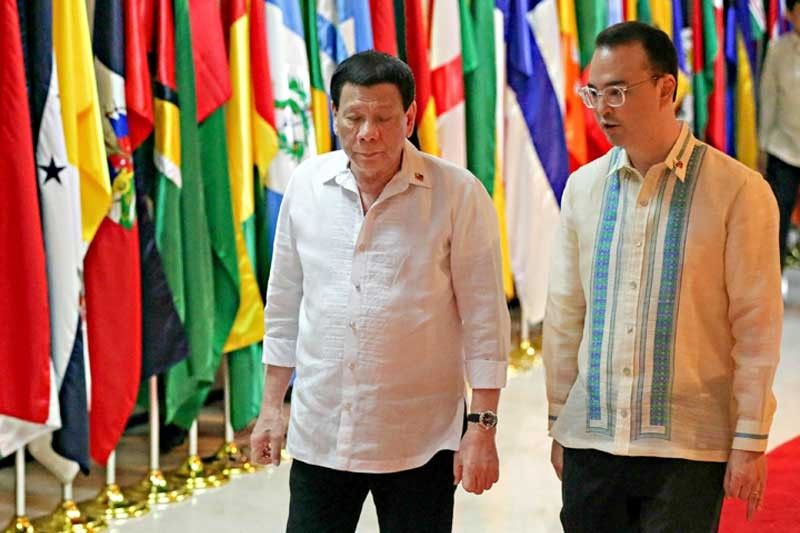 MANILA, Philippines — President Duterte wants China out of the Philippine-claimed areas in the West Philippine Sea (South China Sea), but yesterday reiterated he would not declare war over the maritime row as Beijing is not a pushover that can be scared easily.
Duterte, who has been accused of not doing enough to assert the Philippines' maritime rights, said he was not ready to sacrifice the lives of soldiers and policemen for a war he could not win.
He also claimed that his administration has protested the actions of China in the West Philippine Sea but did not elaborate."With regard to South China Sea, what do you want? What kind of pugnacious attitude would I have to adopt to convince the Chinese to get out? If I threaten them or file a thousand protests, which we did, we just did not publish them. We protested actually," the President said during the 120th anniversary of the Department of Foreign Affairs (DFA) in Pasay City.
He added that China has adopted an intransigent attitude.
"But if you talk to them, they will listen," he said. "I cannot hit China. China is no pushover. You cannot scare him, and even the United States has shown a little bit of apprehension... There's always a parity now of arms and that. You know that if you go against China, Russia will join the fray," the President said.
The scenario, he said, would only mean the explosion of all nuclear bombs and "it's going to be goodbye for everybody."
For him, striking a deal with China has benefits, hinting of a possible joint exploration between the two countries.
"We have a deal. I can import the arms, the guided missiles, I can fight better. Because there is a new art of war now, it is not in the open field… China is not my ace. But certainly I can have the arms. Something good will happen, I'm sure, and that will be when we start to dig or anybody else, start to dig the minerals there," the President added.
He also downplayed reports that members of Chinese Coast Guard forcibly seized the catch of Filipino fishermen in Panatag (Scarborough) Shoal, saying it was a "barter" and not an outright seizure of fish.
Last week, Filipino fishermen confirmed that Chinese Coast Guard forcibly took their prime catch from Panatag Shoal, a traditional fishing ground off Zambales that is within the Philippines' exclusive economic zone.
The fishermen said the Chinese Coast Guard personnel gave them noodles, cigarettes and bottled water in exchange for the fish but these were not enough to feed their families.
Chinese Ambassador Zhao Jianhua has assured the Philippines that the Chinese government would probe the incident and would punish "rotten apples" who are guilty of harassing the Filipino fishermen.
Meanwhile, Foreign Affairs Secretary Alan Peter Cayetano told diplomats and officials who have doubts and are having a hard time following Duterte's foreign policy that "it's not too late" to have a change of heart.
He praised the work of diplomats, officials and personnel of the DFA, saying it is an agency that never sleeps because of the tasks relating to foreign policies and the protection of rights and welfare of overseas Filipino workers (OFWs). – Pia Lee-Brago
Related video: