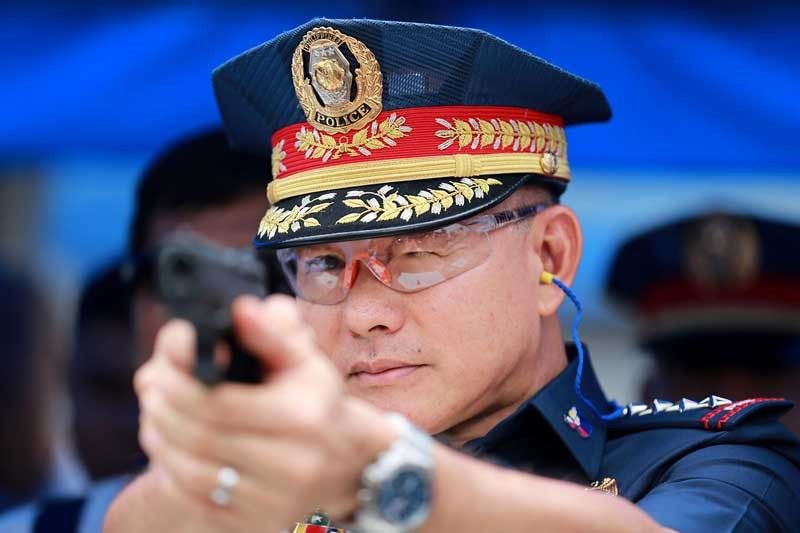 PNP chief Director General Oscar Albayalde takes aim during a ceremonial shoot at the formal turnover of 25 patrol cars and 100 assault rifles by the Quezon City government at Camp Karingal yesterday.
Michael Varcas
(The Philippine Star) - June 15, 2018 - 12:00am
MANILA, Philippines — The Philippine National Police (PNP) is now setting its sights on istambays or loiterers on the streets to address the peace and order situation in the country.
PNP chief Director General Oscar Albayalde said they would follow President Duterte's order to round up istambays, a local term for those who "stand by" in the streets, in a bid to lessen criminality.
Duterte was quoted as saying that those who loiter or are idling around should be sent home, otherwise face apprehension, as they are potential troublemakers.
Albayalde told reporters that police would reprimand and apprehend individuals who would loiter around public spaces.
He said that individuals would no longer be allowed to stand by in the streets if it is not their private property, especially if they are drinking liquor or not wearing shirts.
He said they would give an initial warning to loiterers but they would not hesitate to round up repeat offenders.
The PNP chief cited the outdated anti-vagrancy ordinances and laws as their basis for the arrest of loiterers.
Quezon City has an anti-loitering ordinance but the measure covers only government offices and funeral parlors, not public spaces.
A 1939 ordinance punishing immoral acts also cited vagrancy but this pertained to persons who have no means of livelihood or keep gambling or going to prostitution houses.
Republic Act 10158, passed in 2012, also decriminalized vagrancy, except for prostitutes, and amended provisions stated under Article 202 of the Revised Penal Code.
Albayalde defended their plan to round up istambays for the good of the community.
National Capital Region Police Office Director Guillermo Eleazar said the anti-tambay operations would be implemented round the clock.
Violators caught idling in the streets would be invited for questioning and could face vagrancy charges.
Eleazar said the policemen would not abuse this but they would be open to complaints if there are any.