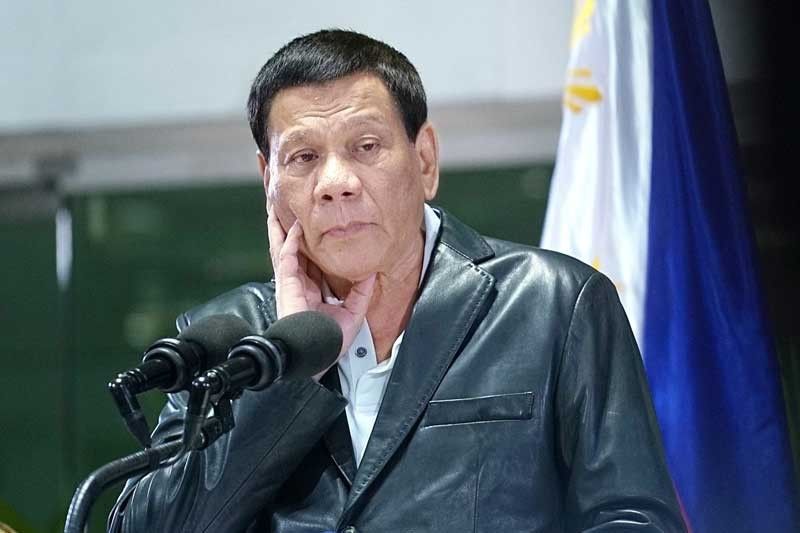 President Duterte listens to a question from a reporter after delivering his arrival statement at the NAIA yesterday following a successful three-day official visit to South Korea.
National emergency? Duterte to act vs rampant crime
MANILA, Philippines — Expect "radical changes" in government in the coming days, President Duterte said Tuesday night as he vowed to use his "meager emergency power to the hilt" to check rising criminality.
Saying "there's no difference actually between martial law and a declaration of national emergency," Duterte warned corrupt officials and criminals to "behave."
"Most of the complaints here is they (investors) won't enter for fear of being kidnapped or killed. Well, somehow, even with this meager emergency power, I will use it to the hilt and put things in order," the President told reporters at the Ninoy Aquino International Airport Terminal 2 Tuesday night upon his arrival from South Korea after completing a three-day official visit.
"I already warned criminals, everyone; those in government and those outside. I will make radical changes in the days to come," he said.
He emphasized he is determined to make the most of the "last chapter of my life" to serve the people. "I will dedicate it for the service of my country. Good or bad, you may not like it, but this is for my country. This is my last chapter," he said.
At a meeting with South Korean business leaders and government officials in Seoul, the President assured them of protection if they invest in the Philippines.
He also urged them not to deal with corrupt officials.
"Remember that there is – there's no difference actually between martial law and a declaration of national emergency. So I've been warning all. I'm warning all, including the human rights, it's either we behave or we will have a serious problem again. Mahirap 'yan (that's hard)," the President said.
"And I thank God for giving me the chance to serve the nation so that there will be changes in the coming days, including public order and security," he pointed out.
"There are simply too many crimes and too many – claiming to be this and that," he added.
The Chief Executive issued the statement despite previous clarifications by Malacañang that a "national emergency" is not martial law.
In 2016, Duterte issued Proclamation No. 55 declaring a state of national emergency on account of "lawless violence" in Mindanao sparked by a deadly blast in Davao that killed more than a dozen people.
The proclamation ordered government forces "to suppress any and all forms of lawless violence in Mindanao and to prevent such lawless violence from spreading and escalating elsewhere in the Philippines with due regard to the fundamental civil and political rights of our citizens."
Unlike martial law, the proclamation did not require congressional approval.
Despite assurance that civil liberties would be upheld in all security operations, the proclamation sparked concerns that it could lead to a dictatorship and human rights abuses.
Human rights groups have been critical of Duterte's policies, including his brutal crackdown on illegal drugs that has left more than 4,000 drug suspects dead and his imposition of a 60-day martial law in Mindanao at the outbreak of the siege of Marawi by IS-inspired militants.
In a decision later upheld as constitutional by the Supreme Court, Congress allowed Duterte to extend martial law in Mindanao up to the end of the year.
Duterte responded to criticisms by hurling verbal attacks against human rights groups and other critics, accusing them of protecting drug suspects while ignoring the plight of victims of criminals.
He also hinted that the "radical changes" he would set into motion would also involve reorganizing the bureaucracy, saying he would place problematic agencies under his direct supervision.
"For those offices that cannot be controlled, I will place you under the Office of the President. Ako na mismo ang kaharap mo araw-araw (I will be the one to deal with you everyday)," he said.
Duterte said he was bent on implementing the changes even if some sectors are against them. – With Alexis Romero