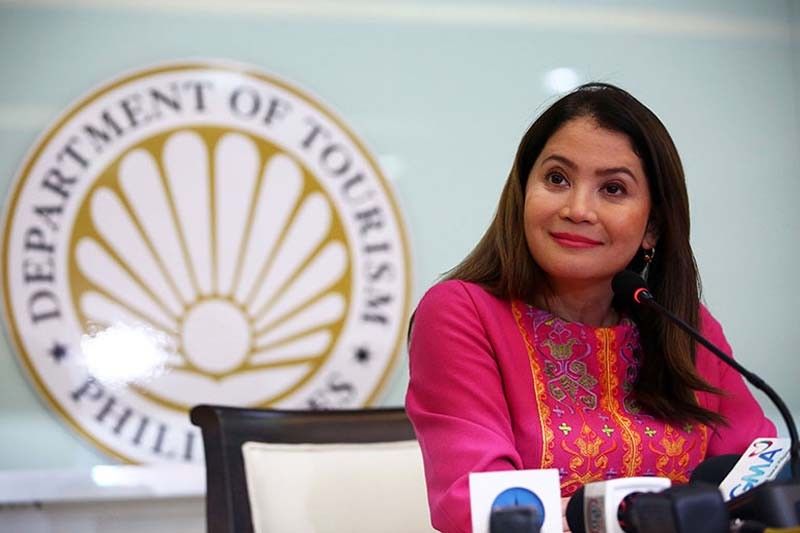 In this May 2018 file photo, newly appointed Tourism Secretary Bernadette Romulo-Puyat answers questions from the media during a press conference at the Department of Tourism office in Makati City yesterday.
The STAR/Miguel De Guzman
New DOT chief gets CA nod
MANILA, Philippines — The Commission on Appointments on Tuesday confirmed the appointment of former agriculture undersecretary Bernadette Romulo-Puyat as the new head of the Department of Tourism.
With no objections, Puyat's appointment was affirmed by the CA for just six minutes.
President Rodrigo Duterte appointed Puyat as the tourism chief on May 8. She was sworn into office last May 14.
"Last May 14, I took my oath before President Rodrigo Roa Duterte as Secretary-designate of the Department of Tourism. It was humbling as it was heartwarming having been entrusted with a huge responsibility. It is a great role to lead a vibrant industry that promotes the image of the country and supports economic growth," Puyat said during the hearing.
Prior to her appointment, Puyat was DA's undersecretary for administration, agribusiness and marketing, and regional engagement.
Puyat also used to be DA's undersecretary for special concerns during the Aquino administration.
The new DOT chief has served three presidents as she was also a consultant with the Presidential Management Staff during the Arroyo administration.
Puyat is also the daughter of former senator and Foreign Affairs Secretary Alberto Romulo.
She replaced Wanda Tulfo-Teo, who resigned little more than a week after the Commission on Appointments questioned state-run People's Television Network Inc.'s payment of P60 million to a media company owned by Teo's brother Ben Tulfo for airing DOT ads.