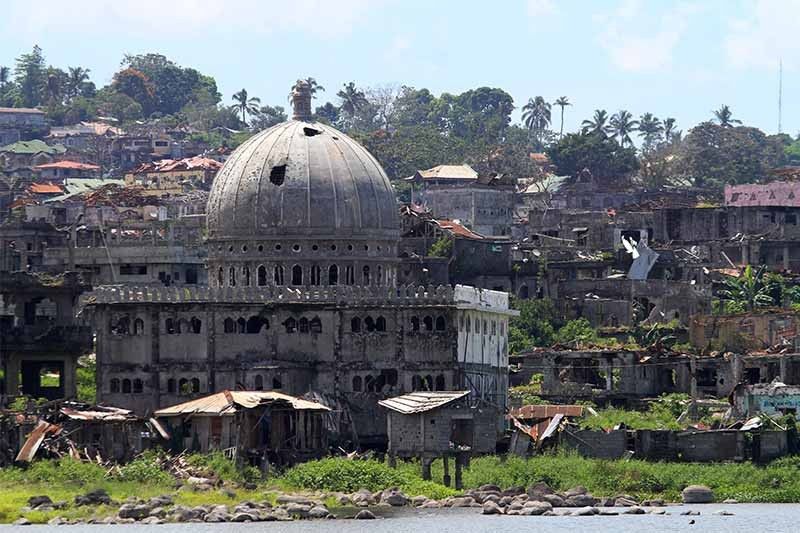 Weeds grow on the ruins of Marawi city in southern Philippines exactly a year after Filipino Muslim militants laid siege in the city Wednesday, May 23, 2018. Philippine officials say hundreds of displaced residents remain in emergency shelters as the threat of militants and unexploded bombs lingers in the ruins of a southern city that was held by Islamic State group-aligned fighters for five months last year. The May 23 siege that troops crushed in October, killed more than 1,100 mostly militants, sparked President Rodrigo Duterte's most serious crisis and reinforced Asia's fears that the Islamic State group is gaining a foothold in the region.
AP
Alejano: Why are firms blacklisted by World Bank in Marawi rehab?
MANILA, Philippines — An opposition lawmaker on Thursday questioned the inclusion of two Chinese firms in the consortium that would handle reconstruction efforts in Marawi City warning that Manila's dependence on Beijing could compromise its position in a dispute in the South China Sea.
Rep. Gary Alejano (Magdalo), one of the staunchest critics of President Rodrigo Duterte's foreign policy, said that the two Chinese firms had been involved in corruption scandals in other countries even though they had already been removed from the World Bank's list of firms involved in shady dealings.
The two Chinese firms, China State Construction Engineering Corp. and China Geo Engineering Corp., were also blacklisted by the Department of Public Works and Highways.
"Given this record, should it not have caused alarm for TFBM to select the BMC? How can we assure that the Marawi rehabilitation would not be marred by corruption cases in the future with such kind of participating firms?" Alejano said.
The Liberal Party also criticized Wednesday the inclusion of the companies and urged the Duterte administration not to depend on Chinse contractors with "questionable" backgrounds in rebuilding Marawi City, a city of 250,000 which was decimated last year by a five-month battle between militants and Philippine security forces.
READ: Marawi rehabilitation: A patchwork of sketchy plans, loose rules, uncertain funding
Local government officials said that although their inclusion might be legal it might raise ethical questions and negatively impact the perceptions of residents.
Marawi City Mayor Majul Gandamra said, "As to the legal impediment, I think there will be no legal impediment because just like what I said they were delisted from the black list."
"But morally speaking, that is where we can question it," he said.
Zia Alonto Andong, an assemblyman of the Autonomous Region for Muslim Mindanao, said that getting the services of developers with questionable history might result in frustration among Marawi residents.
He warned that this could lead to something "worse than frustration or disappointment."
"We cannot afford [for] that to happen," he said on Wednesday.
READ: Hearings into Marawi siege cause, rehabilitation sought
The Bangon Marawi Consortium was chosen by Task Force Bangon Marawi to lead rehabilitation efforts in the war-torn lakeside city after it submitted the only proposal for the project.
BMC is composed of five Chinese firms and three Filipino companies, which did not have history of contracting big government projects, according to the Magdalo lawmaker.
Alejano said that two of the Chinese companies were state-owned, which meant that China's state money would be used in the projects.
"How can we make sure that the projects will remain Filipino-led and the interests of the Maranaos in particular, will be respected and given prime consideration in the rehabilitation projects given this configuration," Alejano said.
The lawmaker also accused the Duterte administration of making the Philippines overly dependent on China in exchange for the country's silence on the South China Sea dispute, where Manila, Beijing and several other neighboring states have overlapping claims.
He also panned the lack of detailed planning on the rebuilding effort already a year after the siege.
On Wednesday, the government admitted that the start of rehabilitation was still uncertain although they were targeting it to commence in the middle of next month.
Felix Castro, Task Force Bangon Marawi field office manager, said that it might take between 12 to 18 months of debris clearing and horizontal preparations before residents could be allowed to rebuild their property in the once-bustling city.