China: No need to overinterpret bomber in South China Sea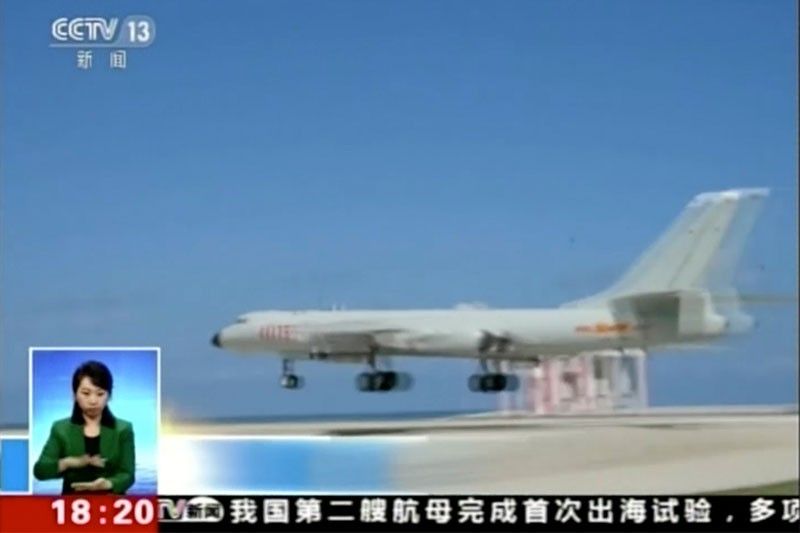 MANILA, Philippines — Downplaying the deployment of a bomber aircraft on one of its outposts in the South China Sea, Beijing insisted that such activities were normal training of Chinese military.
Last week, the People's Liberation Army Air Force landed bombers, including the top-of-the-line H-6K, on Woody Island—China's largest base in the Paracel chain in the South China Sea.
"The South China Sea Islands are China's territory. The relevant military activities are the normal training of the Chinese military and there is no need for other parties to over-interpret that," Chinese Ministry spokesperson Lu Kang said in a press briefing Monday.
China also called out the United States over its freedom of navigation operations in the region.
Washington and its allies in the region have been expressing concern about China's militarization activities in the contested waterway.
RELATED: Japan, US call for demilitarization of South China Sea
"As to the so-called 'militarization' mentioned by the US, it is totally a different thing from certain country's threat to others by sending military vessels and aircraft to this region from thousands of miles away," Lu said.
In March, US Navy destroyer USS Mustin sailed within 12 nautical miles of Mischief Reef, one of China's outposts in the Spratly Islands.
The US Navy ship reportedly performed maneuvers, pushing China's Defense Ministry to send two navy ships to identify the US destroyer and warn them to leave.
Just last month, the aircraft carrier USS Theodore Roosevelt and its 65 supersonic F18 jets, spy planes and helicopters sailed through the South China Sea to display Washington's military might.
In a statement, the Chinese Foreign Ministry accused the US of seeking to "manufacture tensions" in the region.
Meanwhile, the Philippine government does not see China's recent deployment as a threat.
"The president does not see any immediate threat. As I said, we do not consider China to be a threat to our security right now because of our newfound friendship with China," presidential spokesperson Harry Roque said.
Roque, however, reiterated the ASEAN's joint statement calling for non-militarization and self-restraint in the conduct of activities in the South China Sea.
The Department of Foreign Affairs said that it has taken diplomatic actions to address China's aggression in the disputed waters.
"While appropriate language, whether expressions of condemnation or concern, over certain developments are clearly conveyed through diplomatic channels, it is not our policy to publicize every action taken by the Philippine Government whenever there are reported developments taking place in the West Philippine Sea and the South China Sea," the DFA said in a statement.