Duterte may ride jet ski to uncontested Benham Rise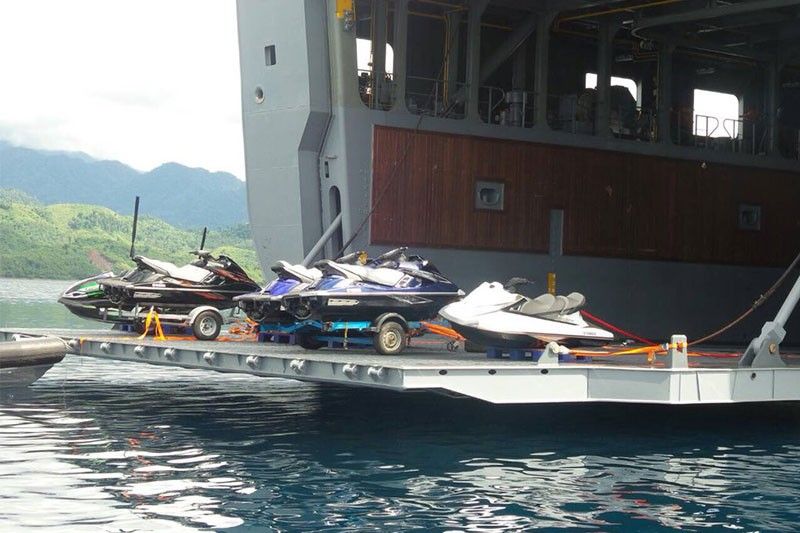 MANILA, Philippines — Jetskis were spotted aboard the Philippine Navy's BRP Davao del Sur, which President Rodrigo Duterte may ride going to Philippine or Benham Rise off the coast of Aurora.
UPDATE: Duterte backs out of jet ski ride to Benham Rise
The president will be leading the commemoration rites of the first year of the renaming of the underwater plateau, which is part of the country's extended continental shelf.
Duterte is scheduled to send off an all Filipino 50-man survey team to Philippine Rise on Tuesday afternoon, according to a report from The STAR.
LOOK: PH reporters start boarding BRP Davao del Sur for the trip to Philippine Rise. Pres. Duterte will lead commemoration rites of 1st year of renaming Benham as PH Rise. [:Malacañang Press Corps pool] pic.twitter.com/4E3j9zCpJF

— christina mendez (@xtinamen) May 15, 2018
LOOK: Preparations for send off for an all Filipino 50-man survey team to Philippine Rise. pic.twitter.com/YK7tBneK6H

— christina mendez (@xtinamen) May 15, 2018
Riding a jetski to the West Philippine Sea was one of the campaign promises of Duterte during the national elections in May 2016. Last March, Duterte said that his promise to go to the West Philippine Sea was "just talk."
RELATED: 'Jet Ski-dding!' Duterte says campaign comment just a joke | Forget jet skis, Chinese choppers can take Duterte to disputed islands
"When I said I would go to China on a jet ski, that's nonsense. I don't even have… It's just talk. I'm surprised you believed it," said in a speech before members of the Philippine National Police's SWAT units in March.
The Philippine Rise, on the other hand, is on the other side of the archipelago as it is in the Philippine Sea, serving as a gateway to the Pacific Ocean.
Last week, Duterte formed a team of Filipino experts to assess the country's sovereignty over the seismically active undersea and volcanic ridge.
The event on Tuesday will serve as the launch of the 50 Filipino scientists' research in the Philippine Rise, presidential spokesperson Harry Roque earlier said.
In February, Duterte ordered the halt of all foreign marine explorations and studies in the underwater plateau, which came after China concluded its marine science research in the area.
In 2012, the United Nations Commission on the Limits of Continental Shelf awarded Benham Rise to the Philippine as an extension of its continental shelf, granting Manila "sovereign rights" over the region.
Beijing, meanwhile, has succeeded in naming five features in the Philippines-controlled underwater region. Despite a letter submitted by the Department of Foreign Affairs earlier this year, the International Hydrographic Organization refused to reverse the approval of Chinese proposals to name undersea features Haidongqing Seamount, Jinghao Seamount, Tianbao Seamount, Jujiu Seamounts and Cuiqiao Hill.
RELATED: Philippines loses bid to void Chinese names for Benham Rise features
Related video: