Forget jet skis, Chinese choppers can take Duterte to disputed islands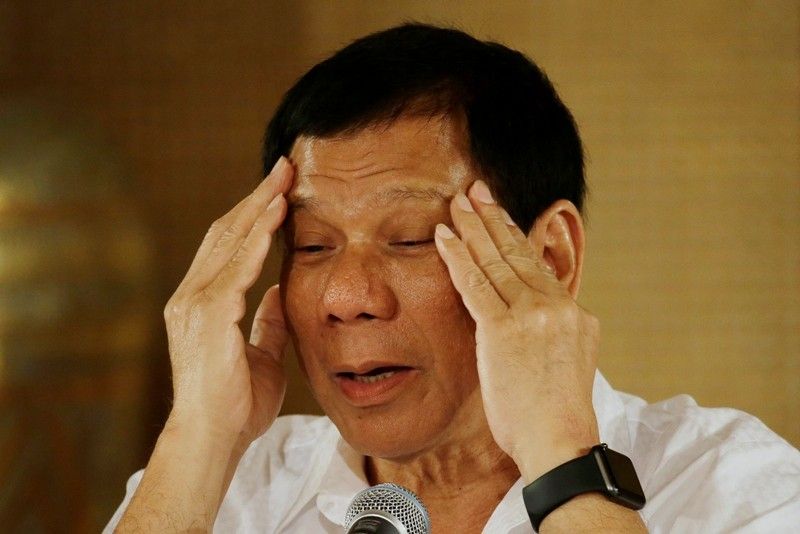 MANILA, Philippines — President Rodrigo Duterte has backtracked on his campaign promise to take a jet ski to the disputed islands in the West Philippine Sea to assert the country's sovereignty.
"Maya-maya makasagasa ka pa ng pating diyan," Duterte said in a televised press briefing upon arriving from Thailand early Thursday.
The president said that Chinese officials personally offered to take him to the islands so he can plant the Philippine flag.
"Ganun ang party nila, kumain kami. Sabi niya ang magtanong isang general, 'Mag-jet ski ka?' Sabi ko, 'Oo.' Sa isa, 'Bakit?' 'Gusto mong pumunta doon?' 'Oo.' 'Sige, kukuha ng helicopter dalhin ka namin doon, magdala ka ng flag doon o bayang magiliw tayong lahat,'" Duterte said.
Duterte made the jet ski quip during the third presidential debate in Dagupan City on Apr. 24, 2016.
The five presidential candidates were asked about their positions in the West Philippine Sea dispute with China.
"I will not go to war... I will ask the Navy to bring me to the nearest boundary d'yan sa Spratly, Scarborough. Bababa ako, sasakay ako ng jet ski, dala-dala ko 'yung flag ng Pilipino at pupunta ako doon sa airport nila tapos itanim ko, then I would say, 'This is ours and do what you want with me.' Bahala na kayo. I would stake that claim and if they want to - you know, eh matagal ko ng ambisyon 'yan na maging hero rin ako," Duterte said during the debate last year.
Almost a year after making this statement, Duterte said that he has allowed China to visit the disputed area as long as they don't impede the Philippines' access to it.
"Sabi ko, my coast guard — not the gray ships, not the Navy, huwag. They can go there and visit you, shake your hands, and you can park dito sa amin," the president said.
"Sabi ko you can pass by my territory," Duterte added.
Chinese ships will be allowed access to the West Philippine Sea as long as they inform the Philippine Navy and the Foreign Affairs secretary, Duterte said.
No war
Duterte said that he does not want the country to be involved in case a war starts between China and the United States.
"I'd like to tell why? I do not want to precipitate a shooting. Once single boom, ang masira ano, 'yang Panatag, 'yang Spratly, ang masira 'yung Palawan, 'yan ang unang puputok kung hindi kayo bright," Duterte said.
According to Duterte, China has assured him that they will not build structures in the Panatag (Scarborough) Shoal, a traditional fishing ground off the coast of Zambales.
"I was informed that they are not going to build anything sa Panatag. Out of respect for our friendship they will stop it. Hindi nila gagalawin 'yan sabi ng China. Huwag kayong mag-alaala, magkaibigan tayo," the president said.
China has refused to acknowledge an international tribunal ruling that its "nine-dash line" claim over a large part of the South China Sea. It also maintains that it has sovereignty over Panatag, which it calls Huangyan Dao.