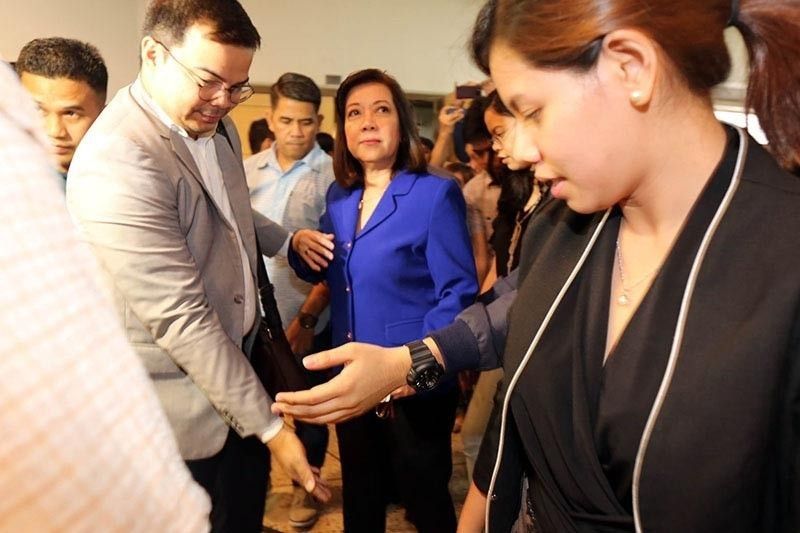 The chief magistrate took an indefinite leave from her office since March 1. She said that this was to focus on the impeachment case against her lodged at the Congress.
Boy Santos
Sereno won't run for senator
MANILA, Philippines — Chief Justice Maria Lourdes Sereno, who is facing two bids to oust her from office, on Tuesday said she has no plans to run for an elective position.
Asked on reports that she will seek a Senate seat, Sereno said in Filipino: "I don't have such plans."
Sereno was one of the speakers at the Women on Fire forum at the Adamson University on Tuesday.
READ: Sereno: Not a voting by 'friends' at SC can oust me
The chief justice said that she is listening to what the public tells her. "Now, you've heard what they are saying. They say that it is time to work hard at the Supreme Court."
Sereno, however, said that she has yet to decide on when she will return to the Office of the Chief Justice, from where she has been on indefinite leave since March 1.
She said the leave was to focus on the impeachment case against her in Congress. The leave was announced after an en banc session where 13 justices agreed that she should go on leave.
Since her leave, Sereno has faced another ouster petition: A quo warranto case filed by Solicitor General Jose Calida before the high tribunal on March 5.
Calls for her resignation have hounded Sereno but the embattled chief justice has remained unfazed. On Tuesday, she asserted in another fiery speech that only a conviction by an impeachment court can remove her from position.
She said: "If this 'barkada (clique)' will ruin the constitution, violate the rules, circumvent the jurisprudence because of one person they did not deem as their friend, our judicial independence will be killed."
It was earlier reported by The STAR that the chief justice is open for a Senate run "to really fight for the oppressed like her."
On April 16, lawyer Josalee Deinla, Sereno's spokesperson, denied that the chief justice is considering running. She said that the chief justice is focused on the ouster petitions against her.
The SC will reportedly release a decision on the quo warranto case against Sereno on Friday, May 11.