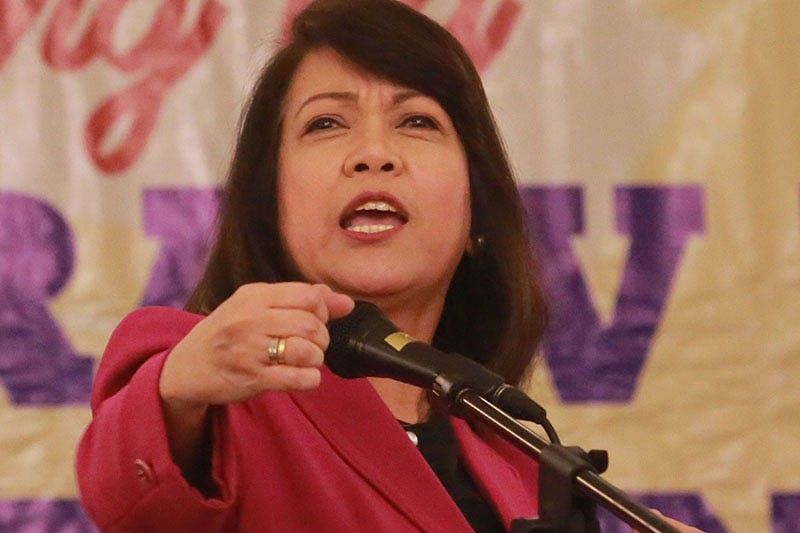 Embattled Chief Justice Maria Lourdes Sereno is focused on efforts to face the two ouster petitions against her, and not campaigning for a seat in the Senate, her spokesperson said.
Michael Varcas
Sereno camp denies reported Senate bid
MANILA, Philippines — Chief Justice Maria Lourdes Sereno is not gunning for a seat at the Senate, her spokesperson said on Monday.
Lawyer Josalee Deinla said that the chief justice is focusing on the two ouster petitions against her pending before the Supreme Court and the House of Representatives. "This means that all her efforts are focused on the issues at hand," Deinla said in a text message to reporters.
"Any insinuation about her supposed plan in the future is nothing but a distraction to sow intrigue and confuse the public," the lawyer added.
Sereno has been on leave from the SC since March 1.
A STAR report citing unnamed sources last week said that Sereno is open to the possibility of running for the 2019 elections at the Senate, should the SC grant the ouster petition.
The insider reportedly bared that the embattled chief justice is raring to "really fight for the oppressed like her."
"I think she has already accepted whatever the outcome of the impeachment and quo warranto cases will be," the insider was quoted as saying.
A day before Sereno faced her colleagues for an oral debate on the quo warranto petition, the chief justice said that President Rodrigo Duterte—with whom she has been at loggerheads with since 2016—has a hand in the moves to oust her from her position.
Duterte denied the allegation and, in anger, declared that he is now Sereno's enemy. He then urged members of the House of Representatives — the order was later clarified to be directed only towards members of the administration PDP-Laban party — to speed up Sereno's impeachment.
House Speaker Pantaleon Alvarez (Davao del Norte), PDP-Laban secretary general, said the House will impeach the chief justice a week or two after it resumes session on May 15.
Tijam chides Sereno for 'productive' use of leave
During the oral arguments at the SC Session Hall in Baguio, Associate Justice Noel Tijam took a jab at how the chief justice has been making use of her leave.
RELATED: Highlights: Oral arguments on Sereno ouster
He said: "I am happy you have productively used your leave while we're busy deciding lots of cases. I understand you've been going around the country, attending lost of speaking engagements, also attending talk shows, giving interviews explaining your position on the impeachment charges as well as the quo warranto petition."
Sereno has earlier said that she intends to go around the country to visit the courts while also preparing for her looming impeachment trial at the Senate.
Just last Friday, the president lashed out anew at Sereno and branded her as an "ignorant chief justice" who should have been impeached a long time ago.