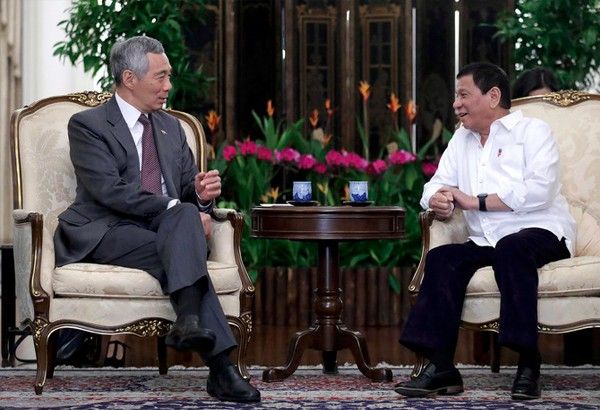 "And I welcome you. I will give you, I assure you, the protection that you need. No corruption is no corruption," President Duterte said.
AP Photo/Wong Maye-E, Pool
Philippines, Singapore ink $187 million business agreements
SINGAPORE – President Duterte witnessed the signing of at least $186.7 million worth of joint venture projects forged during a meeting between Philippine and Singaporean firms here yesterday and jokingly told the businessmen they were free to kill those who would try to extort money from them.
Among the agreements signed was the letter of intent for the development of 25 new Jollibee outlets in Singapore over a period of five years by the Jollibee Worldwide Pte. Ltd. and Golden Beeworks Pte. Ltd.
The joint business ventures are expected to generate over 1,920 jobs, especially for Filipino workers, officials said.
In a speech during the signing ceremony at Ritz Carlton Hotel, the President assured the Singaporean and Filipino businessmen of his personal backing in the fight against corruption that has been discouraging investors from coming into the country.
"I give you the right to kill him. Shoot him, stab him or push him out of the window. And I will take care of your pardon at no expense of yours. No, kidding," Duterte quipped, referring to anyone in the Philippines who would cause businessmen "any unnecessary disturbance, molestation or trouble" in the course of doing business.
"I am just saying that when everybody starts to mess up with your business, all you have to do is say, 'Your President has assured me this. Kindly leave the premises. Do not ever come back because I will call this number and this number belongs to the President'," Duterte said, adding: "And I would show you how I deal with corruption."
The President likewise said he welcomes foreign investors to the country as long as they pay taxes and obey the laws, including environmental requirements.
He noted taxes are even negotiable as long as there are efforts on the part of the businessmen to pay them.
"You just take care of the laws. There are a set of laws to follow. If (they are) followed, then we are OK and we can talk about business," Duterte said.
"And I welcome you. I will give you, I assure you, the protection that you need. No corruption is no corruption," the President said.
Duterte told the businessmen they could even see how he deals with erring government workers, including those who visit business firms in the guise of inspection.
"I can do it in front of you. But I assure you that there will be remedial measures in a matter of hours. That has always been my policy," he said.
Investors
The President met with the Singaporean and Filipino businessmen after the conclusion of the 32nd ASEAN Leaders Summit yesterday afternoon held in this city-state.
Andrew Gotianun, director of Filinvest Development Corp., inked a memorandum of understanding with Cindy Lim, managing director of Keppel Urban Solutions of Singapore, to explore cooperation opportunities in the development of projects in Filinvest City in Alabang, Muntinlupa, edge computing data centers in Metro Manila and urban solutions in Clark City, Pampanga.
Meanwhile, Everhydro and the Singaporean firm OceanPixel signed a memorandum of understanding for the collaboration to develop marine renewable energy projects in Zamboanga.
Cebu Air president and chief executive officer Lance Gokongwei also forged a letter of intent with Prig Kim Chang of SIA Engineering Company Limited (SIAEC) for potential growth opportunities, particularly on the expansion of line maintenance operations in Clark airport with the Philippine government's drive to shift air traffic from Manila to Clark in Pampanga.
Cebu Air and SIAEC are also looking into the expansion of its hangar facilities with the expected growth of its customer base and business volume.
Trade and Industry Secretary Ramon Lopez and Lim Seong Nam of Lepak Packaging Pte. Ltd. also signed a letter of intent to explore the opportunities in the Philippines on plastic packaging and film manufacturing.
Filinvest Corp. also signed another MOU with Hitachi Asia Ltd. that aims to provide the framework for the exploration of collaborative opportunities and determine business opportunities for FDC, its subsidiaries and affiliates.
Robin Village International Pte. Ltd. and ICS ICT Support Service Corp. also entered into a memorandum of understanding to explore opportunities of collaboration in prefab projects for areas needing fast deployment.
The Ascent Solutions Pte. Ltd. and and Ascent Solutions Philippines also entered into a memorandum of understanding in cash, equipment and technology for the development of a blockchain platform for a national ID system, transport management system and trade financing.
The President likewise said the Philippines is doomed forever if the government will continue to indulge in graft and corruption.
"Every administration has had a component of corruption. And that is why the Philippines was really hard up in trying…to improve the living conditions in my country," he added.
The President said graft and corruption has really given the country a bad name in the international business community.