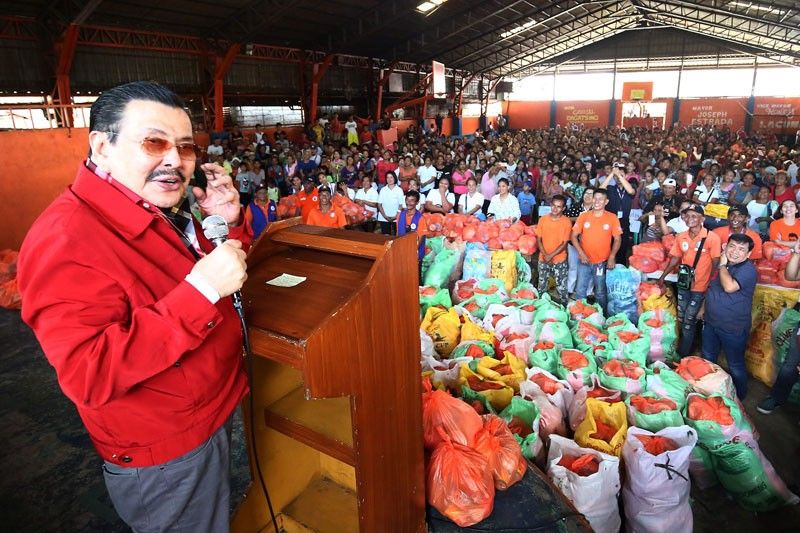 As he turned 81 years old yesterday, Manila Mayor Joseph "Erap" Estrada said all he wanted for his birthday gift is "one last term" as he revealed his plan to seek reelection in 2019.
Miguel de Guzman
Movie stars hope to shine in 2019 polls
Ricky Lo
(The Philippine Star) - April 20, 2018 - 12:00am
MANILA, Philippines — The 2019 mid-term elections is promising to be a star-studded one as several showbiz-related celebrities have signified their intention to run.
As he turned 81 years old yesterday, Manila Mayor Joseph "Erap" Estrada said all he wanted for his birthday gift is "one last term" as he revealed his plan to seek reelection in 2019.
His son, former senator Jinggoy Estrada, also declared, "Yes, I am definitely running."
Folk singer Freddie Aguilar, who campaigned for President Duterte in 2016, confirmed to dzBB hosts Mike Enriquez, Arnold Clavio and Ali Sotto that he's also running for senator. He is the newest showbiz guy to declare his candidacy and a considerable neophyte in an election.
Asked what his platform would be, Aguilar said, "It's easy to see it in my songs," referring to his hit compositions "Anak" (translated into several languages), "Magdalena" and "Bayan Ko." He is also noted for the song "Para sa Tunay na Pagbabago," which he wrote as anthem of the Duterte administration.
If elected, he promised to work for the creation of a Department of Culture and the Arts as he had always been advocating.
"That's what we lack from way, way back," Aguilar said, "a real Filipino culture. It's only if we had our own culture that we could be united as a people, as a nation."
Other showbiz-related celebrities reported to be running for senator is PCOO (Presidential Communications & Operations Office) assistant secretary and STAR columnist Mocha Uson.
"But we are still waiting for the result of the surveys before we make a final decision," said her manager Lord Byron Cristobal.
Rachel Arenas, Movie and Television Review and Classification Board chairman and former Pangasinan representative, is "rumored" as being considered to run for senator under the administration banner, but Rachel told The STAR, "It all depends on Pres. DU30."
Grace Poe-Llamanzares said that she's "not sure" if she would run for reelection. "I was burned out from the 2016 campaign" in which she ran for president.
Same with Sen. Chiz Escudero, now on his last term, who said: "I haven't decided what to do after the end of my term."
"Joining the private sector is really attractive to me right now," Escudero said, adding that contrary to reports, his wife Heart Evangelista is not running for mayor of Sorsogon City or as representative of Chiz's native province.
San Juan City Mayor Guia Gomez is on her last term and, according to a spokesperson, is not planning to run for any other position.
Asked if she's running for reelection, Batangas Rep. Vilma Santos said, "I haven't decided yet. The election is still several months way."
But definitely running for Quezon City mayor is incumbent Vice Mayor Joy Belmonte with councilor Giancarlo Sotto as running mate. Sotto's sister, councilor Lala Sotto, is running for reelection. Incumbent Mayor Herbert Bautista, now on his third and last term, has not answered our inquiry yet.
Others running for reelection are: Ormoc Mayor Richard Gomez and wife, Ormoc Rep. Lucy Torres-Gomez; Bacoor, Cavite Mayor Lani Mercado and Makati Rep. Monsour del Rosario, who qualified his answer saying, "unless Pres. DU30 and other PDP-Laban leaders tell me otherwise."
Also running are Gary Estrada for Quezon province vice governor and Sta. Rosa, Laguna Mayor Dan Fernandez for reelection (or for congressman). Tacloban City Mayor Cristina Gonzalez-Romualdez said she hasn't decided yet but was "still praying" whether to run for reelection or let her husband, former Tacloban City mayor Alfred Romualdez, run instead.
Erap's partner Laarni Enriquez denied that she's running, and so did Overseas Workers Welfare Administration (OWWA) head Arnell Ignacio.
'Overflowing' pool
Meanwhile, the leadership of the ruling PDP-Laban has agreed to an initial list of 20 potential candidates for the senatorial elections, including some new names that were not previously mentioned.
Senate President Aquilino Pimentel III, who is also the party president, said PDP-Laban has culled the list of 20 short-listed candidates from its "overflowing" pool of members.
From the incumbent senators belonging to the majority bloc who are eligible for reelection, Pimentel said the list includes Grace Poe, Sonny Angara, Cynthia Villar, Joseph Victor Ejercito, Nancy Binay and himself.
Speaker Pantaleon Alvarez, PDP Laban secretary-general, also provided his list of congressmen and women, which include Robert Ace Barbers of Surigao del Norte, Karlo Nograles of Davao City, Alfredo Benitez of Negros Occidental, Geraldine Roman of Bataan, Zajid Mangudadatu of Maguindanao, Reynaldo Umali of Oriental Mindoro and Pia Cayetano of Taguig.
From the executive branch, Pimentel said the party is considering special assistant to the President Christopher Go, presidential spokesperson Harry Roque and presidential adviser on political affairs Francis Tolentino.
Pimentel said Alvarez has also included Uson, who is not a PDP-Laban member, in his list.
He also mentioned the inclusion of broadcast journalist Jiggy Manicad and singer Freddie Aguilar, who he described as having all the qualifications for senator.
"And for sure he has ideas on how legislation can solve some of our problems," Pimentel added.
Asked about former senator Jinggoy Estrada, who earlier disclosed that he was in talks with someone from PDP-Laban for inclusion in its senatorial slate for 2019, Pimentel said he already gave his commitment to Ejercito.
In a statement, Ejercito thanked Pimentel for fighting for his colleagues in the Senate, saying: "Perhaps SP Koko knows the performance of his colleagues in the Senate. That is probably his basis for giving priority to reelectionists." – With Marvin Sy