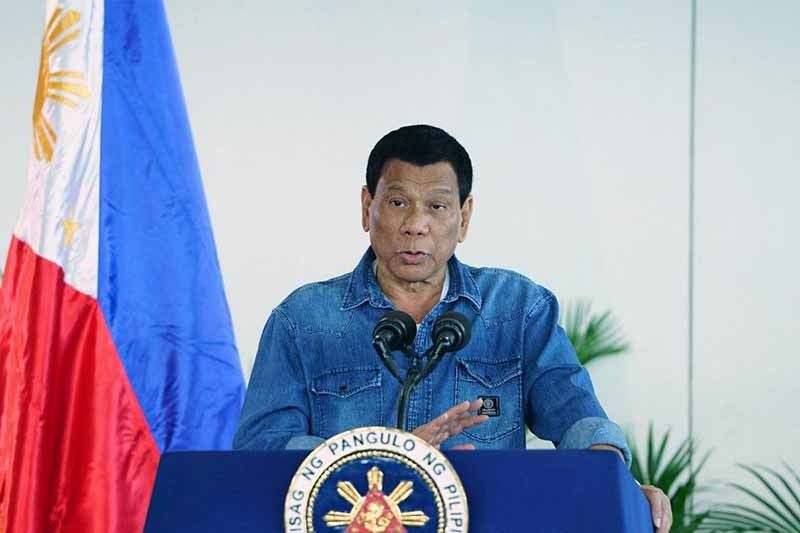 President Rodrigo Duterte, in his speech at the Francisco Bangoy International Airport in Davao City on April 9, 2018, blasted Chief Justice Maria Lourdes Sereno who he said needed to be removed from the Supreme Court.
Presidential Photo/Joey Dalumpines
International group of jurists assails Duterte for slamming Sereno
MANILA, Philippines — An international group of judges and lawyers has recently condemned President Rodrigo Duterte for railing against Chief Justice Maria Lourdes Sereno, calling it an "assault" on both the chief magistrate and judiciary's independence.
Reacting to Sereno's insinuations that the Philippine leader is directly behind efforts to dislodge her from office, Duterte on Monday declared that he was already the chief justice's enemy.
He also directed his PDP Laban party mates at the House of Representatives to hasten the impeachment of Sereno, whom he said needed to be removed from the Supreme Court.
The International Commission of Jurists assailed Duterte's pronouncement and urged him to respect the independence of the Philippine judiciary.
It also called on the president to refrain from exerting political pressure on any government official or agency to undermine the judicial branch of government.
"The president's remarks constituted an assault not just on the chief Justice, but on the independence of the judiciary in the country," ICJ said in a statement.
ICJ also urged the president to retract his comments and avoid making future statements attacking judges that would in any way interfere with their duties.
'Direct intimidation' of Sereno
Emerlynne Gil, senior international legal adviser of the ICJ, described Duterte's action as "unacceptable" because it was a "direct intimidation" of the chief justice and sent a "chilling effect" to the country's independent judges.
She added that Duterte's open anomisity toward Sereno and his order to the House constituted "influencing and interfering" with the functions of other branches of government.
The body also reminded Duterte that based on the UN Basic Principles on the Independence of the Judiciary "[I]t is the duty of all governmental and other institutions to respect and observe the independence of the judiciary."
Sereno faced her colleagues on Monday at the Supreme Court, where Jose Calida, the solicitor general or the country's top lawyer, is questioning her legal hold on office.
Calida's involvement stirred speculations that Duterte was directly behind efforts to remove Sereno, who clashed with the chief executive after he named several judges to be part of the trade of illegal drugs in the Philippines.
The chief magistrate is also facing the specter of an impeachment trial as the House, dominated by the president's allies, is expected to impeach her in May.
The impeachment case was filed by Lorenzo Gadon, a lawyer who has ties to allies of the president.