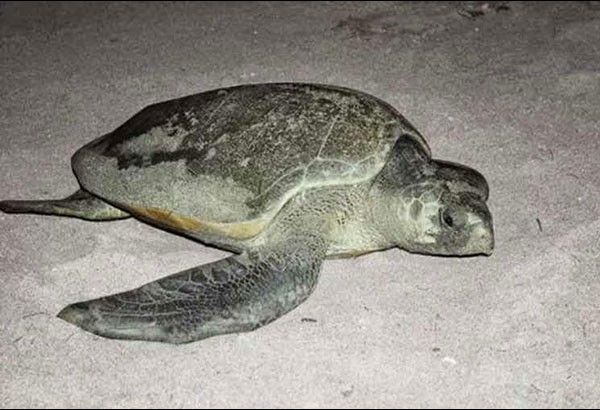 Parts of Boracay will be designated "critical habitat" zones for marine turtles and other species.
File photo
Parts of Boracay to be set aside for marine turtles, flying foxes
MANILA, Philippines — Even after the six-month closure order on Boracay island is lifted, tourism in areas considered a "Critical Habitat" zone by the Department of Environment and Natural Resources will be regulated.
In a press conference Wednesday afternoon, Environment Secretary Roy Cimatu said his office is now finalizing an Administrative Order declaring 750.96 hectares of forest and coastal lands in Boracay as a "Critical Habitat" zone for endemic and threatened species.
Cimatu said the measure aims to promote the breeding of marine turtles, fruit bats or flying foxes, puka shells and marine corals, numbers of which, he said, have significantly declined due to high tourist activities in the area.
Cimatu said he intends to sign the AO by next week, to be followed by the crafting of a Critical Habitat Management Plan with stakeholders.
"Human disturbance, aggressive infrastructure development and unregulated tourism have resulted to habitat destruction of the island's diverse wildlife. We will not allow further degradation of these ecosystems and species," Cimatu said in a statement, which he read before stakeholders.
The proposed CH zone will cover 119.85 hectares of forestlands and 631.107 hectares of coastal marine areas in Barangays Yapak and Balabag.
Cimatu said an assessment team from the DENR's Biodiversity Management Bureau (BMB) recently conducted a survey of the island and noted "a substantial biodiversity presence even with degraded forests and wetlands".
"The establishment of a critical habitat is the DENR's concrete commitment to bringing back Boracay's robust ecology. It shall provide a platform for a community driven ecosystem management approach," Cimatu said.
Earlier in the day, the DENR-BMB held its second consultative meetings with the representatives of 11 establishments operating within the proposed CH zone, namely:
Boracay West Cove
Crimson Resort and Spa
Movenpick Resort and Spa
Ecovillage Resort and Convention Center
Costa Vista Boracay
Shangri-La hotel
Alta Vista de Boracay
San Miguel Corp.
Mabuhay Maritime Express Transport Inc., under Philippine Airlines
Seven Seas Water Park and Resort
Demostenes Tirol Family.
Stakeholders' representatives expressed their support on the proposed measure but reiterated their request for more specific actions and detais on what needs to be done once the habitat zones are created.
"We assure you that you will be part of the crafting of the management plan of the Critical Habitat area," BMB Assistant Director Crisanta Marlene Rodriguez told the stakeholders.
'Science-based' limitation
In an interview with reporters after the consultative meeting, BMB Director Theresa Mundita Lim admitted that the proposed measure would entail limiting tourism-related activities in the areas to be declared as CH zones, which she said would include the world-famous Puka Beach in Barangay Yapak.
"The activities that we can allow or not will be scientifically-based. What are the movements that will disturb the habitat? We might identify areas that are strictly protected, meaning no disturbance or we can assign areas that are open for minimal activities," Lim said.
"We will be relying on the studies on these areas' carrying capacity," Lim added, saying that they might limit the number of tourists that will be accepted once the CH area is declared.
Lim also said some structures located in the breeding ground of endemic and threatened species may end up demolished.
"It's possible. As I mentioned, it will be science-based. So, if the structure is standing in the way of the protection of the species' habitat, we might need to remove them," she said.
Lim said they already had a consultative meeting with the local stakeholders and they were likewise amenable with the CH proposal.
Lim said the BMB aims to draft the CH Management Plan in the coming weeks in order to start its implementation once Duterte's six month closure order on Boracay is lifted.