9 China firms eye $9.5-billion new investments in Philippines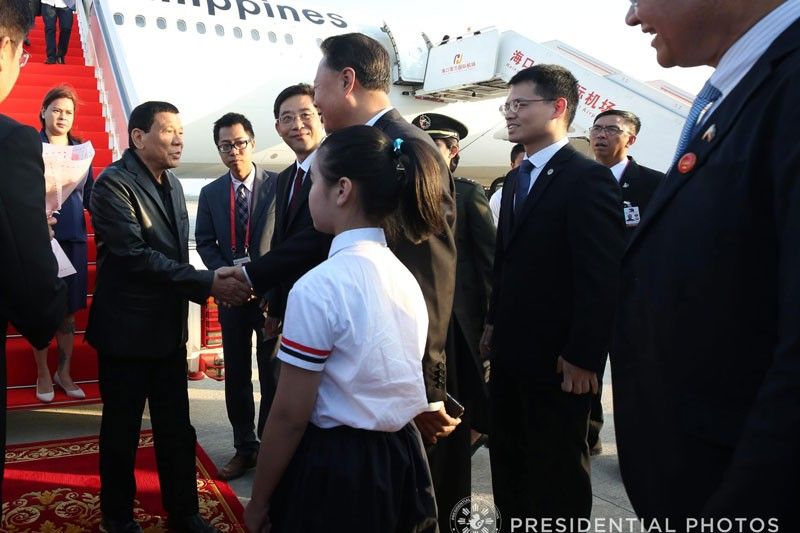 HAINAN, Philippines — Nine Chinese firms have expressed interest to invest in the Philippines in a development that may create more than 10,000 new jobs.
President Duterte yesterday witnessed the signing of letters of intent by companies that are keen on exploring opportunities in the energy, tourism, infrastructure, agriculture and health sectors.
If all the nine companies' plans materialize, they will generate about $9.5 billion in new investments and create 10,810 jobs.
Trade Undersecretary Rowel Barba said the pledges reflect investors' confidence in the Philippine economy and the improved relationship between the Philippines and China.
"It shows their confidence in the Philippines especially now that we have a good economy, with 6.7 percent growth last year," Barba told reporters covering Duterte's visit here.
Barba signed the letters in behalf of the Philippine government, while the companies were represented by their respective officials.
The companies that are planning to invest in the Philippines are the following:
• Shanghai GeoHarbour Group, which is eyeing $3.46 billion worth of opportunities in land reclamation, sludge remediation and land development;
• Jovo Group Co. Ltd. Guangdong, which is planning to build and operate a liquefied natural gas (LNG) receiving terminal covering an area of around 50 hectares to provide LNG to the local market. The investment costs about $2.5 billion.
• Zhongfa Group, which is considering developing large tourism projects and electronic industry parks and establishing a Philippine-China Trade and Investment Strategic Center. The investments cost about $1 billion.
• Haocheng Group, which is eyeing $1 billion worth of infrastructure and construction projects and thermal power supply.
• Green Agriculture Group, which is exploring $500 million worth of business opportunities in agriculture and tourism in cooperation with local partner Calata Corp.
• East Cloud Biz Travel Ltd., which is planning to invest in tourism-related projects worth $500 million also in cooperation with Calata Corp.
• China National Heavy Machinery Corp., which intends to develop a China-Philippine International Techno-Industrial Zone worth $450 million.
• Shanghai Shinehigh Biotechnology Ltd. Co. and Zhejiang Dongyang Jinxin Chemical Co. Ltd., which are planning to invest $30 million to build a pharmaceutical processing plant in the Philippines together with some local investors.
• Sino BMG, which is planning to spend $10 million to establish an aerated concrete block production line.
After the signing ceremony, Duterte reiterated his commitment to build an environment conducive to businesses.
"I emphasize the Philippines' commitment to address corruption. Corruption will not be tolerated under my watch," Duterte said.
He said Chinese investments would create job opportunities, promote inclusive growth and encourage entrepreneurship among Filipinos.