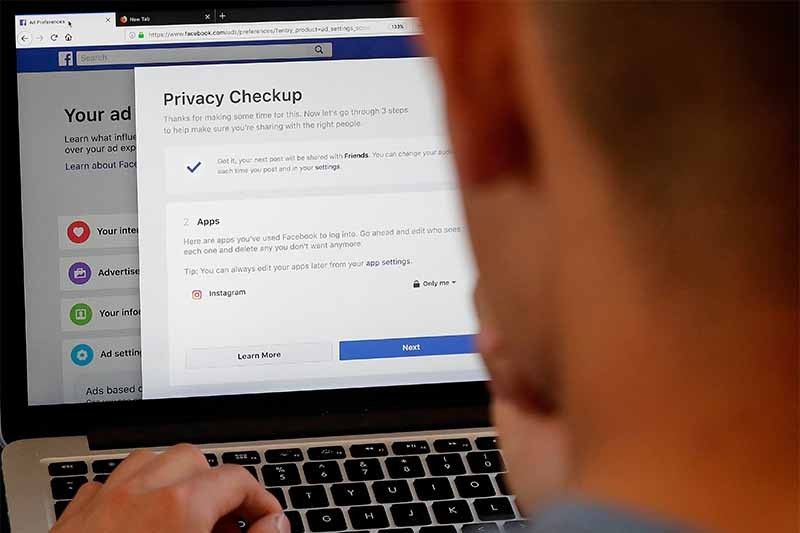 In this March 26, 2018, file photo, a man poses for photos in front of a computer showing Facebook ad preferences pages in San Francisco.
AP Photo/Jeff Chiu, File
What you need to know about the Facebook data scandal
MANILA, Philippines — Data from more than 1.1 million Filipino Facebook users may have been "improperly shared" with a data mining firm accused of using illegally-obtained information from the social media network to try to influence elections, the Philippine Privacy Commission said.
This makes the Philippines the second most affected in terms of data subjects after the United States, where more than 70 million users were affected.
Data, including highly-personal information, from these Facebook users were vacuumed and used for targeted political messaging designed to influence behavior and opinion.
Users can check this link to find out if their data may have been compromised. Facebook will also be sending notices to affected users.
This revelation becomes more staggering after it was discovered that parent company of the data mining firm Cambridge Analytica, Strategic Communications Laboratories, may have helped Rodrigo Duterte win the presidency in 2016, according to reports.
Duterte's spokesman has disputed this and said that his campaign did not pay anything to or transact with the company.
Cambridge Analytica
Trump-affiliated Cambridge Analytica is a data marketing firm that harvests online information to create targeted content. It also says that it uses data to "change behavior."
Christopher Wylie, who worked with CEO Alexander Nix SCL, blew the whistle on the company's practices.
Wylie said that Nix wooed support from Steve Bannon, a former campaign manager of Donald Trump, and Robert Mercer, a Trump donor and billionaire who infused more than $15 million into the company.
This led to the creation of Cambridge Analytica in 2014.
'This is Your Digital Life' quiz
Aleksander Kogan, an academic researcher who developed a Facebook personality quiz called "This is Your Digital Life" in 2014, approached Cambridge Analytica after its formation.
"What Kogan offered us was way cheaper, way faster, and of a quality that nothing matched," Wilie said in an interview with the British newspaper The Guardian, which together with The New York Times, exposed the firm's practices.
Wilie said that Kogan had apps that would provide Cambridge Analytical not just data from users of the app but also from their friend network including status updates and in some case private messages.
Kogan paid 270,000 people to take "This is Your Digital Life," and this collected information not just on the quiz takers but also on their friends, including details not meant to be shared publicly, thanks to Facebook's loose privacy rules.
Cambridge Analytica used these Facebook data to target voter groups with messaging designed to influence opinion
Facebook CEO Mark Zuckerberg will testify before hearings at the US Senate and House of Representatives where he is expected to apologize, again, for the latest data breach and to stave off possible federal regulation that some lawmakers have mentioned.