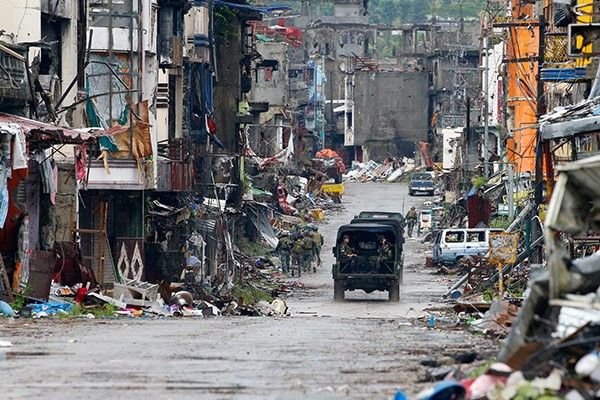 In this Tuesday, Oct. 17, 2017, file photo, Philippine troops return to their deployment after attending the ceremony where President Rodrigo Duterte declared the liberation of Marawi city in southern Philippines after almost five months of the siege by pro-Islamic State group militants. Gunfire rang out sporadically and explosions thudded as Philippine soldiers fought Tuesday to gain control of the last pocket of Marawi controlled by Islamic militants as President Duterte declared the southern city liberated from "terrorist influence."
AP Photo/Bullit Marquez, File
Official: Marawi rehab to cost at least P72 billion
MANILA, Philippines — The government's comprehensive plan to rehabilitate war-ravaged Marawi City will cost at least P72 billion, the chairman of the body tasked to lead the reconstruction effort said on Friday.
Eduardo Del Rosario, chairman of the Housing and Urban Development Coordinating Council, said that the comprehensive plan was presented to President Rodrigo Duterte during his cabinet meeting on Wednesday.
Del Rosario said that between P17 to 20 billion of the amount would be devoted to the rehabilitation of Marawi's most devastated villages.
The remaining P55 billion will be spent on villages outside of the most devastated zone in the Islamic City, Del Rosario said.
"It has a total budgetary requirement of 55 billion pesos, plus more or less 17 to 20 billion for the most affected areas," Del Rosario said in a press briefing in the palace.
Del Rosario said that 24 of Marawi's 96 villages were the most affected areas of the five-month fighting between government forces and militants inspired by the Islamic State group last year.
The battle for Marawi last year started when militants tried to take over Marawi City and transform it into the capital of Islamic State group's capital in Southeast Asia.
The chair of Marawi's rehabilitation efforts also clarified that the building of an economic zone in Marawi was just an offer from the Jane Plaza, the head of the Philippine Economic Zone Authority.
"It's a misconception or deception I could say, because there is no eco-zone being planned. It is an offer by PEZA – if they want to have. If they don't want, then so be it. Nobody is imposing," he said.
He also defended the government's plan to give Marawi a more high-end look compared to its pre-war appearance.
He said that the rebuilding process for Marawi should bring about better its public utilities and road networks and infrastructure.
"We will just bring back better the most affected area, improve facilities so that they will have better facilities on water, electricity and telecommunication," he said.
Del Rosario said that the P17 billion allotted for the rehabilitation of Marawi's most devastated areas could increase to P20 billion depending on the Bangon Marawi Consortium, a group of Chinese and Filipino companies which will build the town's critical infrastructure.
Senate President Pro Tempore Ralph Recto meanwhile urged the government to recognize Maranao culture and resilience as the strongest building blocks in Marawi's reconstruction.
He added that the government should treat local residents as active partners and not merely as passive receivers of rebuilding plans.
"While we welcome help from all countries, at the end of the day it should be a Made by Maranao enterprise and not a Made in China nor a Made in the USA project," he said.